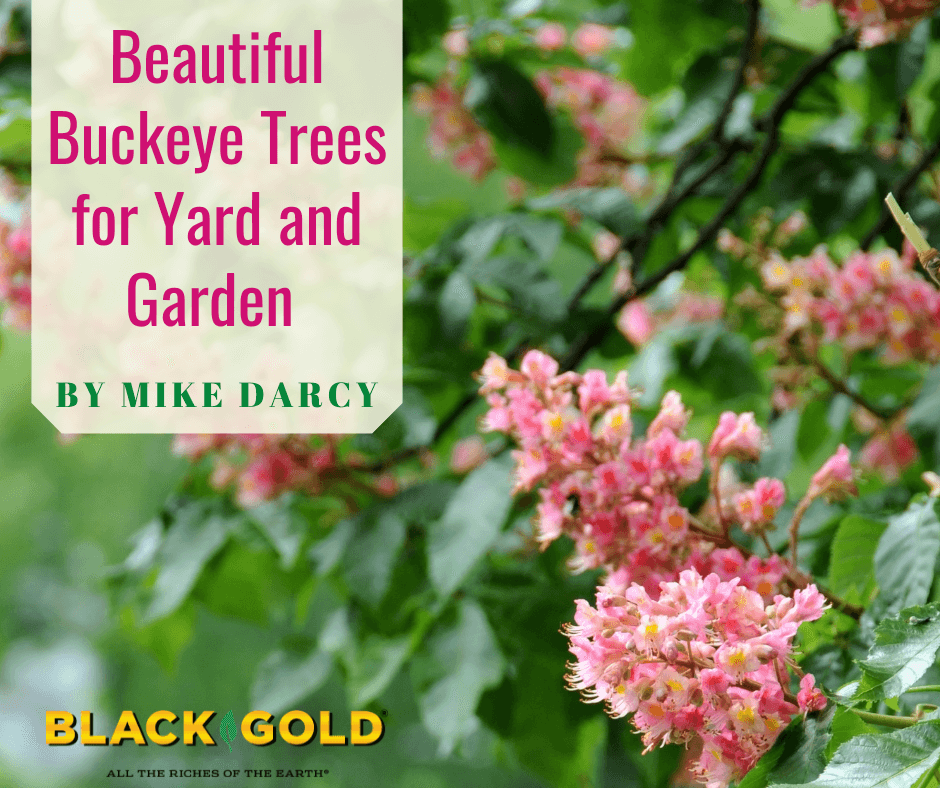 When we think of pruning shrubs, we probably think of late fall and early winter as the ideal time, but this is not always the case. For many spring-flowering shrubs, late spring is the best time to prune because pruning must happen shortly after flowering. Prune off-season, in fall or spring, and you will remove the following year's flower show! In my own garden, I have many spring-flowering shrubs that need late spring or early summer pruning, so I have learned to time my pruning carefully.
As a rule, most spring-flowering shrubs must be pruned just after or shortly after flowering because this is the time when they set new buds for next spring's show. Prune them later in summer, and you will end up trimming off next year's flower buds. For this reason, I have highlighted just a few spring-flowering shrubs and tips for pruning them.
My favorite pruning tools are simple. For large stems, I use a sharp pruning saw or heavy-duty loppers. Bypass pruners (secateurs) are used to manage smaller branches or for deadheading.
Pruning English or Cherry Laurel
The plant that immediately comes to my mind that requires at least two prunings a year is the English Laurel, (Prunus laurocerasus, USDA Hardiness Zones 6-8, 10-18 feet), a hedge that my neighbors have. It is an evergreen and fast-growing shrub with dark glossy green leaves and has spikes of creamy white fragrant flowers in late spring. The scent is sweet and powerful, and the shrubs look very attractive in bloom.
My neighbors always give it a heavy pruning after it blooms and then another pruning later in the summer. They also selectively prune to keep the favorite hedge shrubs open and airy, which helps prevent disease problems. Theirs is certainly a taller variety that would take over the house without being pruned twice yearly.
Pruning Azaleas and Rhododendrons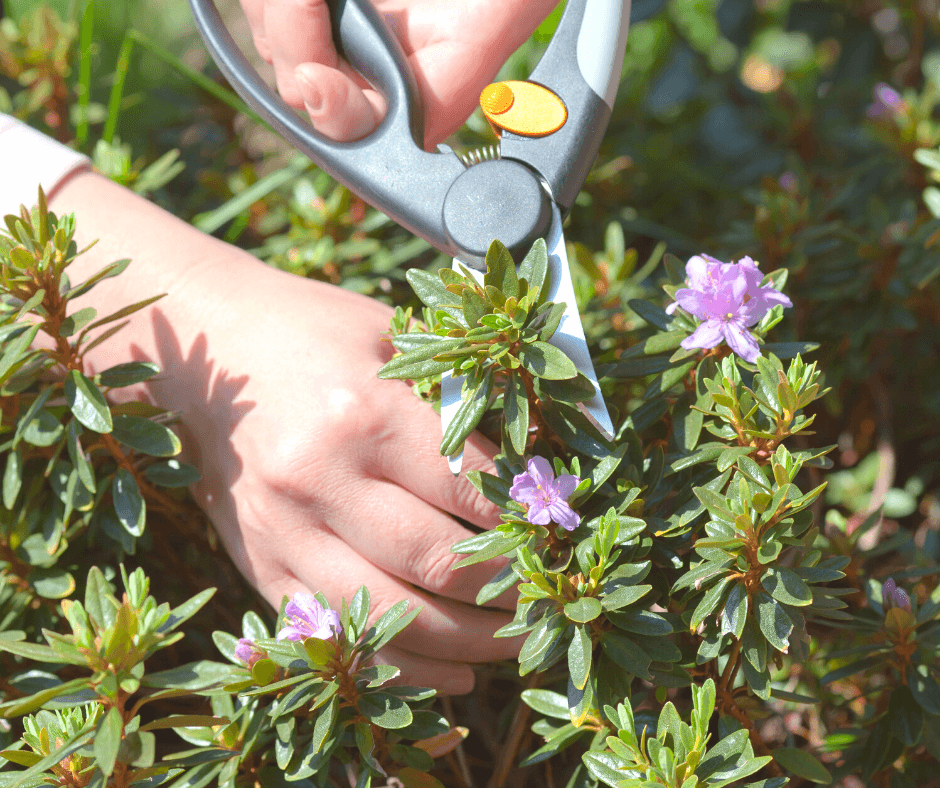 Rhododendrons and azaleas (Rhododendron species and hybrids, variable hardiness and sizes) will both bloom on second-year wood, so they benefit from spring pruning just after they have flowered. Any later and you risk accidentally removing next year's blooms. Often the process for both is referred to as 'deadheading' because the old flower is removed.  Once the flower has faded, it can be removed. Not only does this look nicer, but it allows the plant can expend energy for new growth instead of seed production.
Deadheading a large rhododendron plant can be quite time-consuming, but it is well worth the time. The plant will physically look better without faded flowers and it saves the plant energy. Some care is required when removing the old blooms. If you look carefully, each has a tender stem that can be snapped off just below the bloom. This is where care is required because it is important to just remove everything above the stem–nothing below because all of the new growth will emerge below the stem.
Generally, rhododendrons and azaleas do not require more intensive pruning unless it is needed for space considerations or plant shaping. If pruning is required, do it immediately after flowering so the plant has adequate time to produce new growth for next year's flowers.
Pruning Lilacs
The common lilac (Syringa vulgaris, Zones 3-8, 8-20 feet) is another plant that usually requires spring pruning. Once the plant has bloomed, cut off the spent blossoms. To do this, make the cuts back to the first or second pair of leaves on the stem.
If the shrub needs some major pruning, do it immediately after flowering because these lilacs bloom on wood from the previous year. On established plants, cut out a few of the oldest stems yearly and this will encourage new growth. It is also important to remove dead or dying stems, as needed, to keep the shrubs looking their best.
Pruning Tree Peonies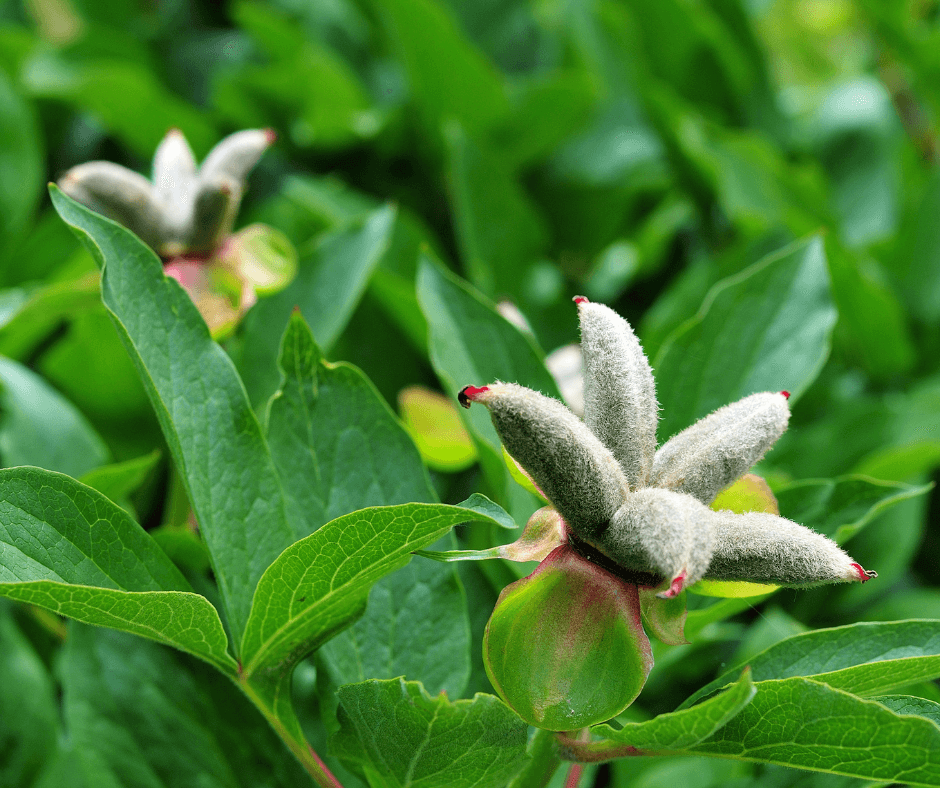 The tree peonies (Paeonia suffruticosa, Zones 4-8, 3-5 feet) in my garden have finished their flowering season, so it is time to cut off the old flowers to keep the plant from producing seed. I do this with hesitation because the brown, starry seedpods open to show bright red or black seeds, which can be quite attractive. But, the seeds also take needed energy away from the plant. To have the best of both worlds, I sometimes leave some pods on to look nice. In general, shrubby tree peonies do not need to be pruned extensively, unless it is to remove a stray or dead branch. These architectural slow growers are usually happy just remaining as they are.
Pruning Camellias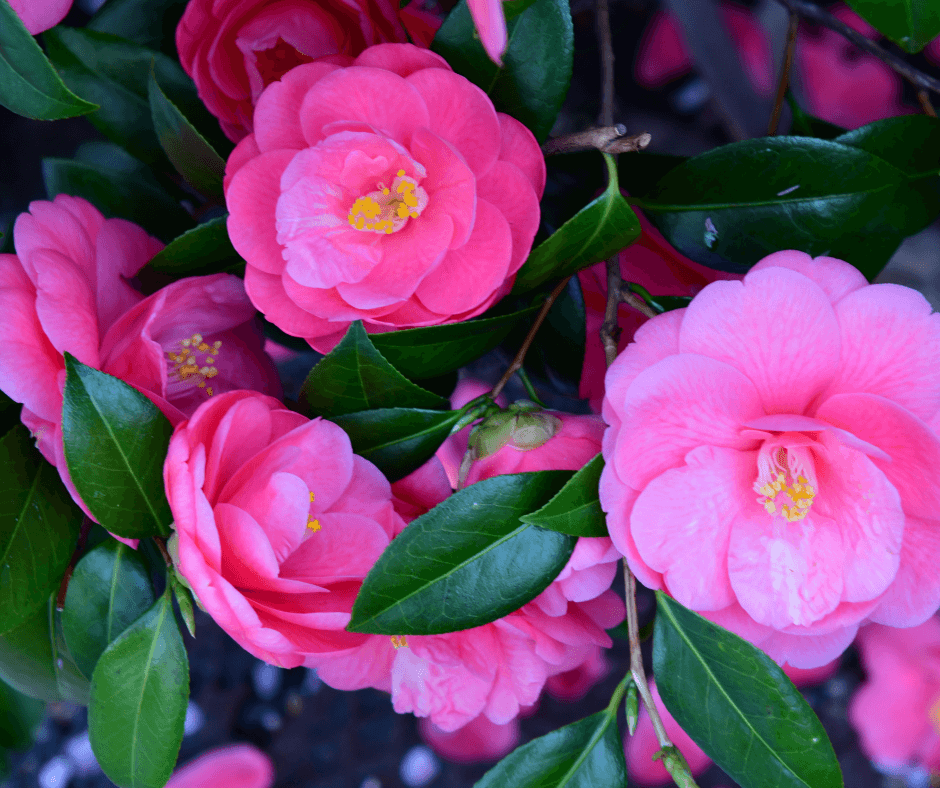 My Japanese camellias (Camellia japonica, Zones 7-9, 7-12 feet) put on their greatest show in late winter or spring, but they will also bloom intermittently. Generally do not need pruning except to improve the appearance of the plant or for space considerations. I also remove the old flowers after they are spent to keep the shrubs looking nice and clean. When I do decide to prune, I do it immediately after flowering.
I have found that most spring-flowering shrubs are fairly forgiving with regard to pruning if you are sure to prune them after they flower and no later. If mistakes are made, the plant will survive. Severe pruning may eliminate, or decrease flowering for the next year, but the plant will carry on. Remember that gardening should be enjoyable, so don't stress too much about potential pruning mistakes. Common sense is a good trait!