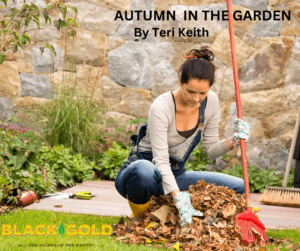 Autumn leaves drifting by your window are telling you that fall is here and it is time to put the garden to bed for the winter. For us, it is a very busy time, almost as busy as spring if one sees it as a not particularly enjoyable task and has not done their necessary work the previous fall.  I plead guilty to this almost every year so I will list what needs to be done, starting with the most laborious:
Cleanup This requires cutting back and cleaning up the flowerbeds. I do not realize how many flowers I have until I have to take them out.  Old plant material must be cut off and removed leaving minimal dead material on the ground surface.  This is important for iris as the borers which plague them will winter over in old vegetation left behind.  Roses need the same treatment to discourage black spot the following spring.  I often do my removal in stages: first cut the peonies back to 3 inches then the coneflowers to the base. The Helianthus (perennial sunflowers), both single and double are cut back as well. Next will be the hostas whose leaves are changing color even without frost.  All annuals should be removed as well (although some are still so pretty I am waiting for frost).  This old material should be bagged and disposed of.  We do not compost this material for fear of aiding and abetting garden pests.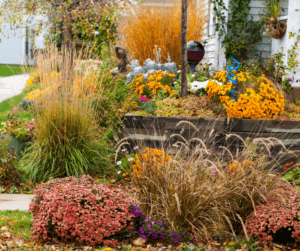 Plant new perennials Many nurseries encourage planting new perennials in the fall. I am always leery of doing so as plants from some mail order companies are so small I would prefer to give them a whole season to grow.  The exceptions are peonies, hostas and daylilies. To maximize your planting success, amend the soil with Black Gold® Natural & Organic Potting Mix, Natural & Organic Cocoblend Potting Mix or Natural & Organic Just Coir.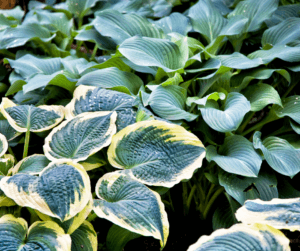 Plant Bulbs. This is the time of year to plant bulbs for next spring.  There are a couple of new things I learned about bulbs that I did not know before.  Wait to plant your bulbs until the weather is cool and after the first frost has the soil around 55 degrees F., but before it has frozen.  Be sure to plant at the recommended depth. If you want to make this job much easier go to GardenersEdge.com and look for the "Bulb Bopper". Do not add fertilize to the hole as that can encourage root rot.  Fertilize on the top of the ground (1) when you plant, (2) when you see the first foliage poking its leaves up and (3) when the plant starts to die back.  Use a food that is just for bulbs.  Mulch over the bulbs lightly and remove the mulch in the spring when the plants start to come up.  Another surprising piece of information is that some of the gorgeous tulips you see in stores everywhere this time of year should be considered annuals.  The first year after planting they will send up beautiful blooms.  The next year only a few spindly ones and the year after that only leaves.  However, some tulips will not only bloom every year but also naturalize over time.  These include the species, Kaufmanniana and Gregii, and giant Darwin tulips.  Give them at least 6 hours of sun a day and with all bulbs let the leaves die back on their own as they are building up the plants for next spring.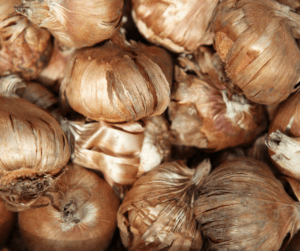 Planting trees and shrubs They do not have the stress of summer heat and will expand their roots over the winter. It is very important to be aware of the minimum distance from the house that shrubs and trees should be planted.  It is so common to see plants smashed against the house.  Small shrubs ought to be 3 to 4 feet away from the house, big shrubs such as lilacs 6 ft. and small trees such as Japanese maples 10 feet. Anything larger goes out in the yard.  Be SURE you know the amount of sun required for each plant.  Shade for rhododendrons and sun for Beauty Bush.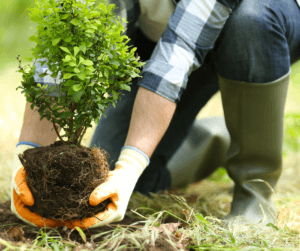 Mulch. Fall is the time to mulch, not so much to protect from the cold of winter, but because it is just too much to do in spring with everything else to do.  I previously mulched in the spring but now I can see the advantage of getting it over in the fall. We use bark mulch from local sources. The mulch should be 3 to 4 inches deep.  The most important thing to remember while mulching is to keep the mulch 3 inches away from the base of each perennial and 5 inches from shrubs and trees.  Mulching right up to plants will cause them to rot.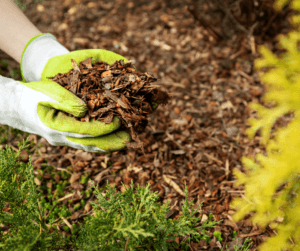 After the weather clears I will go outside and practice what I preach. Happy Gardening.
About Teri Keith
---