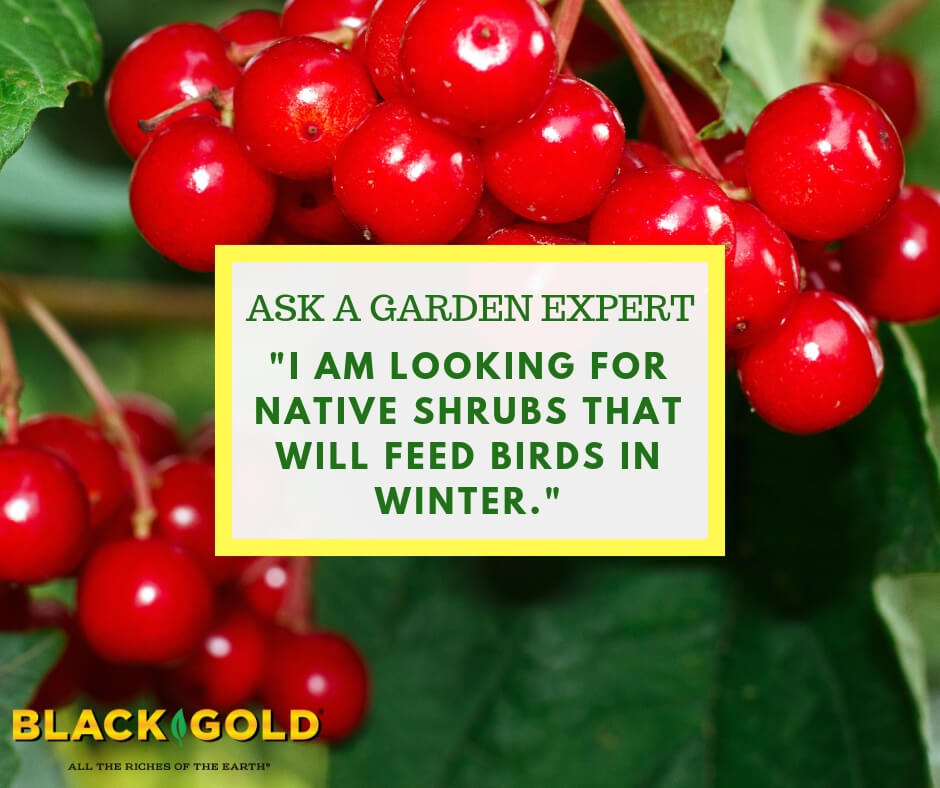 "What native bushes (VA) can I plant that will provide winter food for wild birds?" Question from Dagmar of Virginia
Answer: The fruits and nuts of many Mid-Atlantic native shrubs feed birds in winter. Here are some of the best shrubs with fruits and nuts for winter birds.
Native American Shrubs with Fruits for Birds.
Some of the best red-fruited shrubs for birds are winterberry (Ilex verticillata), American cranberrybush (Viburnum opulus var. americanum), and chokeberry (Aronia arbutifolia). The pretty witherod (Viburnum nudum) has berries that turn from bright pink to blueish-purple, and arrowwood (Viburnum dentatum) has deep-blue berries. The vivid purple fruits of American beautyberry (Callicarpa americana) are also lovely and loved by birds. These highly landscape-worthy native shrubs have beautiful winter fruits coveted by many songbirds.
Native American Shrubs with Nuts for Birds.
A good nut-producing native shrub is the American hazelnut (Corylus americana). Plant this large shrub along the margins of any spacious garden or landscape. The edible hazelnuts they produce are just as tasty to homeowners as they are to birds and other wildlife. We also recommend planting sunflowers in the garden. Let their seedheads dry and winter birds will flock to them. (Click here to learn more about nuts for edible landscaping.)
Check out your local garden center for varieties of these shrubs. Most cultivated forms have even more fruits than wild types. Expect the berries to persist from early to midwinter, so you can appreciate their landscape color and wildlife value.
Happy winter gardening!
Jessie Keith