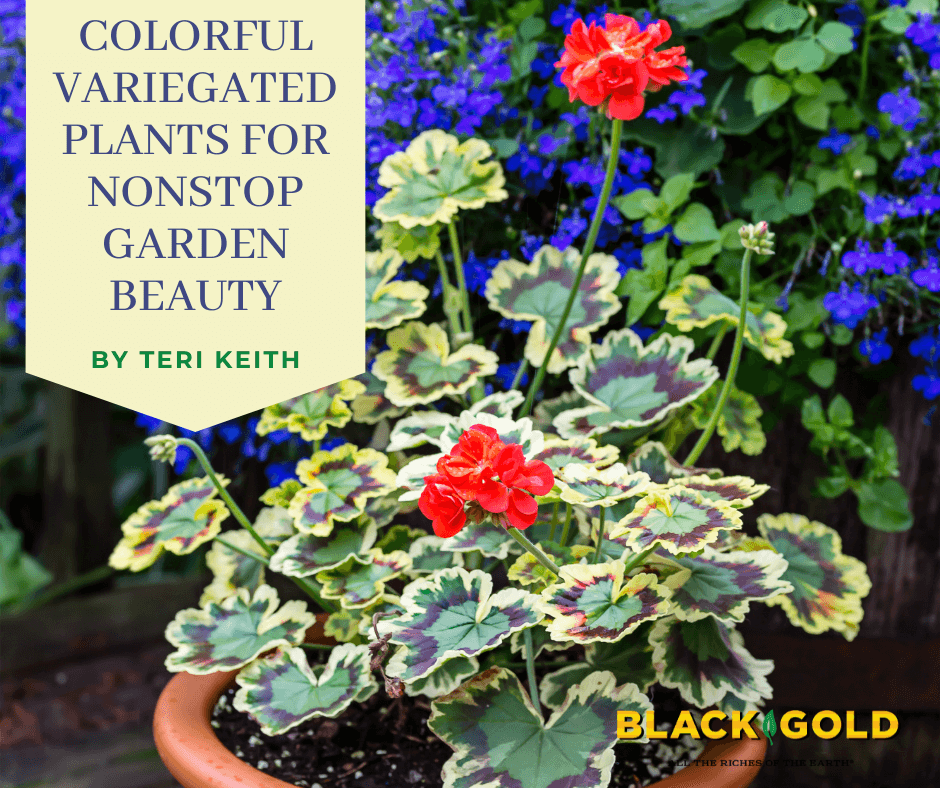 While most gardeners usually focus on flowers in their garden beds, there is another group of plants just as beautiful. These are ornamentals with showy, variegated leaves in multi-colors. They include perennials, such as variegated Hostas, tender tropicals, such as Caladiums, and bedding plants, like everyone's favorite leafy gem, Coleus. They are garden workhorses that look good all season long if given good care.
Variegated Hostas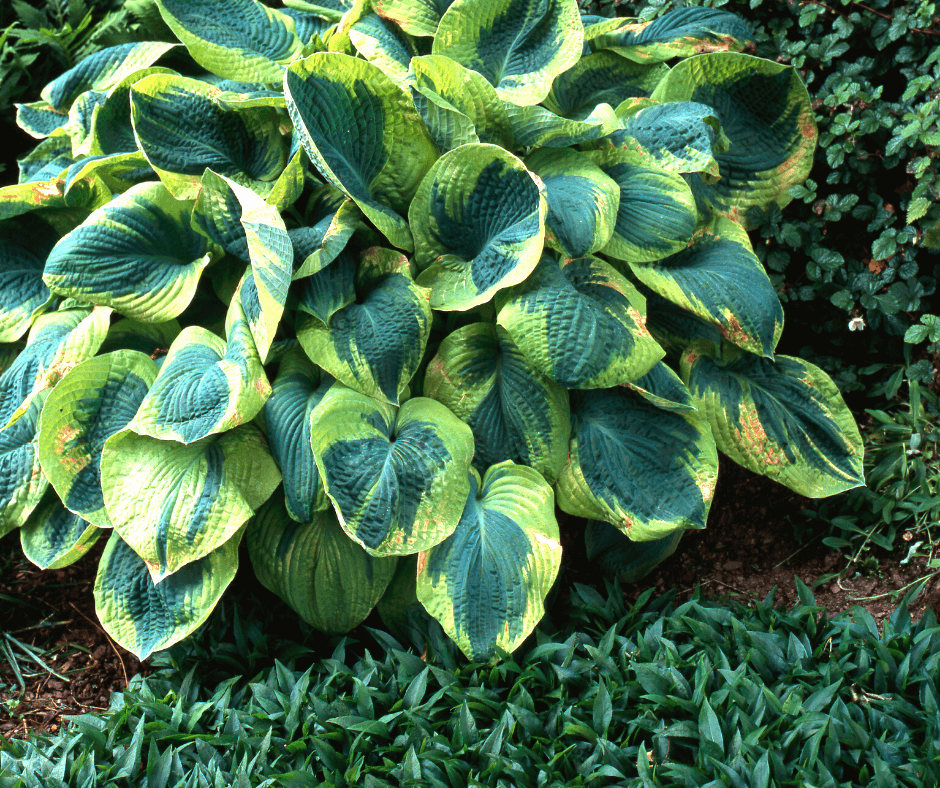 Hostas are close to my heart. I have been collecting them for 30 years and have more than I care to say. These shade-loving beauties are currently the most popular perennials in the United States.  New varieties are being bred as fast as they are being sold, which is always the case with whatever is the current rage. With thousands of different types from which to choose, they never grow old.
Hostas are Asian in origin, and one of the first notable naturally-variegated varieties was first found in Japan in the 1930s and brought to America. It became the highly popular variety, 'Frances Williams' (Hosta sieboldiana 'Frances Williams', 2 feet x 5 feet, USDA Hardiness Zones 3-9), with its large, blue-green leaves edged in light green. It went on to become the most widely sold perennial of all time. Like most blue hosta, it is a shade lover that appreciates fertile, well-drained garden soil. Slugs are less apt to prey on its leaves as well.
Variegated hosta leaves now come in many shades of green, chartreuse, blue-green, gray-green, cream, or white and have different colored edges, centers, or stripes through the leaves. Other wonderful, newer varieties to try include 'Fragrant Bouquet' (1.5 feet x 3 feet, Zones 3-8) with its stems of sweet-smelling white summer flowers that look pretty against its white-edged, pale-green leaves. The huge (10½ inch) chartreuse-yellow leaves of  'Stained Glass' (15 inches x 48 inches, Zones 3-9) have deeper green edges that make this large, colorful, sun-tolerant hosta a real standout. Its pale-lavender flowers are fragrant and bloom on 30-inch stems. On the other end of the size spectrum is 'School Mouse' (8 inches x 12 inches, Zones 3-9) that has little leaves with blue-green centers and wavy, yellow edges. The classic hosta 'Undulata Variegata' (1.5 feet x 3 feet, Zones 3-9) is a variegated beauty that never goes out of style. Its bright-white leaves with two-tone green edges are very curly and appealing.
Variegated Coleus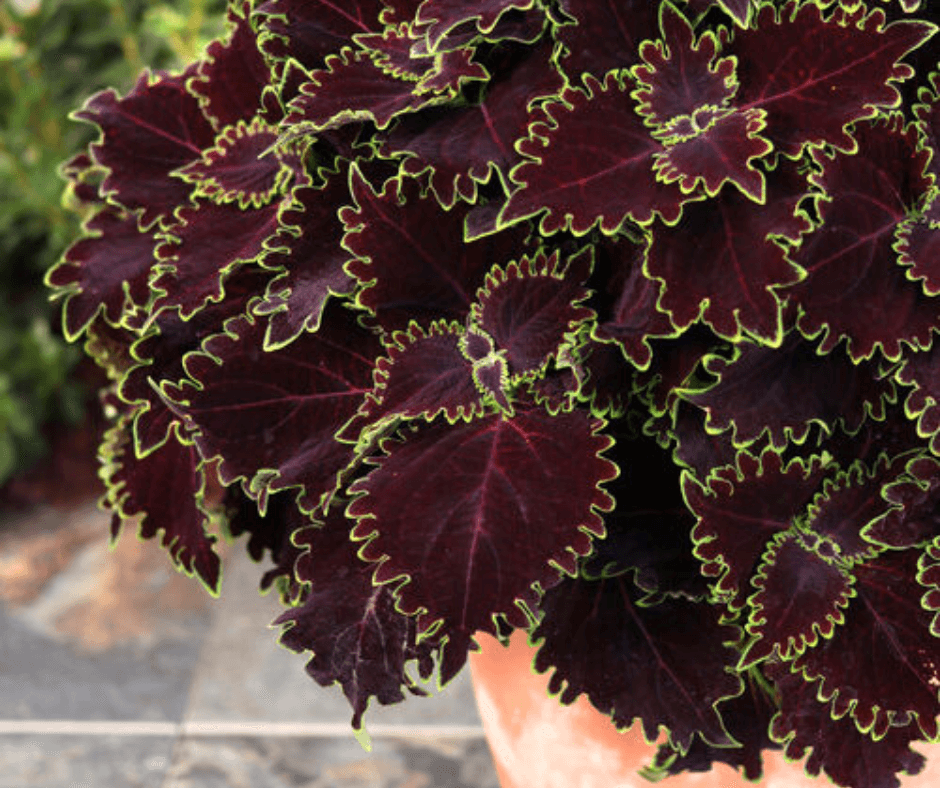 Another plant that has some of the showiest leaves ever, is Coleus (Solenostemon scutellarioides), which is grown as an annual. It has glowing leaves in practically every color of the rainbow, including green, yellow, purple, pink, orange, red, and white–most with a mix of colors on their leaves. Coleus varieties are either upright, mounding, or trailing and range from 6 inches to 36 inches in height.  Most like partial to full shade and do well in pots and hanging baskets on a shady deck or front porch.  They also make excellent bedding plants.
A fine mounding variety for containers is ColorBlaze® Strawberry Drop from Proven Winners. Its small leaves are in patterns of red, green, yellow, and black and the stems trail a little. The bold, upright ColorBlaze® Wicked Witch™ is another to look for from Proven Winners, with its deepest purple, yellow-laced leaves.  The feathery red and yellow leaves of TERRA NOVA® 'Lovebird' offer a riot of color that few can match for sheer brightness and charm.
Coleus will not tolerate cold winter weather, so if you have one you really want to keep, take a cutting. Simply cut a stem, remove the lower leaves, put it in a glass of water, and new roots will start to grow in a week or so. Plant it in a well-drained pot filled with Black Gold All Purpose Potting Mix, and then keep it lightly watered and near a bright window. Give it good care, and you can plant it in the garden again next spring.
Variegated Geraniums
Tender geraniums (Pelagonium hybrids) are sun-loving, potted or bedding plants that are often grown for their beautiful clusters of red, white, or pink flowers, but many also have fancy variegated leaves with different colored edges, rings, and centers.  One of my favorites is 'Mrs. Pollock', which has leaves edged in cream followed by a purple-red band and a bright green center. Another is 1879 heirloom, 'Velma Cox', which has pale salmon-pink flowers and cheerful leaves with radiating colors of green, purple, red, and pale yellow. It is so pretty that you will want to bring it indoors as a winter house plant for a sunny window.
Variegated Caladiums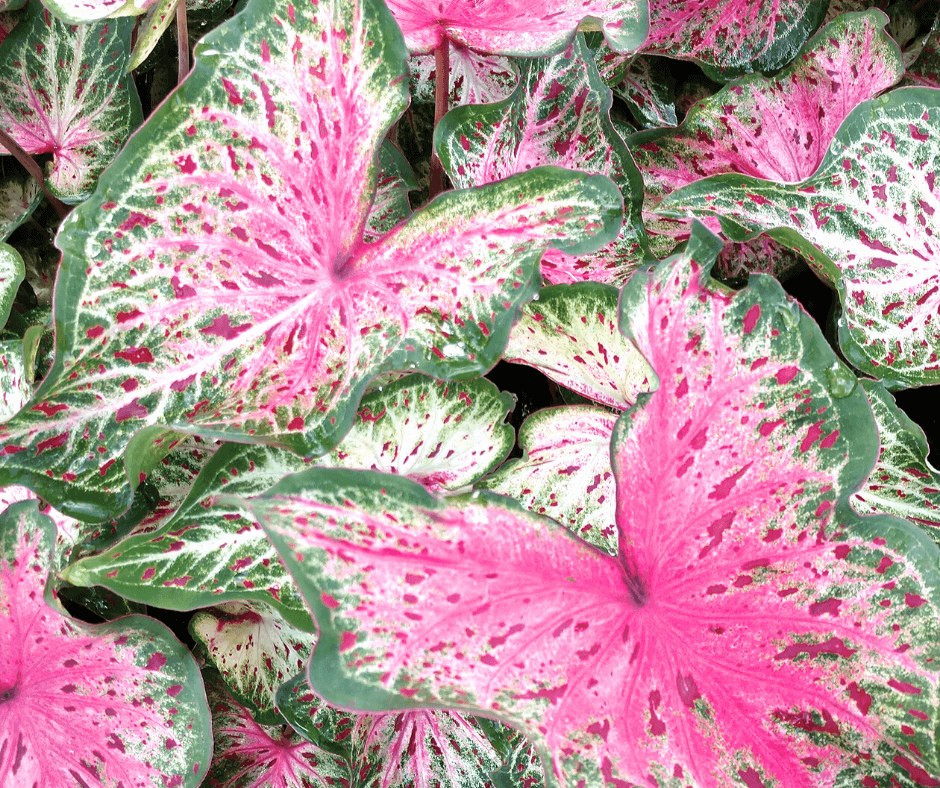 Brazilian Caladiums (Caladium hybrids, Zones 9-11) have some of the most gorgeous leaves on the planet.  Their large, heart-shaped leaves can reach up to 8 inches wide and 15 inches long (sometimes larger) and come in mixed shades of green, white, ivory, pink, rose, or red, which are presented in different beautiful patterns. On occasion, they produce spathe and spadix flowers, but these are insignificant.
Caladiums can be purchased as bulbs to plant on your own when the soil warms in late spring (Important note: cool, moist soil causes their bulbs to rot), or better yet, they can be purchased as plants. Plant them in full to partial shade, unless otherwise noted. It is important to provide moist soil because the roots have an aversion to drying out, which is why I think they do better in pots where you have more control. The bulbs cannot withstand winter cold, so dig and clean them before frost in fall, store them in a cool dark place through winter, and plant them again in spring when the soil is warm.
Proven Winners has come out with several exceptional caladiums that grow well in both sunshine and shade. Of these, I really like Heart to Heart® 'Flatter Me' sun-or-shade caladium, which has cream leaves speckled with green and centered in bright red, as well as the completely colorful and speckled Heart to Heart® 'Heart and Soul'.
(Click here to learn more about Caladium.)
Variegated Angelwing Begonias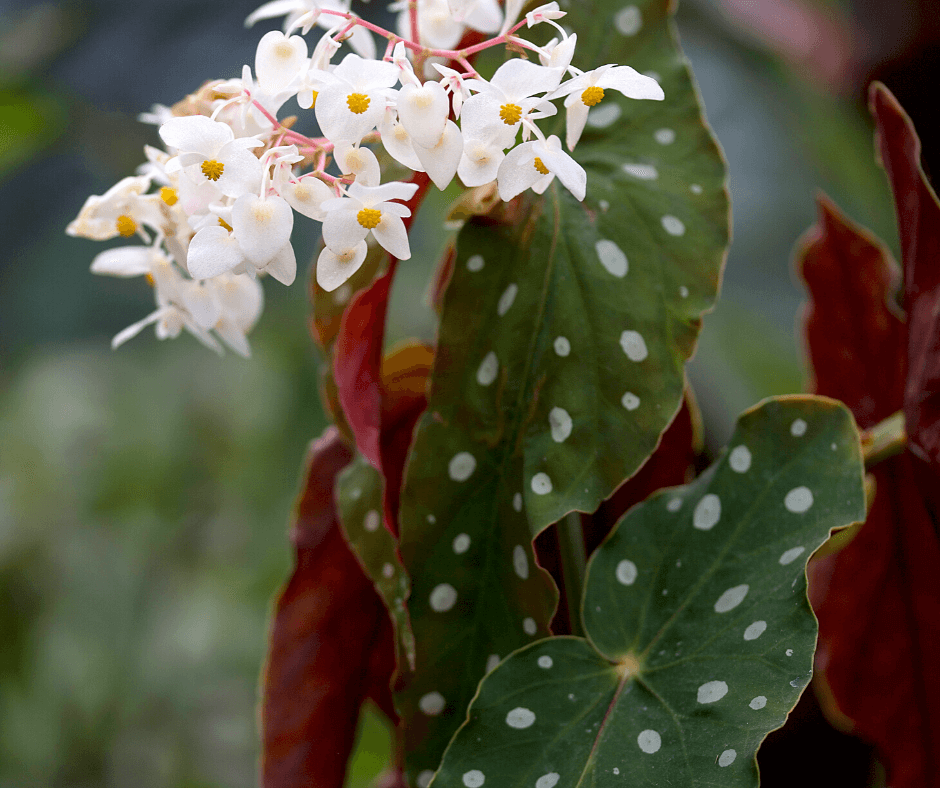 Angel-wing begonias have both beautiful leaves and flowers, and potted specimens can be grown outdoors in summer and brought indoors as house plants in the winter. The leaves have a telltale wing shape and many are variegated. They are hybrids of the speckled-leaf Brazilian begonia (Begonia aconitifolia) and the Lucerna scarlet begonia (B. coccinea 'Lucerna'), which were first bred by Eva Kenworthy Gray in 1926. The progeny and descendants have since been called angel wing begonias. Many hundreds of varieties exist today, and lots have leaves that rival their flowers when it comes to beauty. (Click here for a full account of angel wing begonia history.)
The new variety called 'My Special Angel' looks especially promising with its dramatic, white-speckled dark leaves and pink flower clusters. The purple-leaved 'Whimsy' is similar but has darker speckled leaves. Both can reach heights of 1 to 3 feet without pruning. The jagged-edged leaves of 'Pink Minx' are unmatched in their striking beauty. They are dark green with patterned speckles of silver and pink that shine against its clusters of pink blossoms. It's a wow!
(Rex begonias, among others,  also come in lots of varieties with festive leaves. Click here to discover some of the best!)
These beautiful plants can be planted and grown in garden beds or containers through summer if you have an empty pot that needs filling or a space in a bed that looks colorless and bare. Then let their pretty leaves do the work.