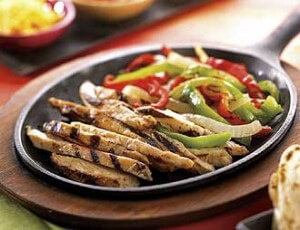 Fajitas may seem like they have lots of ingredients, but they are so easy to make. It's especially convenient (and more delicious) when half of the ingredients are from your garden. Making your own fajita marinade from scratch makes the recipe that much better. Most of the time is spent with the prep and fresh marinade. Cooking time is quick!
Marinade Ingredients
3 limes, juiced
4 tablespoons olive oil
2 garlic cloves roughly chopped
3 chipotle chiles in Adobo sauce
3 tablespoons roughly chopped fresh cilantro leaves
1 teaspoon honey
1 teaspoon fresh cumin
1/2 teaspoon ground black pepper
1 teaspoon salt
Other Ingredients
2 large, butterflied chicken breasts
1 green pepper, seeded and sliced
1 yellow pepper, seeded and sliced
1 red pepper, seeded and sliced
1 large Spanish onion, sliced
2 tablespoons vegetable oil
Salt and pepper, to taste
8 warm flour tortillas
1 fresh avocado, sliced
sour cream
salsa
Purée the marinade ingredients together, then pour them in a resealable plastic bag, and add the butterflied chicken. Seal the meat in the refrigerator for at least 8 hours before cooking.
Place a large skillet on the stove and set to medium-high heat. Once the pan is hot, add 1 tablespoon of vegetable oil. Add your sliced veggies to the skillet and cook them for 4-5 minutes, until almost al dente. Remove veggies from the skillet, and place them aside on a plate.
Add the second tablespoon of vegetable oil to the skillet and add the marinaded chicken. Cook the butterflied chicken for at least 5-6 minutes per side. (Cut the chicken in the center to make sure it is fully cooked before removing from the pan.) Cover the chicken breasts with foil and allow them to rest for 5 minutes before slicing.
Return the vegetables to the hot pan and flash cook them for another 3 to 4 minutes. Slice the chicken breasts and place them on a plate with the hot veggies. (If you have a cast-iron fajita plate to serve them on, even better!)
Roll the fajitas into a warm flour tortilla dressed with sliced avocado, salsa, and sour cream, and enjoy!