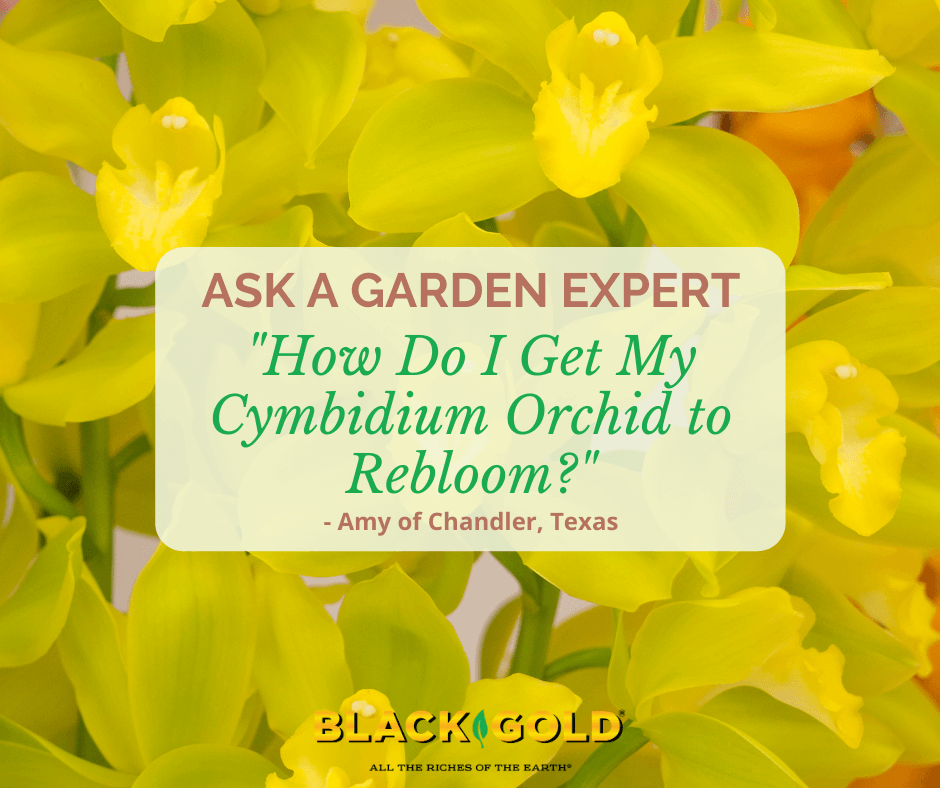 "I have an orchid plant that I have had for 8 years; it grows and duplicates (I had to get another container to separate it) but won't grow the stalk to bloom. It hasn't bloomed since the first year I got it. It isn't the typical large rubbery leaf kind. I believe Cymbidium Orchid. When I got it, it had green flowers. It grows long leaves beautifully, but I would like to get some blooms. I have tried reducing water, changed organic potting, tried using orchid fertilizer… I even put them outside one year to try to cold shock it into bloom…After so many years you would think I would have done something right, but I have helped it grow and thrive so there is some hope. Do you have any suggestions?" Question from Amy of Chandler, Texas
Answer: As with any orchid, Cymbidiums require certain criteria to be met to flower. Timing and temperature must be managed to achieve blooming. Here are the recommended steps to take.
Flower spike initiation takes place in spring or summer when plants will get good light and a drop between warm daytime and cool nighttime temperatures. Placing the plants outside in spring after the threat of frost has passed will help, so that they can experience the warm days and cool nights for flower spike initiation. Once they have begun to set spikes, keep the plants cool (59-65 degrees F) until they begin to flower. Warmer temperatures and dry air and soil can cause the spikes to wither. Once flowering has begun, you can take your Cymbidium to a warmer spot where they can be enjoyed, if you desire. The spikes can become quite large and heavy, so support them with small wooden or bamboo stakes and soft plant ties. The long-lasting flowers can bloom for up to eight weeks. Cut them back to the base once they have stopped. (Click here for an excellent reference for Cymbidium care.) Semi-terrestrial orchids like these grow beautifully in Black Gold Orchid Mix!
Happy gardening!
Jessie Keith
Black Gold Horticulturist