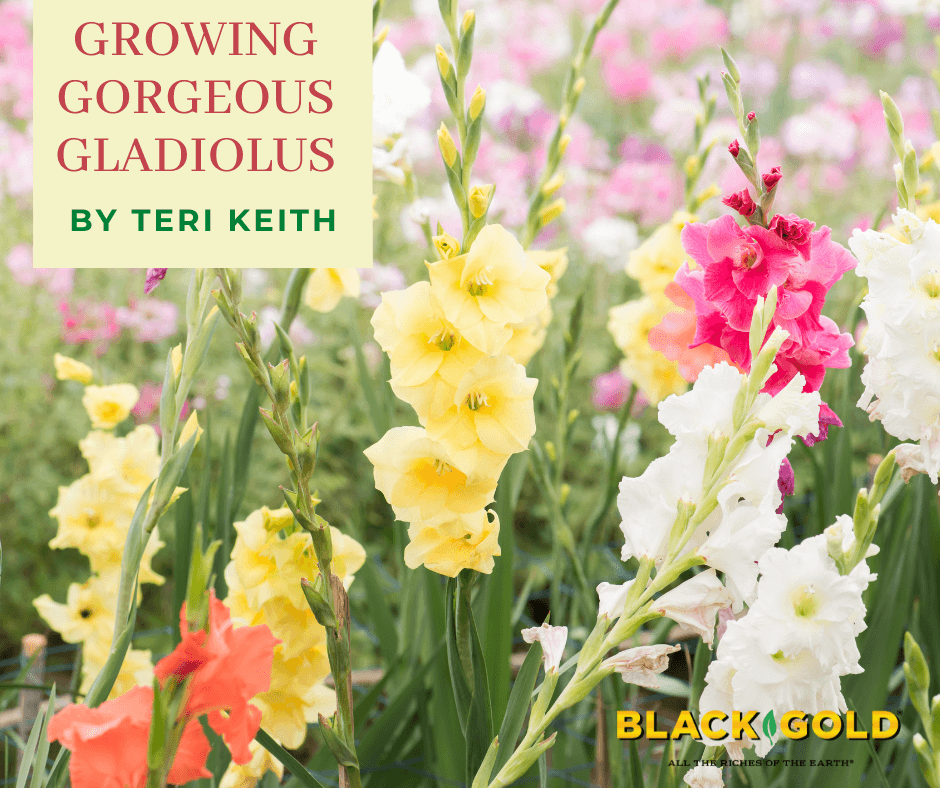 There is nothing more beautiful in the summer than sword lilies (Gladiolus hybrid) in a vase or the garden. Their stately stalks of glowing, fragrant flowers come in an array of colors that just can't be beat! Most gardeners grow them for cut flowers, but glads can also be carefully worked into summer flower borders for floral impact. There are also compact types suitable for border edges and even containers!
A Short History of Garden Gladiolus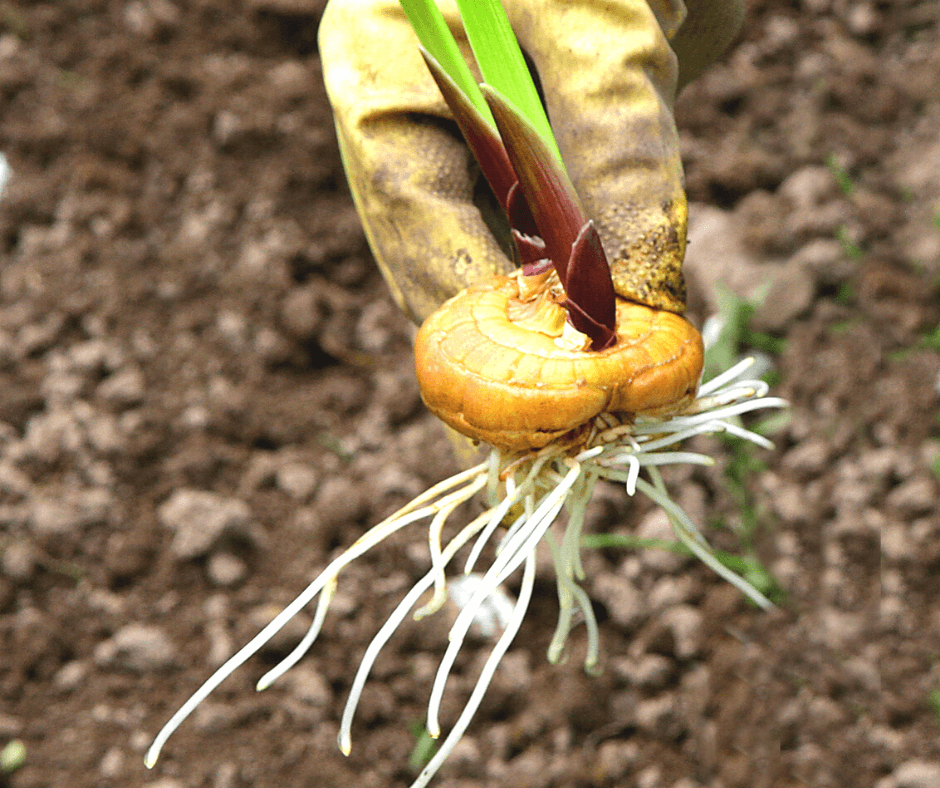 Though Gladiolus species exist across much of the Old World, most garden gladioli originate from complex hybrids of numerous South African species–South Africa being the world center of Gladiolus diversity. World travelers and collectors brought the first South African specimens to Europe in the mid-1700s, and the earliest hybrids appeared by the early- to mid-1800s. Commercial nurseries continued developing their own hybrids (and do to this day), and the flower took off in popularity. By Victorian times, when meanings were attached to every flower, red gladiolus flowers signified love and passion, while pink ones meant femininity and motherly love.
Planting and Caring for Gladiolus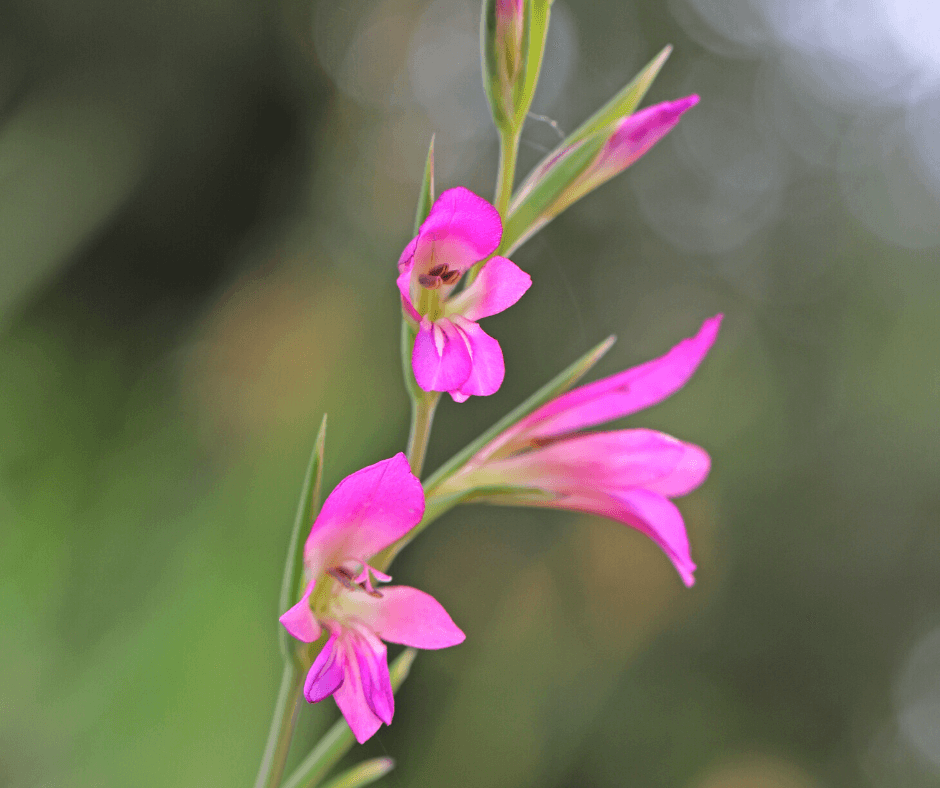 Start planting gladioli a week after one's last frost date (click here to determine your last frost date). Choose a sunny spot with fertile, well-drained soil that's high in organic matter. To keep waves of these short-season flowers blooming from early summer on, plant more corms in two-week intervals until late June. Gladiolus have bulbous root structures called corms that need to be planted in 5- to 6-inch holes.  I always put some fertile, OMRI Listed Black Gold Natural & Organic Garden Soil and bulb fertilizer in the bottom of the hole to ensure good growth. Plant corms in rows 6 to 8 inches apart in a cutting garden or more closely in small groups of 5 to 9 corms mixed in with tall, bushy perennials to provide upright patches of bright color. Water evenly. Gladiolus do not like wet feet or parched soil conditions.
Glads are one of the most long-lasting cut flowers for bouquets, which is why commercial florists love them. They can last for a week or two in a vase. Pick them when the stems just start blooming and remove the lower leaves. Cut the stems diagonally with sharp shears, and put them in water fortified with cut-flower food. A tablespoon of fully sugared lemon-lime soda to a quart of water also works.
Some gladiolus are hardy but most are tender. Gently dig the corms of tender types up in fall when their leaves turn yellow.  You will find new, small cormlets attached to the main corm. Keep them all to grow new plants, though the cormlets will take a full second season to reach flowering size. Put the corms in a warm, dry place for 2 weeks until they are dry. For storage, hang them in mesh bags in a cool, dry place through winter.
Gladiolus to Grow in Gardens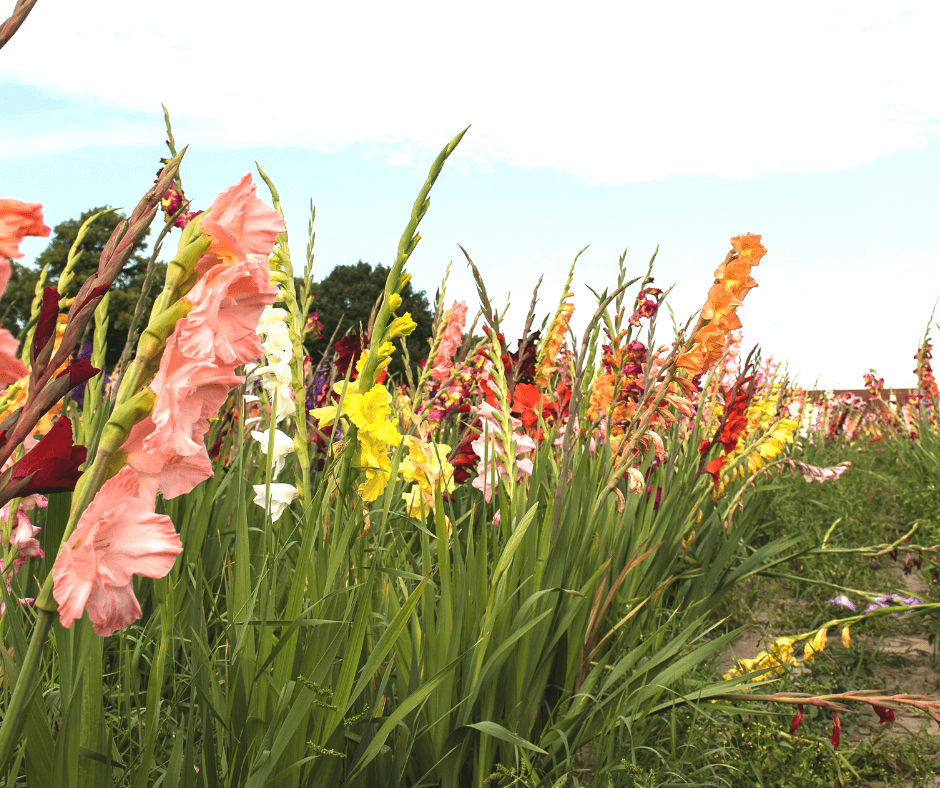 There are several types of gladiolus for gardeners to grow.
Standard sword lily (Gladiolus hybrids, Zones 8-10) range in height from 3 to 6 feet tall and may have up to thirty 5- to 6-inch flowers on each stem. There are hundreds of exciting varieties. A festive choice is 'Frizzled Coral Lace' with lacy coral-pink flowers that fit the name. The rose and peach 'Guinea' is a very pretty extra tall one, and the breathtaking 'Zizanie' has large blooms in broken shards of red and white. When planting taller glads like these, choose a location with low wind and surround the plants with perennial or tomato cages to keep them upright. Staking also helps. Planting corms an inch deeper may also assist with stabilizing the plants.
Hooded sword lily (Gladiolus primulinus hybrids (syn. G. dalenii), Zones 8-10) are shorter (2-4 feet) and have an unusual floral shape, with the top petal of the flower hanging over the rest.  They have large blooms, often with ruffled edges, that come in lots of color variations. An extra pretty one is 'Las Vegas' with its primrose-yellow flowers edged in scarlet. The bright red 'Mirella' is another choice selection.
Dwarf sword lily (Gladiolus nanus hybrids, Zones 7-10) reach only 1.5 feet tall. They have large flowers in many colors, including lots of bicolors.  Some of the blooms are white with a rose teardrop on every petal.  Dwarf glads are hardier, so more gardeners can grow them as perennials. Try the super-compact varieties in the Glamini® Series. They are less hardy (Zones 8-10) but perfect for containers or summer borders.
Exceptional Gladiolus species are offered by some bulb companies. One of the best is the hardy Byzantine sword lily (Gladiolus communis subsp. byzantinus, Zones 6-10) with its upright swords of smaller, pink flowers. It is an heirloom that makes a fine addition to old-fashioned perennial gardens. Another to try is the large-flowered branched sword lily (Gladiolus ramosus, Zones 8-10). The brilliant pink, purple, and red 'Vulcano' is spectacular! The hardiest of them all is the butterfly sword lily (Gladiolus papilio, Zones 3-6). Try the bold, deepest-red 'Ruby' with its striking, butterfly-like blooms on 30-inch stems.
More Gladiolus Notes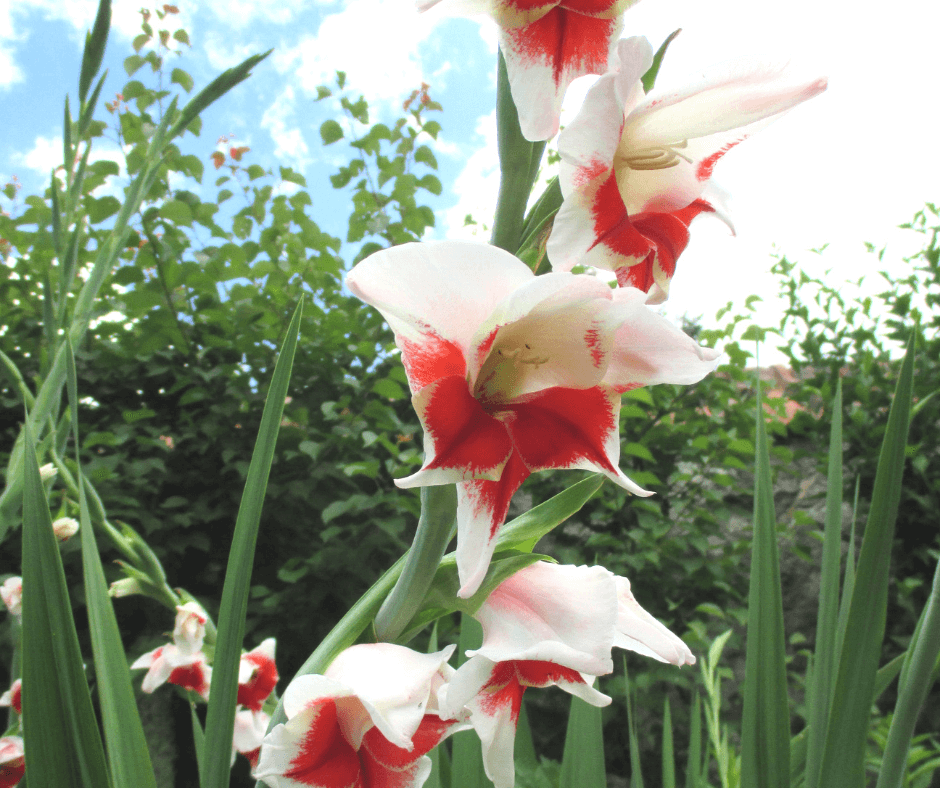 About leaving corms in the ground, I have some standard red hybrid sword lilies that I did not get around to digging up last fall in my USDA Hardiness Zone 6 garden.  Imagine my surprise when they came up hale and hearty this spring.  I was really surprised! I have read that planting them in 7- to 8-inch holes will increase the chance of them coming back ni northern gardens. Some mulch over the top also helps.
Two excellent companies I recommend for buying glads are Brent and Becky's Bulbs, and K. van Bourgondien. Glads are blooming bountifully now, but their corms are only sold in the spring, so look for them in March to have the pick of the best varieties. Gladiolus are some of the most gorgeous flowers in the summer garden, so plan to plant some in yours.