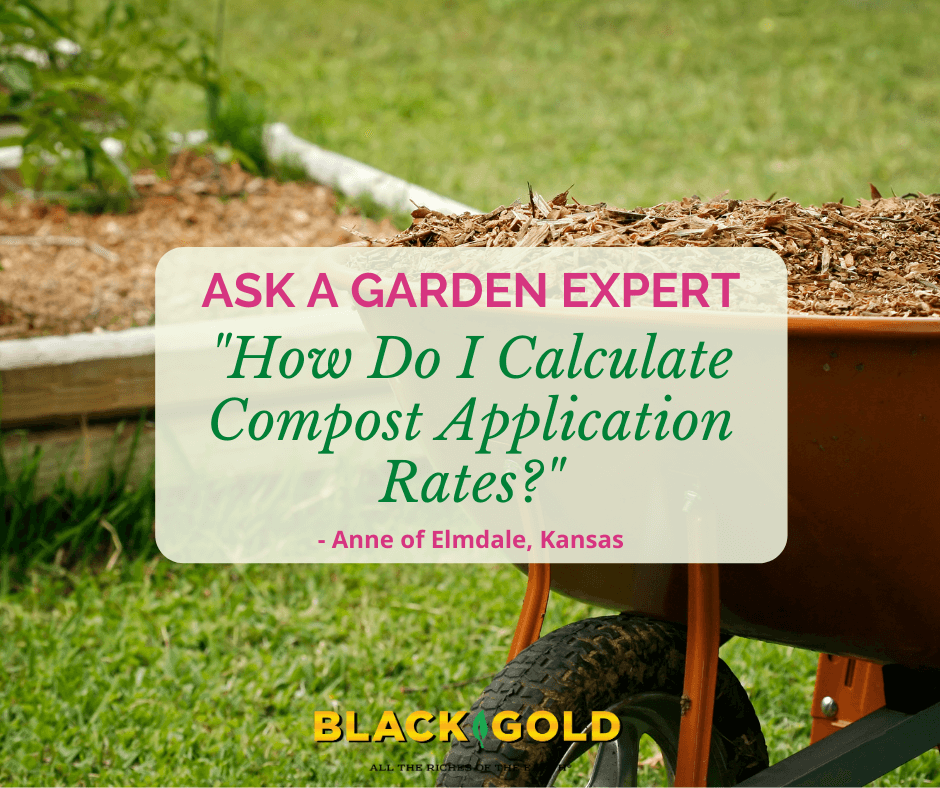 "How do I calculate compost application rates to yards?  I am trying to figure how much to order." Question from Anne of Elmdale, Kansas 
Answer: To determine how much compost, topsoil, or mulch to apply to beds, use the formula below along with a conversion table and links to other helpful sources–most notably, a great article for easily calculating the square footage of beds of various shapes.
Amendment Application Formula for Beds
For square or rectangular beds, multiply the bed's length by its width to get square footage (L *W= ft2). If you wish to lay mulch 2-inches deep, then have a look at the table below to get the corresponding square footage covered by 1 cubic yard of compost, mulch, or peat moss. Then divide the square footage in the table that matches the 2-inch depth.
For example: If you had a 12-foot x 24-foot bed that required 2 inches of peat moss for tillage, calculate 12 feet x 24 feet = 288 square feet, then from the chart you can determine that 288 ft2/162 ft2  = 1.78 cubic yards of mulch. 
Square Feet to Cubic Yards Conversion Table

1 cubic yard of an amendment or mulch will cover the following square footage to each depth.

Depth of Amendment

Square Footage Covered

1"

324 ft2

2"

162 ft2

3"

108 ft2

4"

81 ft2
To calculate the square footage of other bed shapes, please click here for an excellent reference. You can also click here to view a handy mulch/amendment calculator.
Spring is the best time to liberally apply compost or mulch to gardens, but if you also plan to do significant fall planting, reapply in autumn. Organic matter breaks down over the course of the season and needs to be replenished. If you plan any winter or cold-frame gardening, apply compost as both an amendment and protective mulch.
Happy gardening,
Jessie Keith
Black Gold Horticulturist