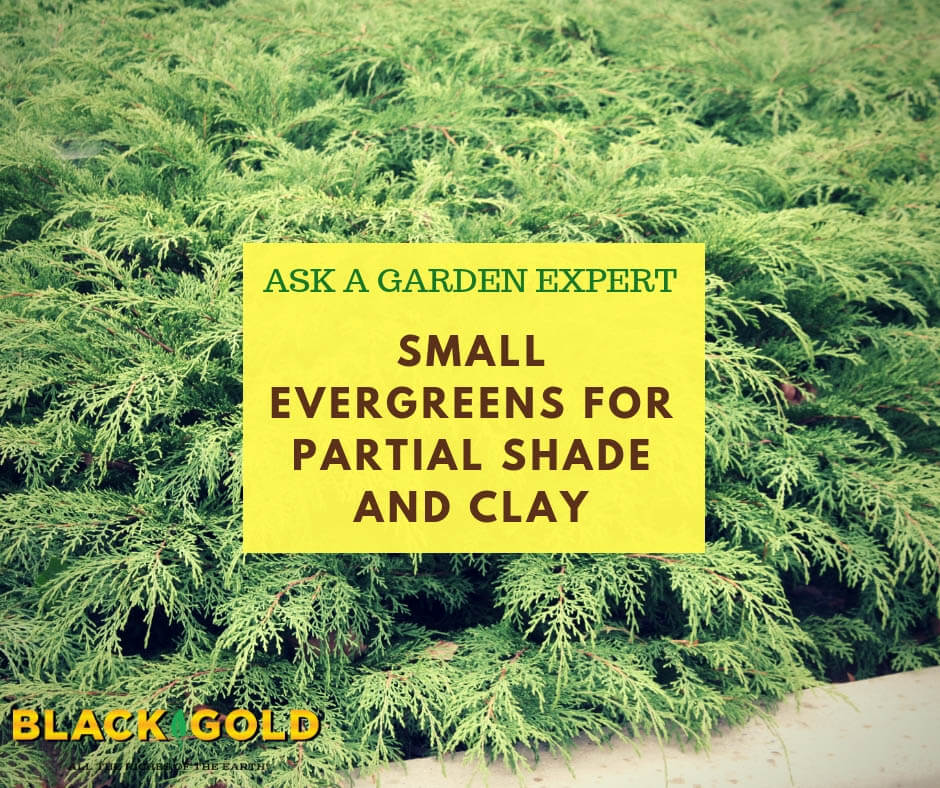 "What are some good smaller evergreens for areas that are a little shady and have clay soil? I'm in zone 6 Thanks!" Question from Erin of Kirkwood, Missouri
Answer: Whenever someone asks about evergreens for partial shade, I always turn to one of my favorite coniferous evergreens, Siberian cypress (Microbiota decussata, shown above). It only grows to a maximum of 2 feet high but slowly spreads to over 6 feet, and will grow well in partial sun/shade. Its soft, arching stems are deep green in summer and turn bronze-purple in winter. Most references say it requires fertile soil, but Siberian cypress is quite adaptable to different soil types. Still, it would appreciate the addition of Black Gold Garden Compost Blend to its soil at planting time.
A non-invasive, non-coniferous evergreen for partial shade is Chinese box (Sarcococca hookeriana var. humilis).  This soil-adaptable, spreading shrub reaches just 1.5 to 2 feet and 3 feet across. In the very early spring, fragrant white flowers appear above its dark green foliage. (Bees love the flowers!)

Perennial hellebores (Helleborus hybrids) are also excellent evergreens for partially shady spots (learn more about growing hellebores in the article below). And, you can't beat their lovely late winter flowers. Evergreen Solomon's (Disporopsis pernyi) seal is another non-invasive evergreen perennial that slowly spreads and will withstand dry shade and tough soil.
If you want a native evergreen option, try Christmas fern (Polystichum acrostichoides). Not only is it fully evergreen, but it is drought tolerant and soil adaptable.
Clay soil can be considerably lightened and structurally improved with the addition of Black Gold Canadian Sphagnum Peat Moss and Garden Compost Blend. I recommend adding both to your soil as you cut and prepare new garden beds or spots for new plantings.
Happy gardening! Jessie