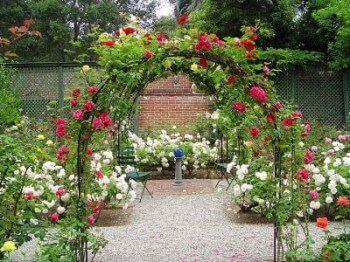 When I was a young horticulture student in Northern California, in between classes my aged mentor employed me to care for his hybrid tea cutting roses. His garden featured at least thirty of them back in 1979 when spraying, pruning, and fertilizing was a continuous series of tasks all season long.
Rose Nutrition
Among the many lessons were important basics on rose nutrition. It was truly amazing how much standard rose food each of the plants needed to keep producing new buds without pause from May to October. In California the rose season is long, which demanded I feed on a regular schedule. Back then I used 16-16-16 synthetic granules and watched the plants go nuts…for a little while. Then they'd start petering out as the synthetic fertilizer leached further beyond the root zone every time I watered.
Since then we've learned that the yo-yo diets of synthetic fertilizers are not beneficial to whole plant health. Growing roses organically can reduce the frequency of fertilizer applications because these nutrients release slower but remain in the root zone far longer. In addition, they contribute to overall soil fertility by stimulating microbes that boost rose plant immunity.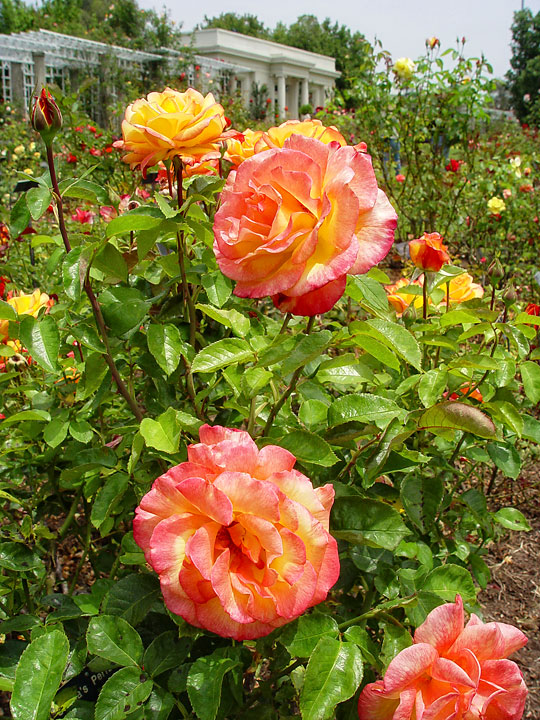 Organic Rose Fertilizers
Even before the new emphasis on organic gardening, rose growers discovered the benefits of alfalfa meal fertilizer. It's cultivated into the soil around the rose plant at a rate of about a half cup per rose. Alfalfa meal is low in nitrogen, just 3%, but it's released quicker than other organic sources. It is particularly useful in spring to stimulate the development of new canes, which are a rose grower's goal. Plus, nitrogen helps to stimulate vigorous new growth, strong stems and plentiful foliage to support the flower buds to come.
But roses need phosphorus and potassium too, because these nutrients are essential for new flower production. That's why rose & flower fertilizers contains bloom stimulating phosphorus and potassium. These nutrients are derived from a variety of organic sources that can be slow to become fully active, but once they are, there is no better way to feed. Your roses will take up organic fertilizer at their own rate rather than the sudden dose of synthetic rocket fuel. Mark the calendar for regular feedings throughout the growing season so your plants will perform without a lull.
Benefits of Organic Rose Fertilizers
Roses are so versatile they are grown in ground and in pots where feeding is even more important due to the limited root zone. Grown chemical free, roses may become less vulnerable to pests and diseases due to natural resistance supported by relationships with certain soil fungi that work through the roots. Organically grown roses won't have to suffer the yoyo effect of high nutrient loads after fertilizer application, followed by plunging lows a week or two later. They'll respond much like a child who eats a bowl of sugary breakfast cereal, then when blood sugar plunges in a couple of hours she falls asleep at school
Key to success with organic fertilizers is to make sure they're worked into the soil and watered deeply and consistently to help plants take up these nutrients. Even moisture levels stimulates better microbe activity too, which in turn makes the soil more fertile over all. For more naturally floriferous roses, feed your soil with organic fertilizer and avoid chemicals. Your plants will reward you with fewer diseases, more vigorous growth and a consistent rate of new bud formation. And that means new flower buds will form every day to remain more floriferous all season long.