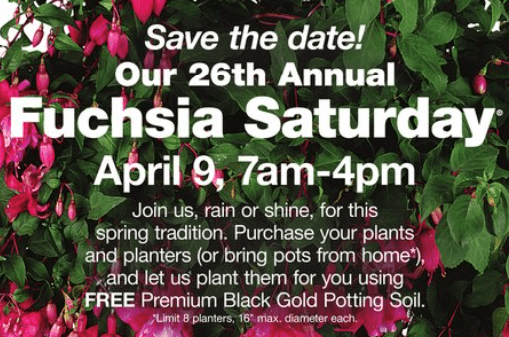 "How do I overwinter my fuchsia baskets?" Sherry from Camas, Washington
Answer: What a great question! Large, happy fuchsias are expensive, so it pays to overwinter them. You have two overwintering options:
Bring Your Fuchsia Indoors
Clean your fuchsia before bringing them indoors (click here to read how), and maintain them as house plants through winter. Place your baskets in a location with bright, filtered sunlight. Water the plants when the soil begins to dry in the upper 2 inches. If your home is cool, they will likely need less frequent watering. They are best fed with a slow-release fertilizer.
Fuchsias grow best in rooms with high humidity, so refrain from growing them near heating vents that will quickly dry their foliage and soil. Prune back any dead or dying branches, and keep a watch out for pests, such as white flies and spider mites. Treat them with insecticidal soap if they develop any pests (click here to learn more about house plant pest control).
Induce Dormancy or Semi-Dormancy
Most hybrid fuchsias are not cold hardy, aside from the reasonably hardy hummingbird fuchsia (Fuchsia magellanica), which survives to USDA Hardiness Zones 7-9. More tender varieties will go semi-dormant if maintained under temperatures between 36 and 45 degrees Fahrenheit–never lower. This is the most trouble-free way to store them through winter. Cut back the dead foliage in spring, and give them good care before taking them outdoors again. Spring is also the best time to upgrade them into new pots with fresh potting mix, such as Black Gold All Purpose Potting Mix.
Happy gardening!
Jessie Keith
Black Gold Horticulturist