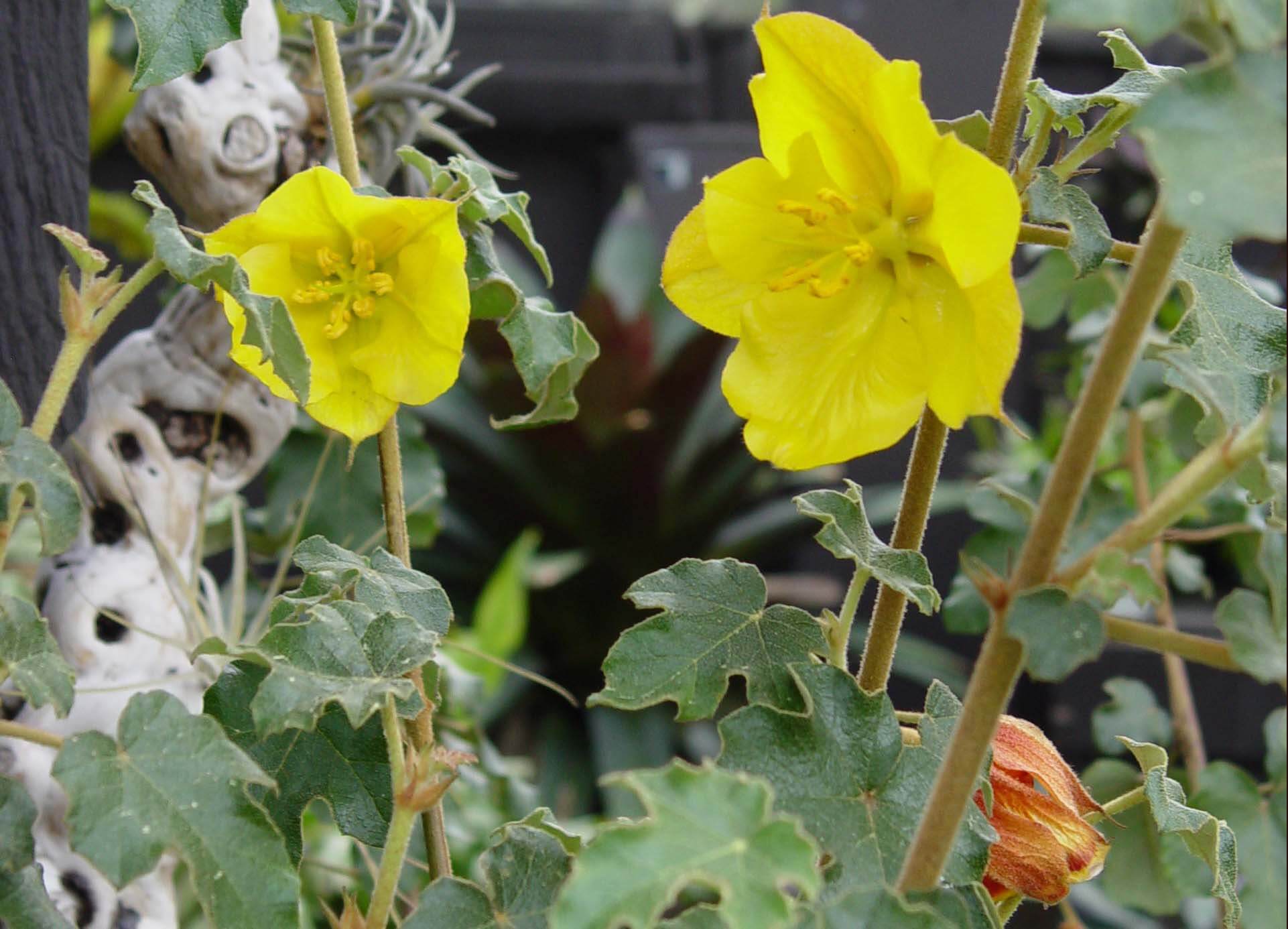 For almost twenty years I lived on the western slope of the Sierra Nevada where the flora was rich in the most outstanding native flowering shrub species for drought resistant landscapes. The most valuable observation was seeing where they chose to grow in the wild.  When you study the habitat of any plant closely enough, you learn exactly what it wants, and the conditions it prefers in your yard, too.
One example that taught me much was fremontia or flannelbush.  I never found one anywhere but on a sun-drenched, south facing slope.  The dwarf, Fremontodendron  decumbens, is common at the top of eroded slopes at the most well-drained point where the plants' deep roots cling to rocky fissures or dense clay subsoils.  Fremontias are naturally adapted  to cool, very wet winters. Then they go dormant for a long, dry summer with no rain from May to December.
This is why these natives are so ideal for parched hillside homesites and as first-class erosion control plants. Problems arise when you try and grow them in a traditional garden.
Dense soil on level ground is the biggest killer of California native shrubs, in general, because they can't get their roots out of the wet during the summer and fall.  Yet these same plants can take an amazing amount of water in winter, over 60 inches of rain a year in some locations.  Steep ground allows this water to move quickly through the root zone. If you want to bring native shrubs into your garden during these drought years in the West, it's key to resolve your soil conditions first.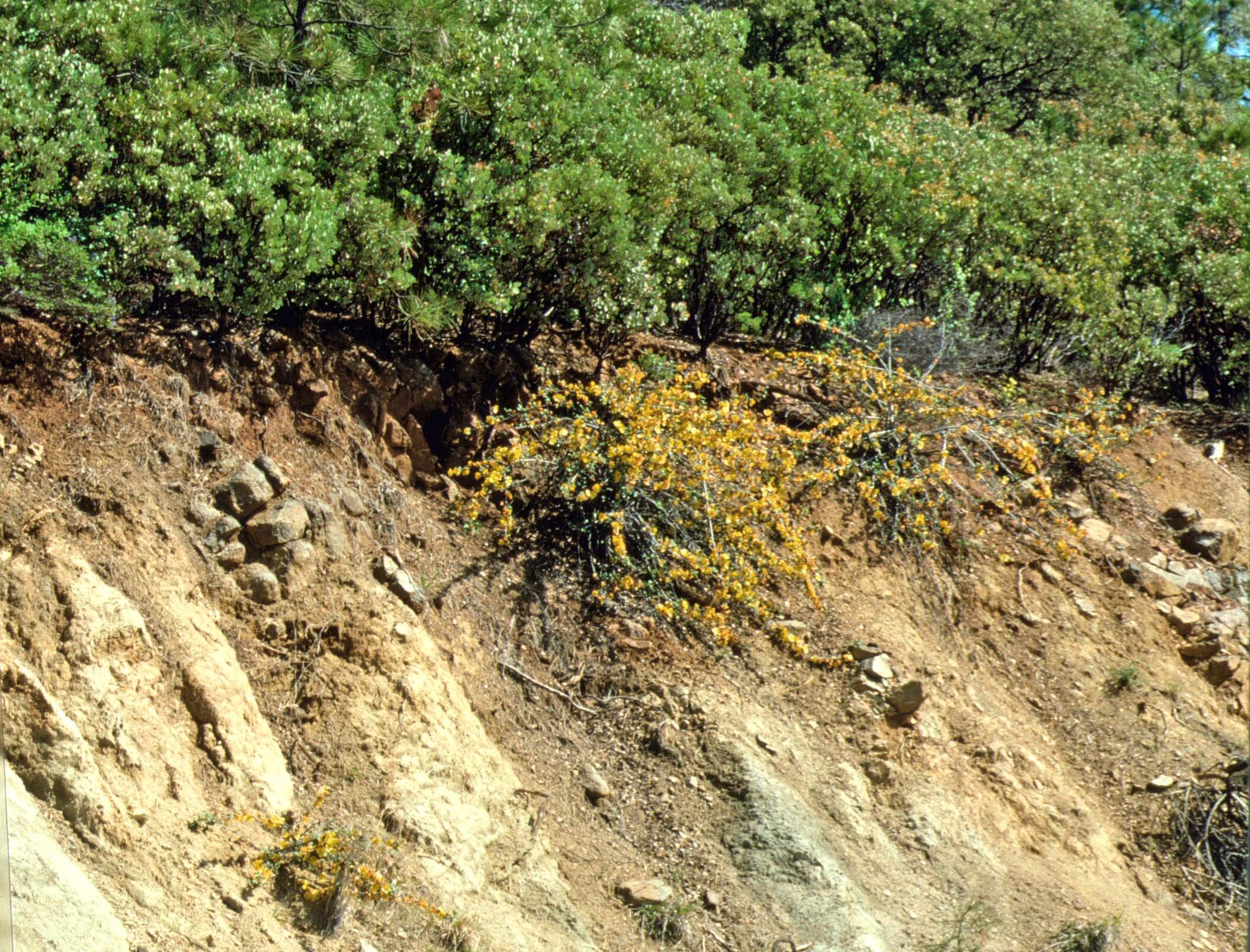 Raising the planting zone above grade (just a foot or so) is enough to keep the upper roots dry enough to give them an edge.  Or you could consider using boulder combinations connected by dry stone curbs to create naturally elevated planting zones.  Loose rock edges allow water to drain out in all directions through a multitude of gaps and crevice, just as it does in the wild. Soil to fill these areas begins microbe rich native earth blended with a super porous amendments to lighten its structure.
Black Gold Just Coir offers the ideal choice because it maintains its structural integrity when blended with clay, which is the most problematic soil type in the West.  Blend in some crushed gravel too, using a mixture of particle sizes up to 1″ to create irregular soil density.  Edges of crushed gravel holds your soil mass better than rounded ones.
Don't be concerned with fertility because in the wild these shrubs grow in thin acidic topsoil over heavy subsoil clay. Most native shrubs die from either water at the wrong season, overly rich soil conditions or planting at too great an age.  Buy young seedlings in abnormally deep containers for the best start and maximized drought resistance.  Plan to hand water deeply but infrequently during the first two dry seasons after planting to encourage roots to extend deep and wide.
By year three it should be ready to naturalize. Some of the most awesome blooming shrubs hail from California's driest regions where they are adapted to survive on a Spartan diet and regular drought. These shrubs will decline when grown in an overly easy lifestyle.  Give them what Nature intended, full sun and great drainage, and these flowering beauties will thrive year after year whether it rains much, or not.