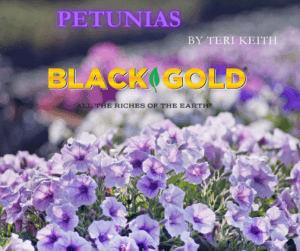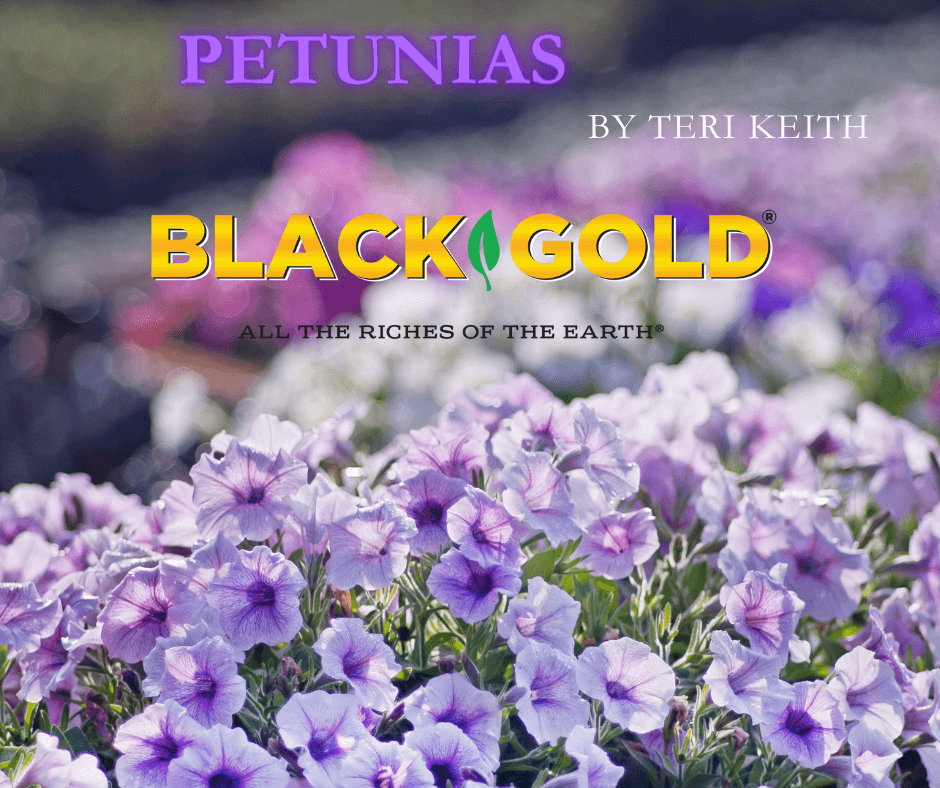 Petunias Are Glorious Container Plants
It is time to plan your 2023 container garden, so start picking out which of the fabulous annuals available, but check out the petunias first.  The petunias we know today are a far cry from those that first appeared in 19th century gardens. Two species had been discovered in South America in the mid-1700's: White-flowered Petunia axillaris and purple-flowered Petunia violacea. These were introduced into Europe in the early 1800's.  Soon breeders in Germany and England began crossing them.  The result was the 'garden petunias', a group of plants in new colors and larger flowers. Referred to as Petunia x hybrid, the plants were not hybrids, as we know the term; they were chance crossings of species.  Double flowers occurred in only 20 to 30 percent of the plants grown from seed, the rest would be large singles. It took until the 20th century for hybridizers to formally bring Mendelian genetics, to bear on petunia plant breeding.
Now they come as packed doubles, looking like small peonies, ruffled petals, striped, spotted, new colors, and with different colored edges.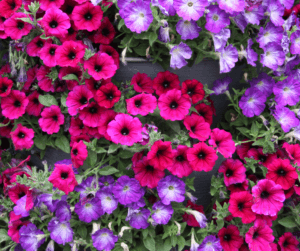 There are now several types of petunias.  All, except milliflora, have single or double flowers.
Grandifloras have 3 to 4 inch diameter blooms.
Multifloras have smaller flowers, 2 inches diameter; produce more abundantly, with sturdier flowers that withstand rain better.
Floribundas are the combination of top two, with the size, abundance, and sturdiness of both. Sounds like the best pick.
Milliflora have small, around 1 inch in diameter, and do not need cutting back.
Wave petunias are the last, and cascade over the sides of your containers. They also can be used as a ground cover, some as large as 10 feet square.  Waves will tolerate drier weather, and do not need dead heading.  Waves get 4 to 6 inches tall.
The colors of petunias range from, red, white, purple, lavender, pink, peach, orange, rose, yellow, salmon, green, blue, and yes black.  The last two colors took years of breeding.
Now, to some of the best varieties, available today.  Our gardeners from the past would be blown away by these flowers.  Look on the web to see where to buy them.
'Black Cherry' has deep red flowers, with black centers, and 'Bordeaux' pale lavender, with deep purple veins and centers.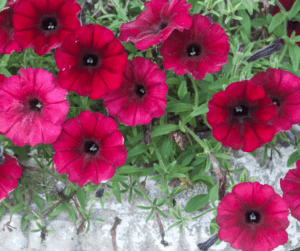 'Black Cat' has velvety, true black flowers, and gets 12 inches tall.
'Night Sky' is one of the most unusual petunias, purple, with white spots.  Does well in baskets,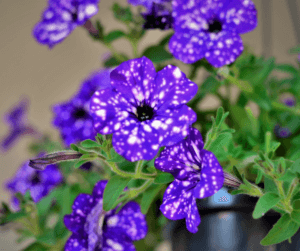 'Limelight' has magenta flowers, with lime green edges, and is 10 inches tall.
'Purple Pirouette' is one of my favorite petunias, with ruffled, double purple flowers and bright white edges.  It is 10 to 15 inches tall.
'Wave Blue' has bright, true blue, 2-inch flowers.  Gorgeous in a large container, or as a 3 to 4 foot groundcover.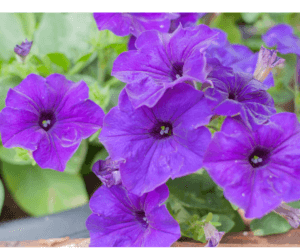 Romantica 'Isabella Red' is one of the striped petunias, with intense red blooms and yellow stripes.
The Supertunia 'Mini Vista' series, have small 2-inch blooms, and are perfect for hanging baskets, growing 2 feet long.  They come in yellow, white, scarlet, white with purple stripes, velvet purple, and more.  Unlike the other petunias, they do not need cutting back.
The 'Vogue Series' has beautiful double flowers in shades of purple, pink, red, white, lavender with deep purple veins, and lastly one I have never seen anywhere else, having deep magenta petals, with light green ovals, not stripes.
And lastly 'Crazytunia Mayan Sunset', has yellow throats and bright rose edges.
Of course, these are not all of the wonderful petunias available.  Many of these, and more, are available online, as well as nurseries and stores.
Plant your petunias using Black Gold® Potting Mixes, such as  Black Gold® All Purpose Potting Mix, or  Black Gold® Natural and Organic Cocoblend Potting Mix.  Sprinkle with Osmocote Fertilizer, and repeat every 6 weeks.
Petunias like full sun, but can take about 1/3 shade.  Cut them back by 1/3 every 4 weeks, to keep new flowers growing, and be sure to hit the local flower sellers early to get the best ones.
Happy gardening.
About Teri Keith
---