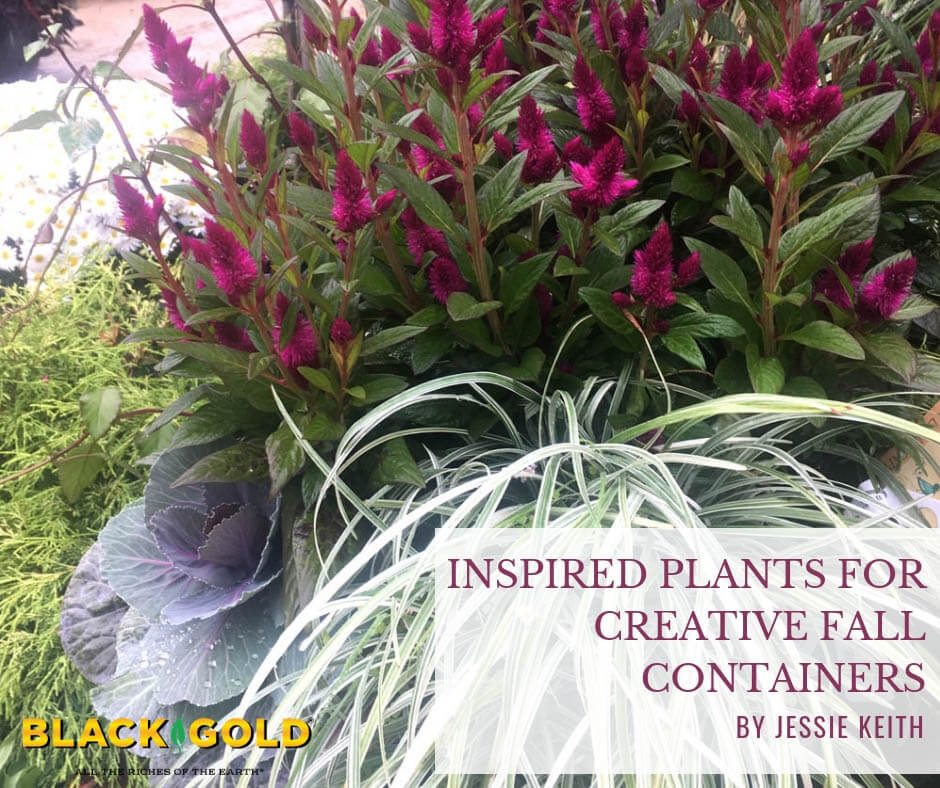 Tired of planting the same old door-side potted chrysanthemums year after year?  Then upgrade this year's containers! Lots of cool new fall plants have bold good looks and bright colors to make container design a lot more exciting.
What makes a container plant great for fall? Its must flaunt its best color through the season and shine up until the first frost or beyond. Those that tough it out after frost include ornamental cabbages, kales, and Swiss chard. Some of these fall beauties will even survive through winter as evergreen biennials or perennials. Here are some of our favorites for creative late-season container gardening.
Super Celosias and Amaranths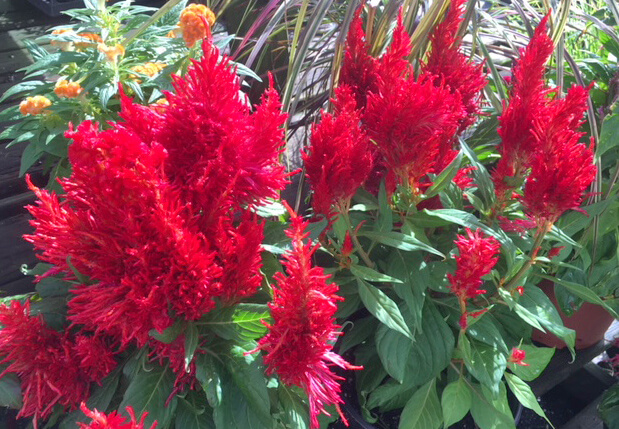 Celosias and amaranths (two closely related plants) of all shapes, sizes, and colors have become available for fall gardening. These include spike celosia (Celosia spicata), classic cockscomb, plume celosias (Celosia cristata), and purple-leaved amaranths (Amaranthus spp.). The annuals are rugged and tolerant of heat as well as the cooling temperatures of fall, so they can be planted in summer and continue to look bright through fall. Just remember to remove any old blooms that start to lose color. This will encourage new flowers to appear.
Pretty Peppers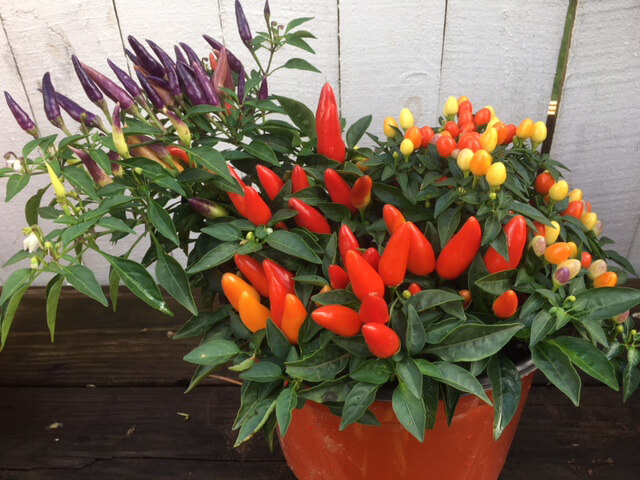 Ornamental peppers start to look great by late summer, and their pretty fruits of orange, yellow, red, or purple will retain their color up until frost. Some even boast deep purple foliage as well as pretty fruits. The hot ornamentals mix well with any seasonal garden flower or plant, and you can even save seeds for spring sowing. The peppers are also edible and spicy, with varying degrees of flavor. (See the video below for more designs using ornamental peppers.)
Happy Heirloom Squash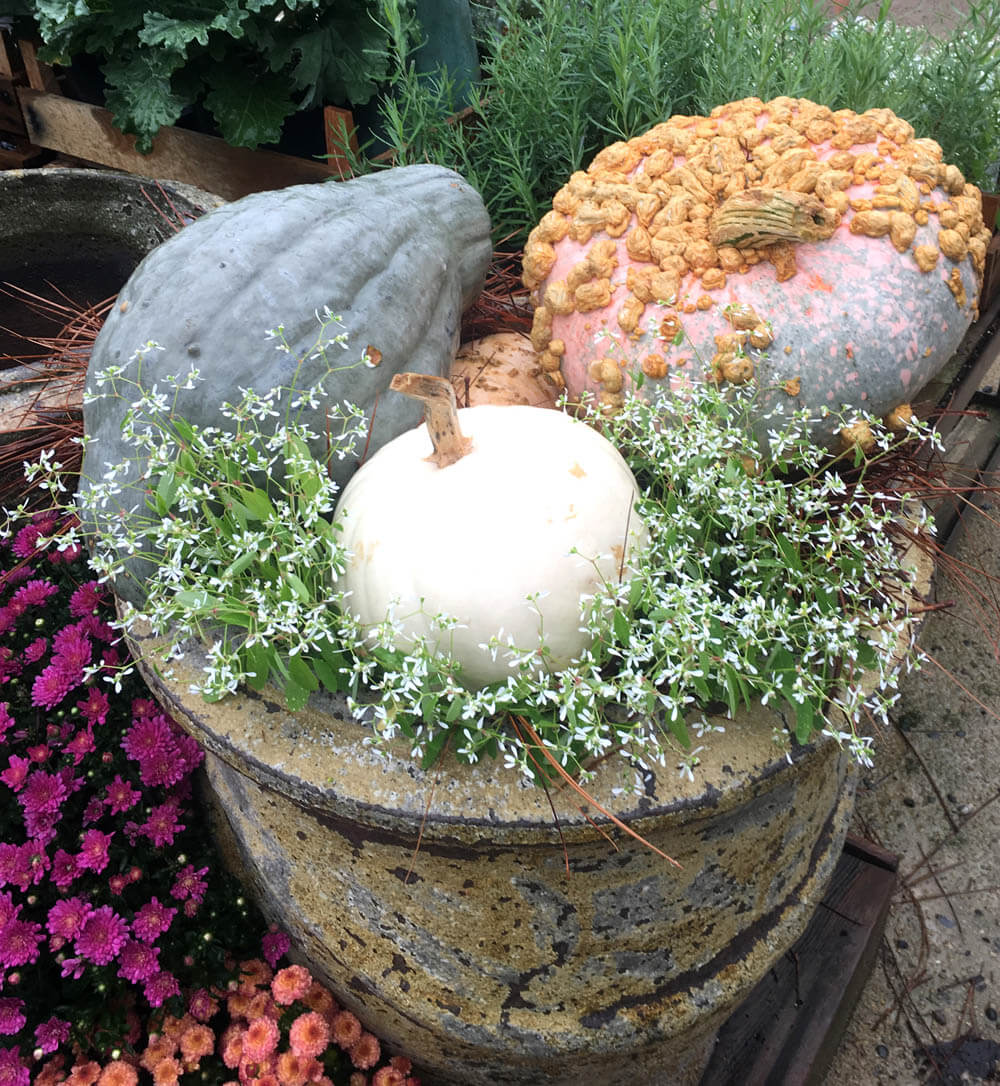 Unusual pumpkins and winter squash are all the rage and look lovely when nestled in pots alongside complementary fall flowers. Most are very tasty, so it's nice to bring them indoors before a hard freeze, so you can enjoy them in Thanksgiving pies, soups, or cakes. (Click here to learn how to process squash for pie.) Look for collections of squash that look good together or with your favorite fall flowers.
Sumptuous Evergreen Sedges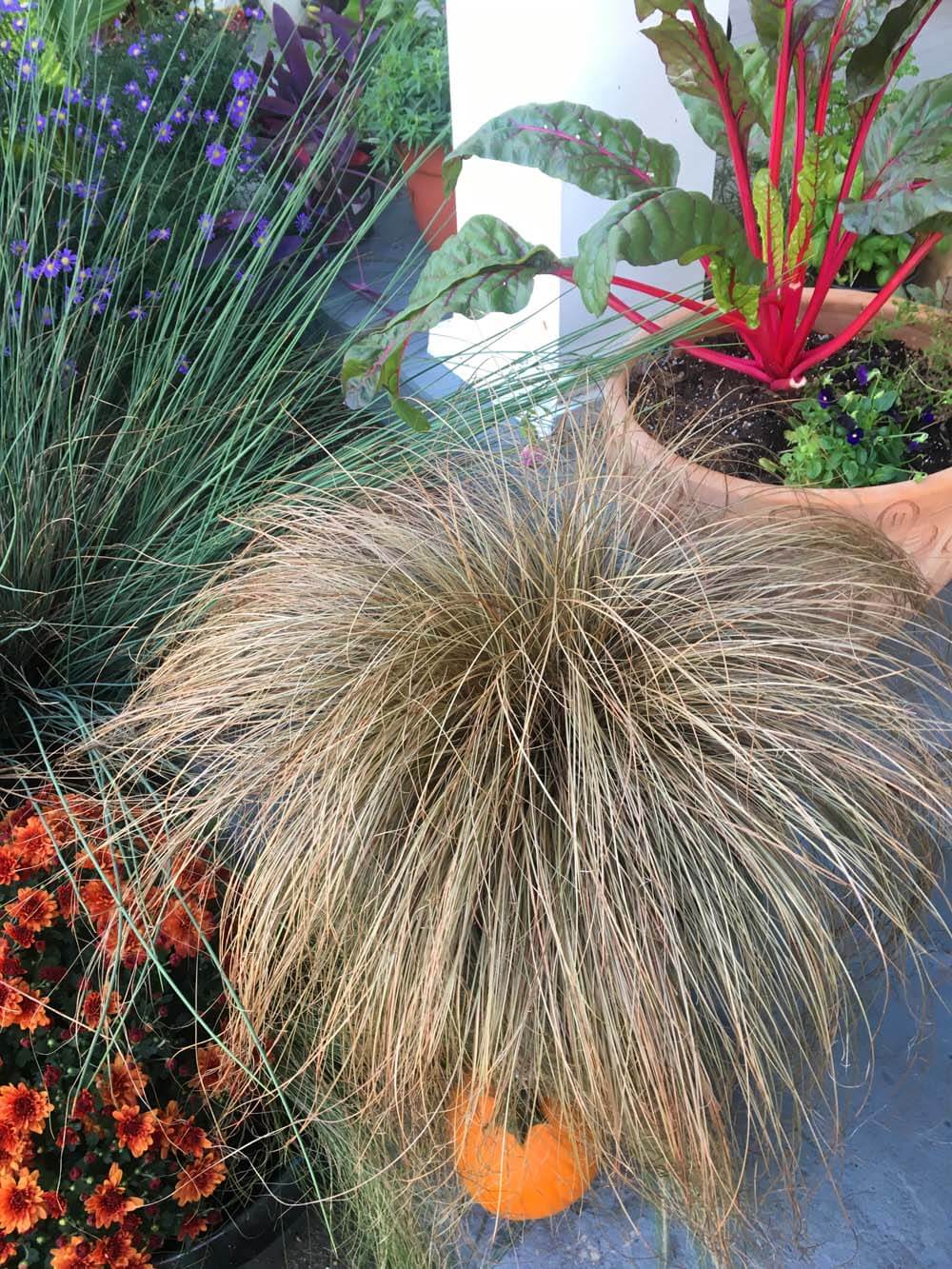 Many grassy sedges are tough evergreen perennials that add an airy appeal to fall containers and mix well with practically any fall flower. Some lovely evergreen sedges to try include the gold-edged Japanese sedge (Carex morrowii 'Gold Band', 12 inches, USDA Hardiness Zones 5-9) or white-edged Silver Sceptre sedge (Carex 'Silver Sceptre', 12-18 inches, Zones 5-9); both have tidy bunches of colorful, curvaceous, strappy leaves that flow over container edges. Another star for containers is the finer, hair-like Toffee Twist sedge (Carex flagellifera 'Toffee Twist', 12-16 inches, Zones 7-9), a Proven Winners® plant with fine, caramel-colored foliage that looks great all winter.
Sturdy Succulents
Hardy succulents of all shapes and sizes look great in fall containers and will even survive the winter, where hardy. Go simple by nestling a few hens & chicks (Sempervivum spp.) within a small planter embellished with a few decorative additions. Or, go bold by planting a big, blooming sedum along with other fall flowers. Tall sedums are showy in fall, and there are many fabulous varieties to discover. (Click here to read more about tall sedums.)
Miniature Plants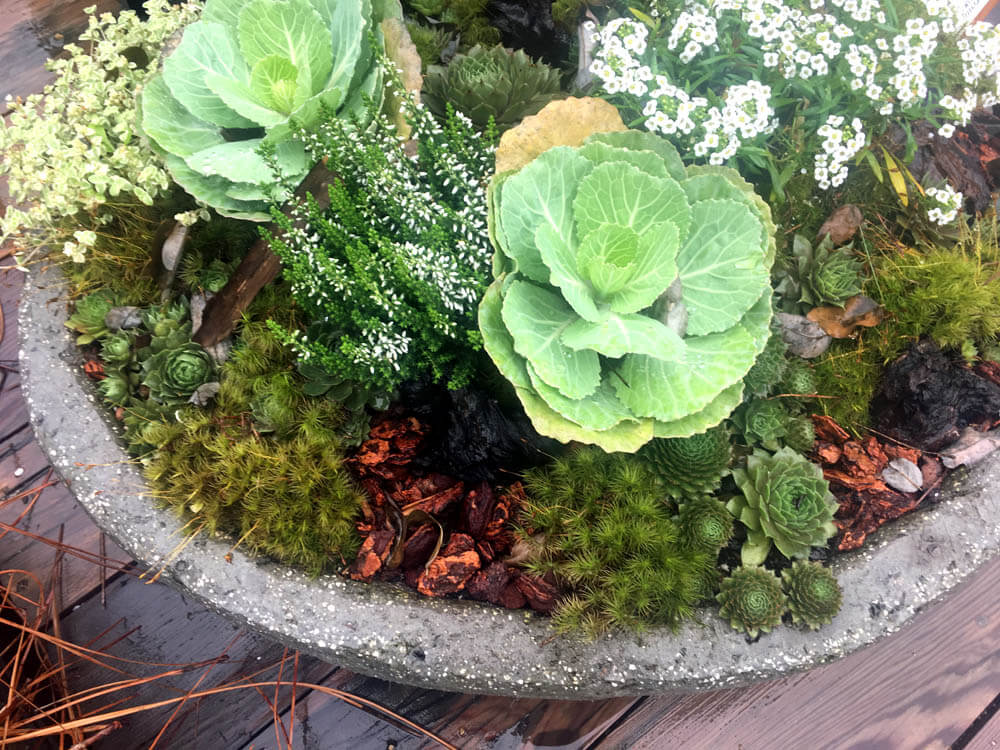 Creating seasonal containers in miniature is a popular trend. Tiny hens & chicks, mosses, heathers, ornamental cabbages, and flowers give broad pots or troughs an alpine or rock garden look. Place plantings like these on an outdoor dinner or side table where they can be enjoyed up close. You can even try making your own hypertufa trough or centerpiece for attractive little fall plantings. (Click here to learn how to make your own hypertufa centerpiece.)
Planting Fall Containers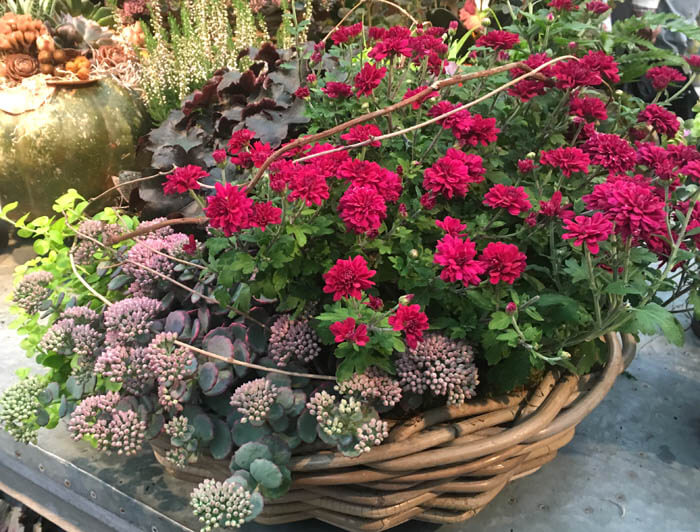 Choose festive containers and arrangements of plants, and pair them according to color, size, height, and texture. For best results, choose good-fit containers that will accommodate the plants you have chosen,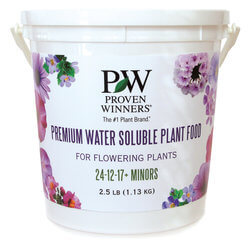 and fill them with Black Gold All Purpose Mix, which has excellent porosity and water-holding ability for great results. Keep pots watered through fall and feed them with quality plant food, such as Proven Winners® Premium Water Soluble Plant Food for Flowering Plants. Once hard cold hits, remove any unsightly dead annuals and leave any perennials in the pots for spring.
To get more excellent fall container garden planting and design tips, read Black Gold's sponsored article on Garden Therapy: Fall Container Care and Maintenance + DIY Container Ideas!