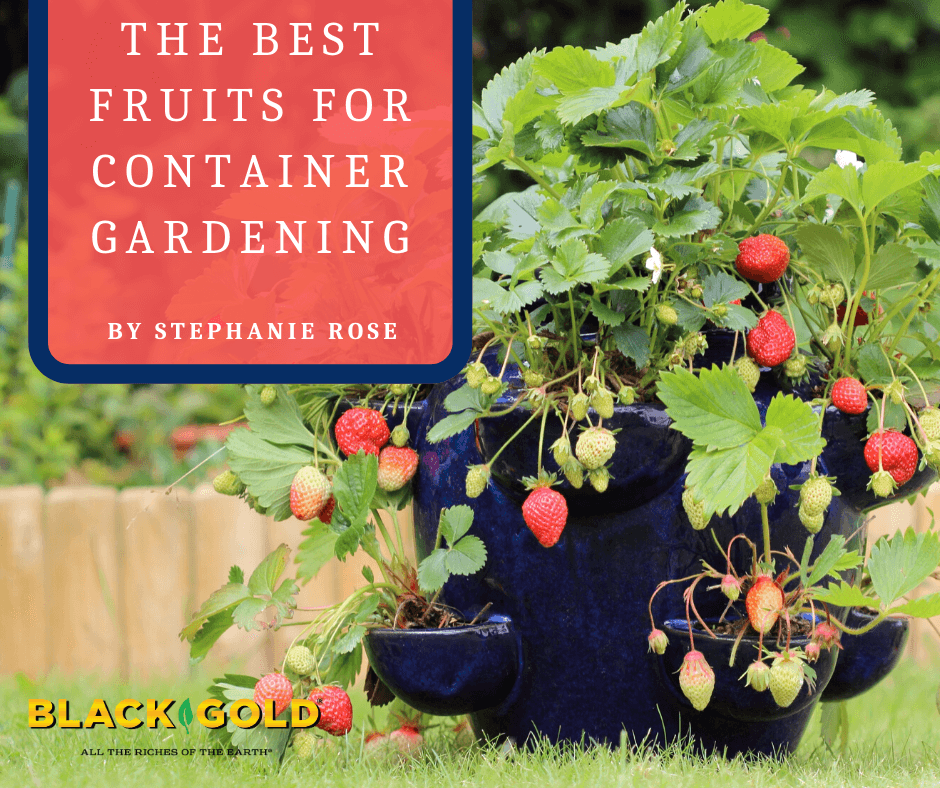 You don't need a lot of space to grow your own fresh fruit. Flowers, vegetables, and herbs are what we most commonly think of to grow in pots, but there are plenty of fruits you can grow in containers as well! The best fruits for container gardening make nice specimen plants for porch and patio and are perfect for families with little ones.
Why Grow In Pots?
Not everyone has an abundance of space to grow a garden, but that doesn't mean you can't grow fruit. Container fruit gardens can produce an abundance of fruit on just a balcony, patio, or deck, as long as you choose the right plants for container growing. These are fruit varieties that have been bred for small-space growing and are perfectly suited for pots. If you plant several fruits that bear at different times in the season, it will allow you to enjoy a prolific yield of tasty fruit all summer long. The best fruits for organic gardening are common fruits that everyone enjoys.
Strawberries
Strawberries (Fragaria hybrids, USDA Hardiness Zones 3-10) are one of the easiest plants to grow in containers, and varieties can be found for almost every hardiness zone. Some just bear fruit around June (June-bearing strawberries) while others are everbearing, which means that they produce one large yield in spring or early summer and then continue to fruit sporadically up to fall. Everbearers are better for containers because they continue to yield. (Click here to watch a video about how to choose and plant strawberries.)
The shallow roots of strawberries do best in a container with good drainage. They can be successfully grown in barrels, tiered planters, hanging baskets, and, of course, strawberry pots. The key is to avoid heat damage to the roots. Use an insulated pot or add straw to the top of the pot to ensure extra protection. One 6-inch container will hold one strawberry plant, and a large hanging basket will hold between 3 and 5 plants, but keep in mind that smaller containers will require daily water for fruiting success. Hanging baskets look lovely filled with flowers and berries and even better when the runners hang over the sides.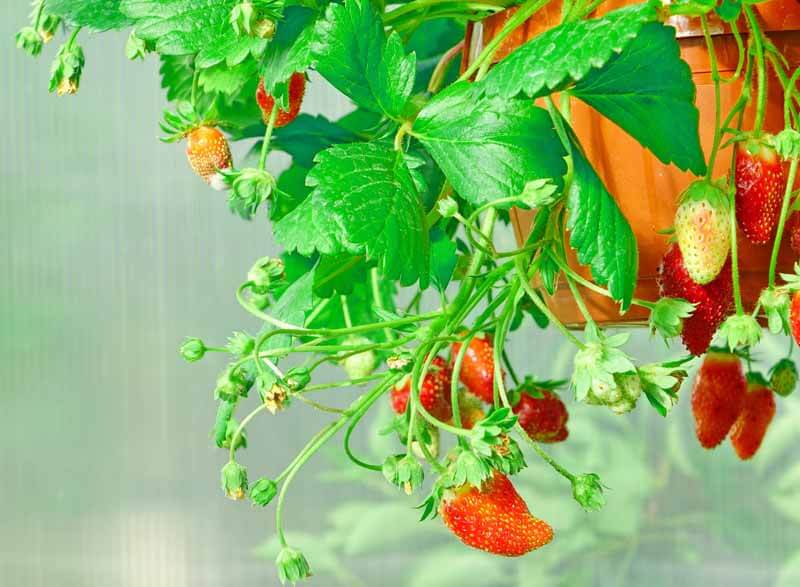 Prepare strawberry pots with a fertile, water-holding potting mix that is OMRI Listed for organic gardening, and be sure to work in fertilizer formulated for fruits and vegetables (If you live in Canada try Black Gold Tomato & Vegetable Fertilizer). Black Gold Natural & Organic Potting Mix or Black Gold Natural & Organic Ultra Coir are two excellent potting mix options that hold water well but also provide good drainage.
Strawberries are most commonly purchased as bare-root starts. When planting them, dig a hole large enough to cover their roots, place the plants in, while making sure their crowns are just above the soil level, cover the roots, and lightly press the soil down. There should be a 1- to 2-inch space at the top of the pot for watering. When all the strawberries have been planted, water them. Continue to keep the pots evenly moist for good fruit set, especially in hot summer weather.
Strawberry plants will stop producing after three years or so and will need to be replaced. It's good practice to plant the runners in the soil in between the established plants so they can take over when the mother plants stop producing.
Blueberries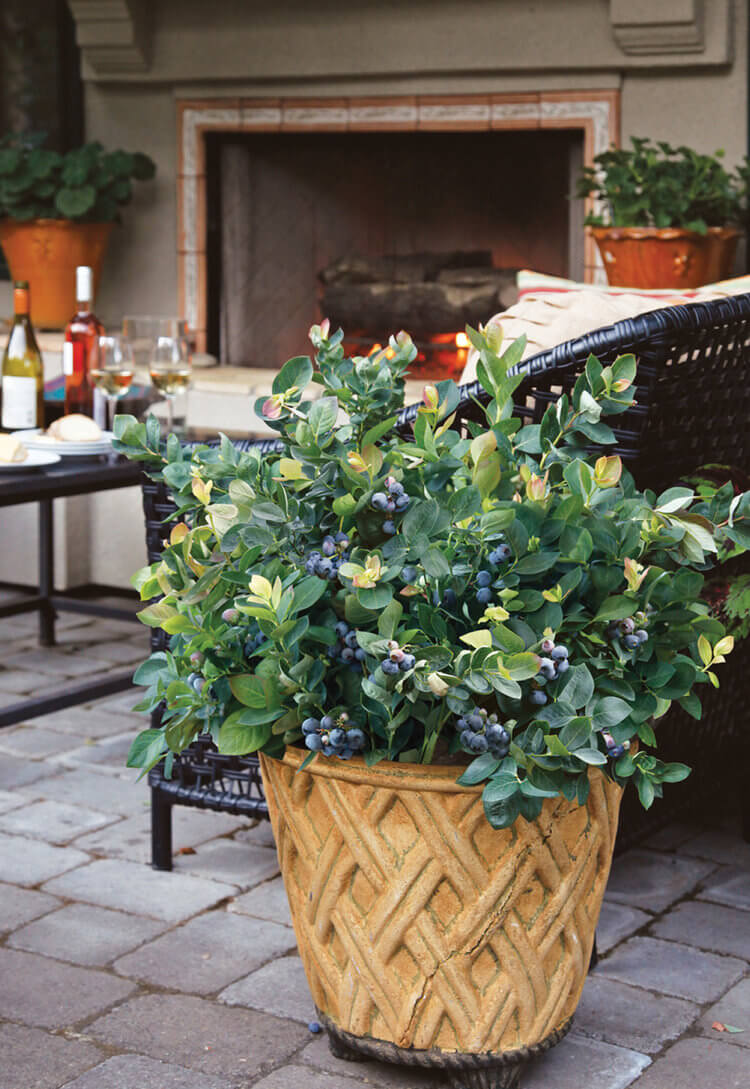 While all blueberries (Vaccinium spp.) can technically be grown in pots, lowbush blueberry varieties (Vaccinium angustifolium, Zones 2-8), or dwarf, self-pollinating varieties, like the  Bushel and Berry®'s Jelly Bean® (Zones 4-8) and Peach Sorbet® (Zones 5-10), are best for containers. Blueberries prefer acid soils with a pH between 4.5-5.5. Hence, it is important to amend their potting soils with additional Black Gold Canadian Sphagnum peat moss and feed them with a fertilizer formulated for acid-loving plants (if you live in Canada, try Black Gold® Rhododendron, Azalea & Evergreen Fertilizer (5‑5‑3)). For potting soil, choose a good, water-holding blend such as Black Gold Waterhold Cocoblend, which is OMRI Listed for organic gardening and also provides good aeration and porosity.
Plant blueberries in thick, weatherproof ceramic pots (click here to read more about the best weatherproof pots), and make sure they are at least two to three times the size of the shrub's root ball. Add a mulch of coarse, decorative peat moss to help the pots retain moisture. Keep them in full to partial sun. In more northern climates, full sun is optimal, but in areas with hotter summers, partial sun is best. Protect them from the hot sun of the early afternoon. Every few years, change out the soil and prune the roots to keep them healthy and happy. If necessary, upgrade the pot.
Raspberries and Blackberries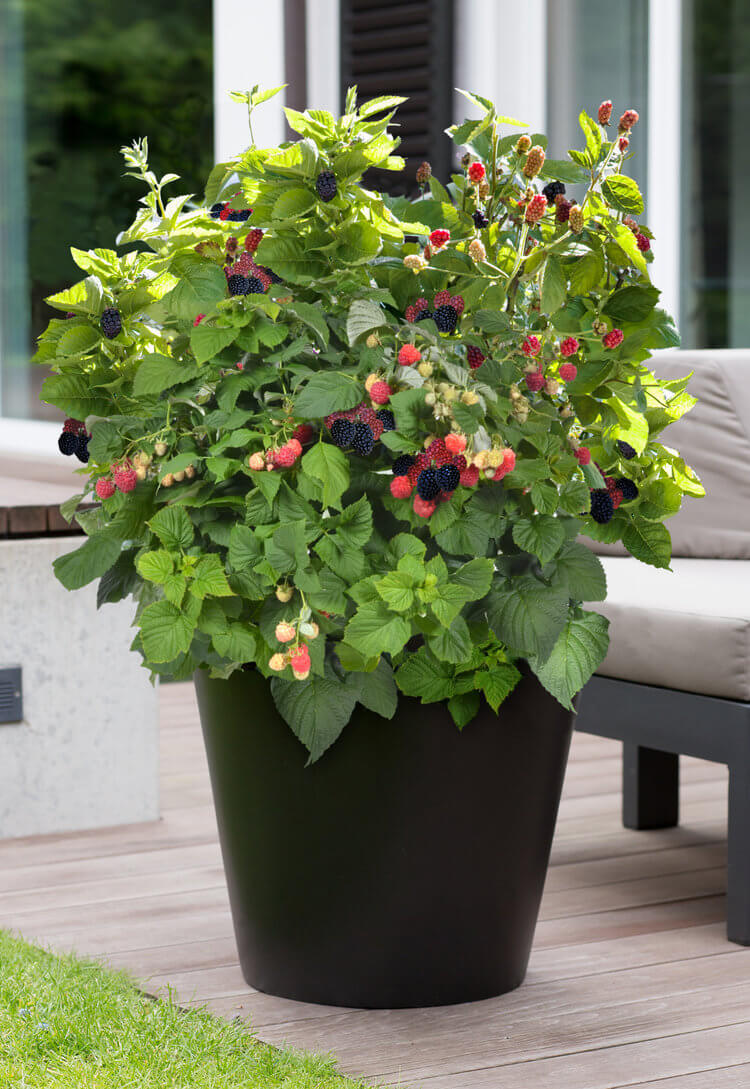 Generally, you shouldn't grow raspberries or blackberries (Rubus species and hybrids) in containers because they need a lot of room to spread and bramble. However, there are container varieties of each that are making waves!  Also from Bushel and Berry, Raspberry Shortcake® raspberry and Baby Cakes® blackberry are dwarf, thornless varieties bred just for container growing. Raspberry Shortcake® reaches 2 to 3 feet, becomes full of large berries, and produces well throughout the season. Baby Cakes® blackberry reaches 3 to 4 feet and often produces two crops of berries in a season. Occasional pruning is recommended for both shrubs, and supplemental support, such as caging, is beneficial for Baby Cakes®.
Even though they are small, you'll still want a fairly large 18- to 24-inch container. Plant them in Black Gold Natural & Organic Ultra Coir, which is OMRI Listed for organic gardening and contains mycorrhizae, and supplement with a balanced fertilizer blend for small fruit in spring.
Dwarf Columnar Apples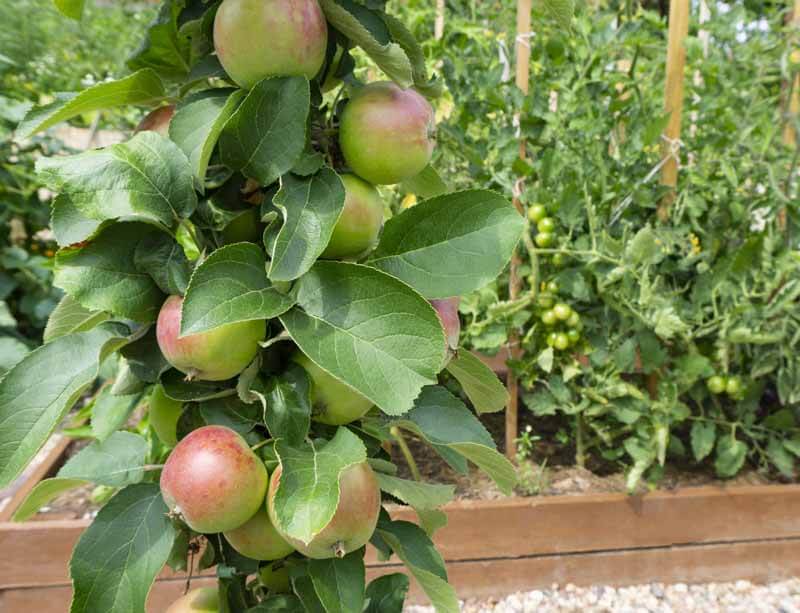 Dwarf columnar apples (Malus domestica hybrids) are linear apple varieties grown on dwarfing rootstock, so they stay upright and small. Each grows like a vertical column and does not develop side branches. Instead, leafing, flowering, and fruiting spurs arise from the central trunk. While the trees only grow to 8 to 10 feet tall, they still develop full-sized fruit, so they're an excellent solution for small-space gardens. The columnar trees in the Urban™ Series (Zones 4-8) come in several varieties that offer both disease-resistance and quality fruit. Two to try are Tasty Red™ Urban™ Apple, which has firm, sweet, juicy fruits, and Golden Treat™ Urban™ Apple with blushed golden apples that are lightly tart and sweet.
Choose a large container 24- to 36-inch container filled with Black Gold Natural & Organic Potting Mix or Black Gold Natural & Organic Ultra Coir. Make sure to water it regularly for consistent soil moisture. Apply a fertilizer formulated for fruit trees.
While there are some varieties of columnar apples that say they don't require pruning, on occasion, the trees can send out thin, wispy branches that must be pruned off. Otherwise, they are quite trouble-free, aside from occasional pest and disease problems. (Click here to learn more about growing dwarf apples, and click here to learn about managing the five most common apple diseases.)
Dwarf Figs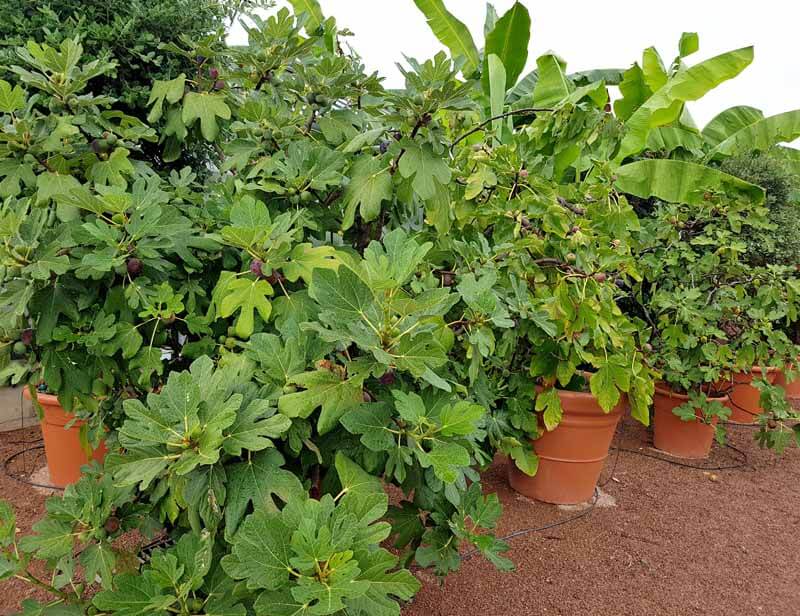 Truly dwarf figs can grow and produce well pots 24 inches or larger, and they are gorgeous plants to grow in the home garden. Figs are Mediterranean shrubs that prefer hot, dry conditions, and vary in hardiness. Choose a container with good drainage holes that drain well. Water your fig only when the top few inches of soil are dry.
Look for a self-fertile variety that produces the type of figs you like best: white or red-fleshed, green or brown-skinned, and sweet or earthy. My favorite variety is the somewhat compact (6 to 10 feet) 'Celeste' sugar fig (Ficus carica 'Celeste' (aka. 'Celestial')), which survives in Zones 6-9 and has small, sweet, purple-brown figs with white flesh. Newer, truly dwarf figs, such as the sweet-fruited Little Miss Figgy™ (Zones 7 -11), reach just 4 to 6 feet and make excellent edible specimen plants.
Pruning figs is essential to maintain a compact size. They can be pruned back hard to 2 to 3 feet in late winter if you require a more compact plant. Be sure to remove any small or inward-facing branches. Pruning can also encourage better fruit production. (Click here to learn more about growing figs.)
Meyer Lemons
Meyer lemons ( Citrus × meyeri, Zones 9-11) have a distinctly sweet taste, unlike other lemons. Like most citrus, they are warm-climate trees, needing full sun and warm temperatures to thrive. In cooler climates, Meyer lemons can be planted near buildings for warmth, protected from frost over winter, or moved inside during the colder months and brought back outside as the weather warms up in the spring. Many gardeners in cooler climates find it's worth the effort for homegrown lemons! (Click here to learn more about growing citrus indoors.)
For a tree that's at least a couple of years old, choose a 5- to 10-gallon pot that's at least 18 inches high with excellent drainage. Do not use a self-watering pot. Instead, pick a pot with drainage holes that flow freely to avoid overwatering. For these trees, I recommend Black Gold Natural & Organic Potting Mix for planting, and good fertilizer formulated just for citrus. Regular fertilization makes all the difference in encouraging good growth and fruiting.
Prune off overgrown or crossing branches as they arise. And at fruiting time, thin clusters of fruit to one or two when the lemons are marble-sized.
Potted fruits are great for kids and homeowners that enjoy growing their own food. Start small with strawberries, and you'll be hooked.