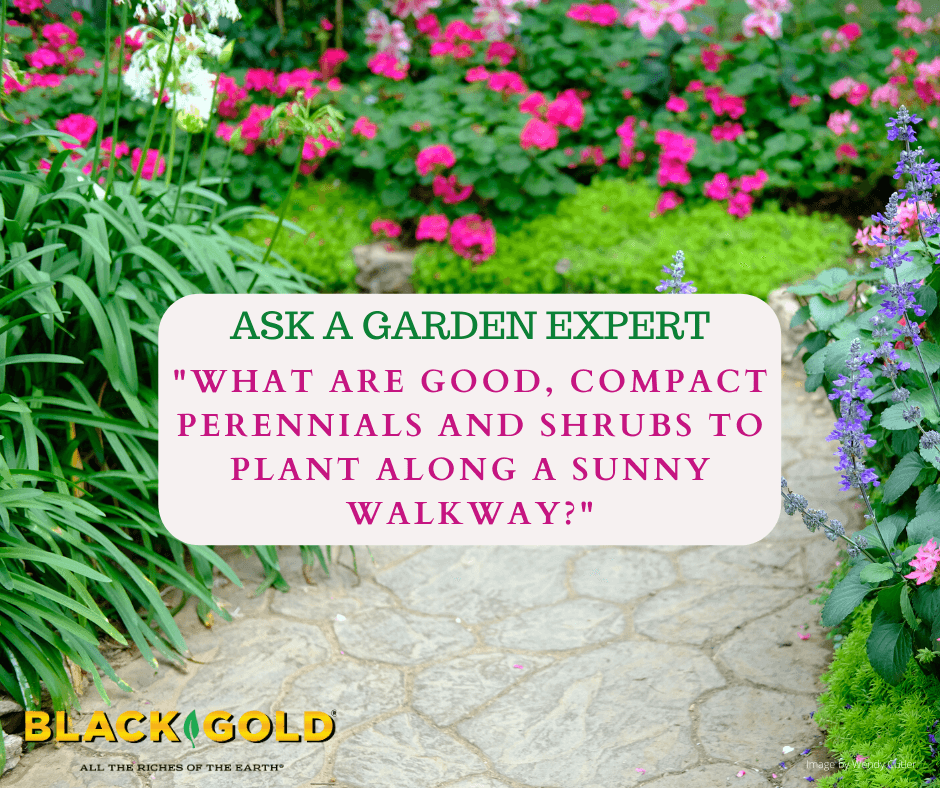 "What are good, compact perennials and shrubs to plant along a sunny walkway? I need help in selecting either a small shrub of some sort or a perennial of some sort to replace adjacent areas on my walkway. Now that I've had ash trees removed it will be mostly sunny. In the past, I've used baby tut grass, but sick of digging it up and having to replace." Question from Donna of Mount Vernon, Iowa
Answer: There are lots of compact perennials and shrubs that will thrive along sunny walkways. If you favor tidy, clump-forming grasses, such as the tender Baby Tut, you have quite a few hardy perennial options for your area. Soft, flowing prairie dropseed (Sporobolus heterolepis), blue fescue (Festuca glauca), and compact 'Little Bunny' Pennisetum would all look great and work well. They are cute, tidy, and have winter interest, especially 'Little Bunny'. If you prefer flowering perennials, try clump-forming flowering sedums (click here to many attractive options). These thrive in full sun and tolerate the extra heat that radiates from walkways in summer.
Perennials often require the least amount of upkeep, though there are quite a few compact, easy-care shrubs to consider. Dwarf Japanese holly (Ilex crenata), such as the 12-18 inch 'Brass Buckle', or inkberry holly (Ilex glabra), such as the 2-3 foot Gem Box are good evergreen choices. The very pretty 2-foot Double Play® Candy Corn® Spirea or Lil' Ditty® Witherod Viburnum are two of many very small flowering shrubs that would work well.
You might also get creative. It may look most appealing to add a mix of attractive, sun-loving perennials and low shrubs along your walkway for extra color, texture, and interest. Then add in a few everblooming heat and sun tolerant annuals to add an extra flash of color (click here for a great article on the subject.)
I hope that some of these options appeal to you. Have a great gardening season, and stay safe!
Jessie Keith
Black Gold Horticulturist