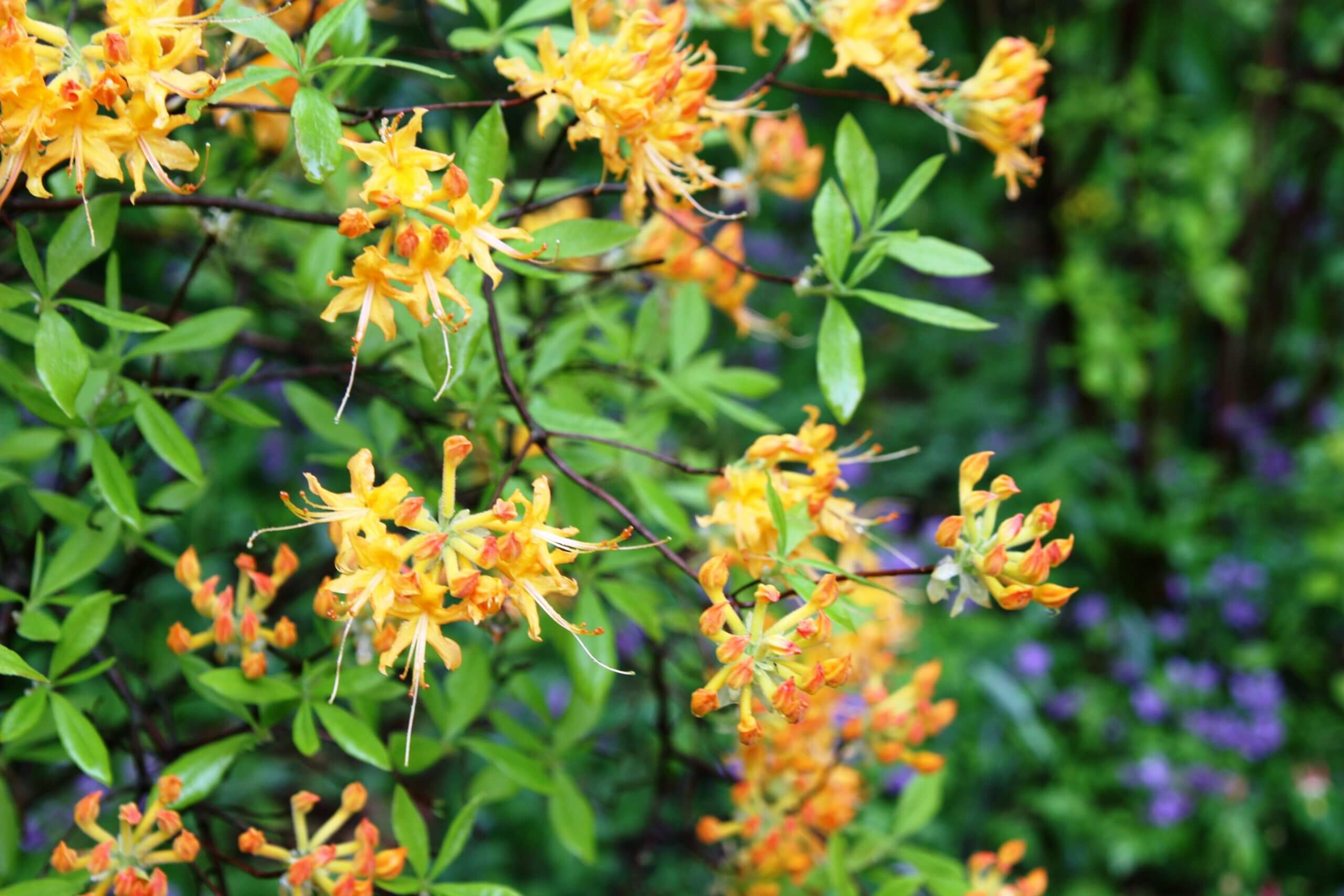 When is an azalea a rhododendron? Always! The American Rhododendron Society website  explains: "Rhododendrons and azaleas belong to the genus Rhododendron in the heath family (Ericaceae). Other members of this ornamental-rich family include heaths [Erica spp.] and heathers [Calluna spp.], blueberries [Vaccinium spp.], mountain laurels [Kalmia spp.] and many other important ornamental [and edible] plant genera.
More than a thousand species have been described within the genus Rhododendron. These species are further organized into subgenera, sections and subsections, with the species in each group having certain points of similarity to each other. All azaleas are rhododendrons, with deciduous azaleas belonging to one subgenus (Pentanthera) and evergreen azaleas to another subgenus (Tsutsusi)"
So, how can you tell them apart?
You cannot rely on the traditional gardening wisdom that all Rhododendron are evergreen, because a few species are deciduous, and azaleas can certainly be one or the other. Usually, azaleas have smaller flowers and smaller leaves than classic rhododendron.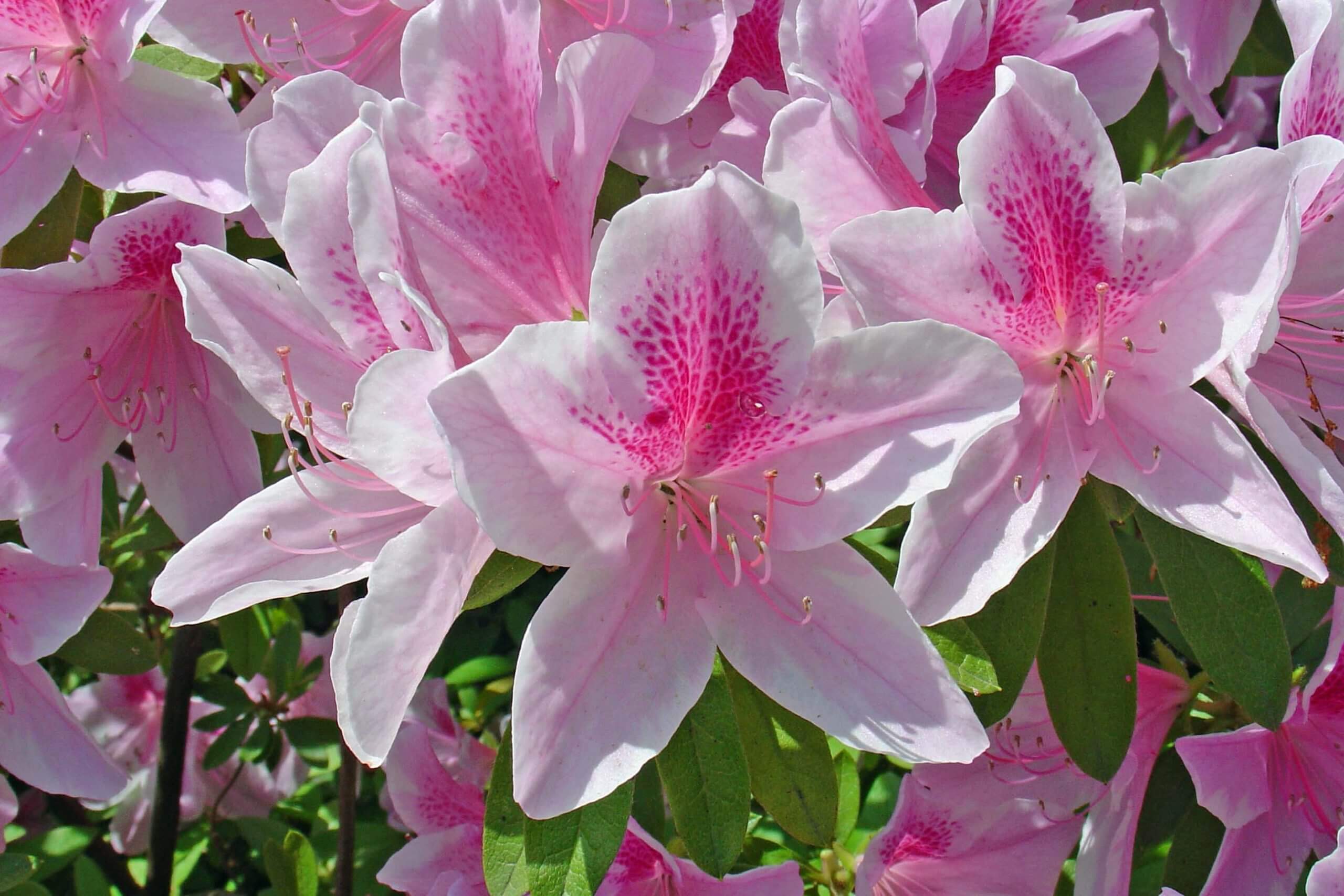 Most rhododendrons have smooth surfaces on the tops of their leaves, however azaleas often have fine hairs that run parallel down the leaf tops and along the edges. Since this is not true of all of these plants, a better guide would be that rhododendron leaves are scaly and often dotted on the undersides while the undersides of azalea leaves have fine hairs that you can feel along the midrib, even if the hairs are too small to see.
With flowers, count the number of lobes and stamens in a single bloom of the plant in question. Typically, rhododendrons have 10 or more stamens–about two per lobe– whereas, azaleas have fewer. Remember, too, that rhododendron flowers are more bell-shaped and are borne in clusters of blooms called trusses that appear almost spherical, whereas individual azalea blooms are looser, more funnel-shaped or elongated and tubular and most flower clusters are not in trusses.
An example of a typical evergreen Southern Indica azalea is the popular 'George L. Tabor'. Its large, light orchid-pink, single blooms have an open funnel-shape that most gardeners immediately associate with azaleas. In contrast, the soft pink trusses found on the classic Rhododendron 'Duke of York' are more bell-shaped.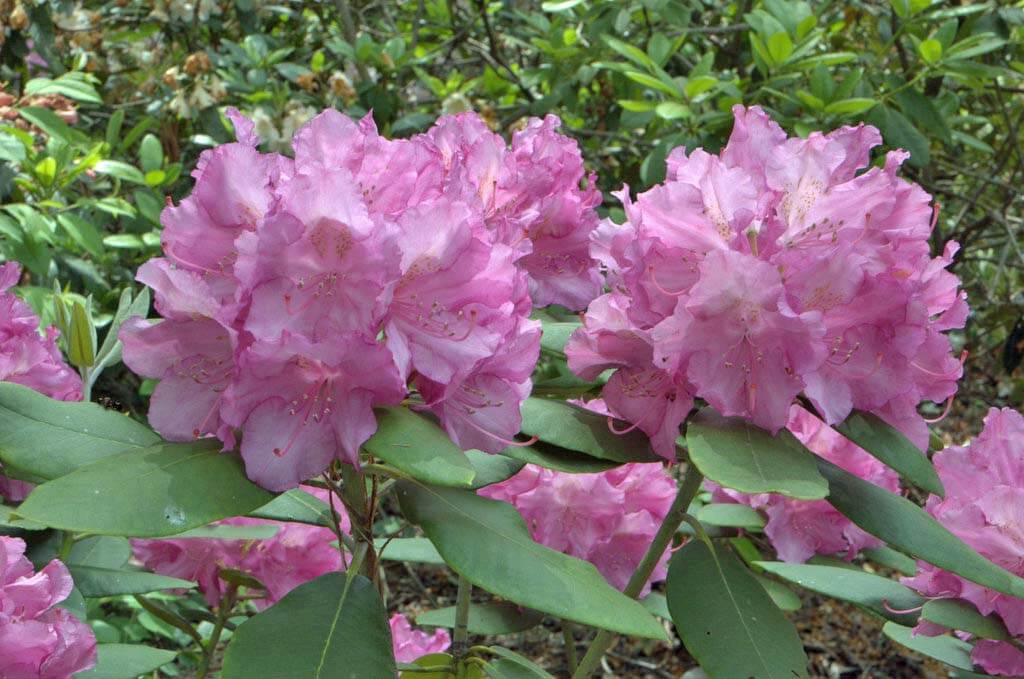 The fantastic flowers of Rhododendron species come in colors that range from royal purple, deep rich red and all shades of rose and pink through the color wheel to flaming orange and primrose yellow to pure white. Some flowers are also delightfully freckled or have complimentary or contrasting throat colors. There is certainly a member of this genus perfect for any garden designer's color scheme.
Azaleas and rhododendrons thrive under dappled light. Typically they are happiest planted around high pines, like those  massed along the Augusta National Golf Course in Augusta, Georgia where they are groomed to the peak of perfection for The Master's Golf Tournament early each April.
If your landscape doesn't have pines, then locate your azaleas and rhododendrons where the wind-sensitive shrubs are protected and will receive light shade. Afternoon shade is preferred in hotter areas of the South.
Rhododendron species are shallow-rooted with a mass of fine fibrous roots requiring both moisture and air. They need perfectly drained soil with a bit of consistent moisture retention. If you suspect that your soil is too dense, amend the planting site with Black Gold® Natural & Organic Soil Builder. Plant your root ball high, with the top inch or so-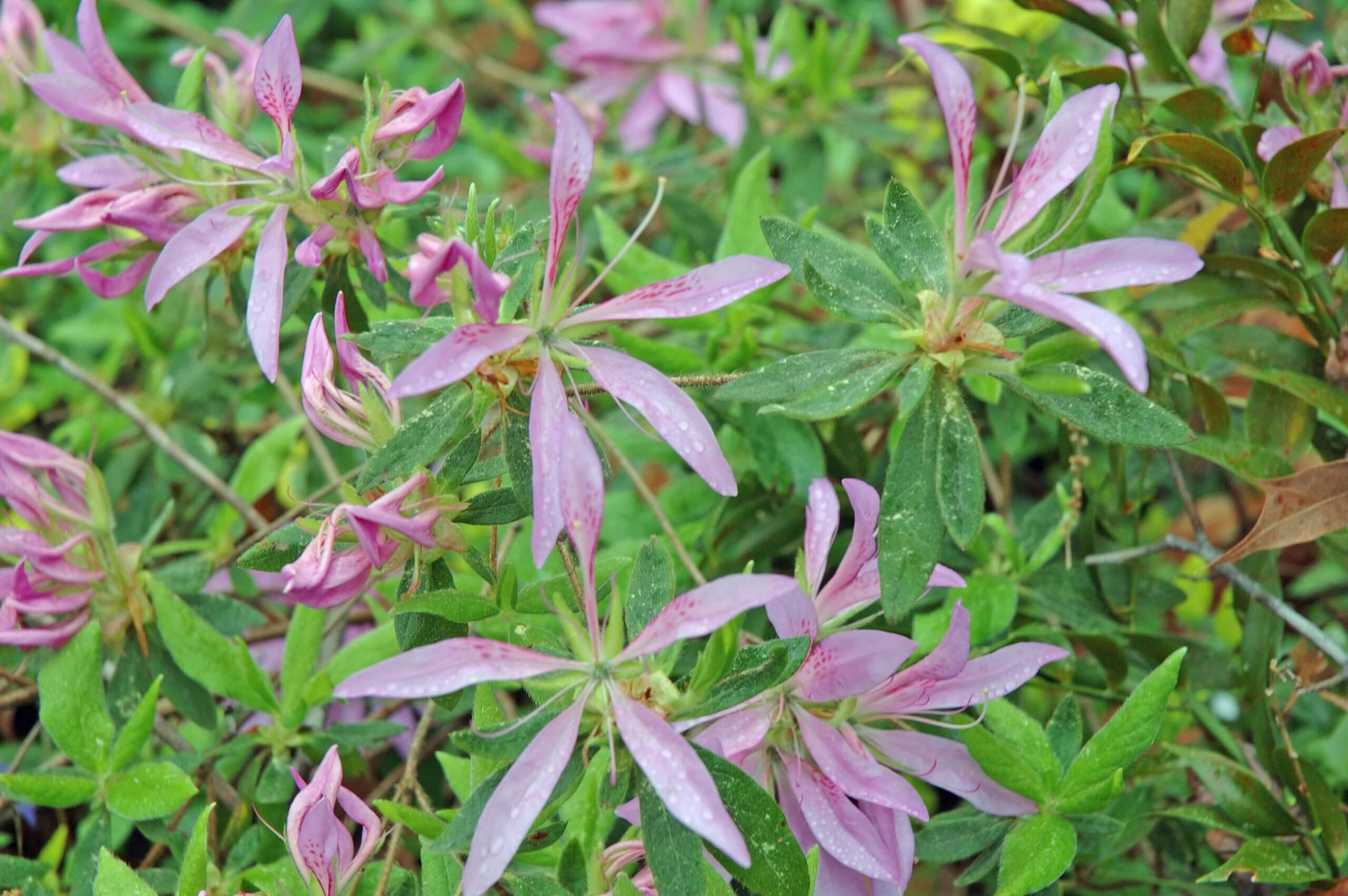 above ground. Then gently mound the remaining amended soil around the exposed root ball, creating a sloping base for the newly transplanted shrub. Finally, mulch around your plant with 1 to 2 inches of partially composted organic mulch to help hold moisture and keep the roots cool throughout summer.
They perform well on sloping sites with slightly acid soils. Just drive along the Blue Ridge Parkway through the Great Smoky Mountains to see some of our own North American azalea and rhododendron natives growing to the tops of the highest windswept balds, growing wild in thickets through the steep forested mountainsides, and thriving along falling creeks.
Feed your plants in the fall or spring after they finish blooming. Black Gold® Evergreen, Azalea & Camellia Fertilizer (5-5-3), a blended all-natural fertilizer that has been formulated for azaleas, camellias, rhododendron, and other acid-loving plants. Its 5-5-3 NPK ratio promotes both good growth and flowering in container and in-ground plantings, and contains organic feather meal, sulfate of potash, bone meal, alfalfa meal, blood meal, and kelp meal.
Choose the right plant height for success. Dwarf Gumpo azaleas may only grow 1 to 2 feet tall and 3 feet wide, but our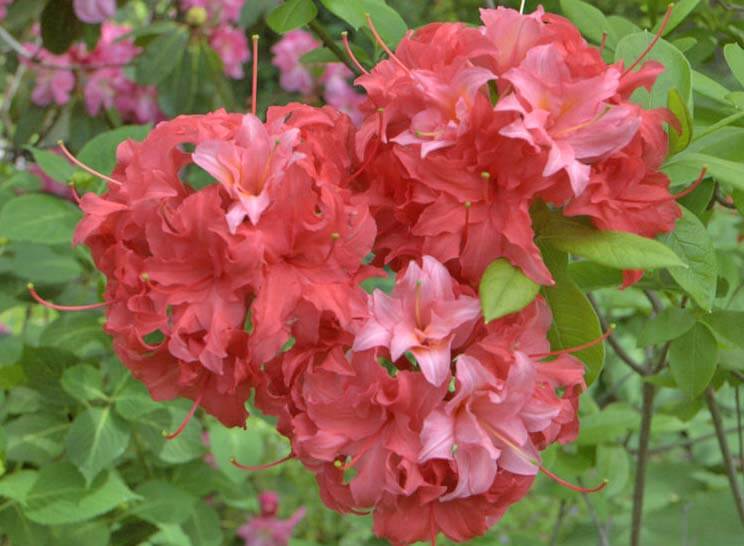 native sweet azalea (Rhododendron arborescens), can easily reach 8 to 20 feet in both height and width.
Any pruning for shaping should be done immediately after flowering, as April- and May-blooming varieties set next year's flower buds by the middle of the summer. The regular removal of dead or damaged branches can be accomplished any time of year. If you are growing repeat-blooming varieties that put on a show in springtime and again in the fall, don't severely prune these as you risk losing the next bloom cycle. If you admire the formal flowing and mounded shapes of azaleas in Japanese gardens, remember that these shrubs are consistently trimmed to maintain an overall plant shape and aesthetic, not to encourage the number of blooms.
Understanding the differences between azaleas and rhododendrons, as well as the best ways to select, plant, and care for them, should encourage gardeners to add a few new specimens to their gardens. Whether they be old favorites or new outstanding hybrids, rhododendrons will brighten any home landscape.
(For more information about Azaleas, be sure to visit the Azalea Society of America website).