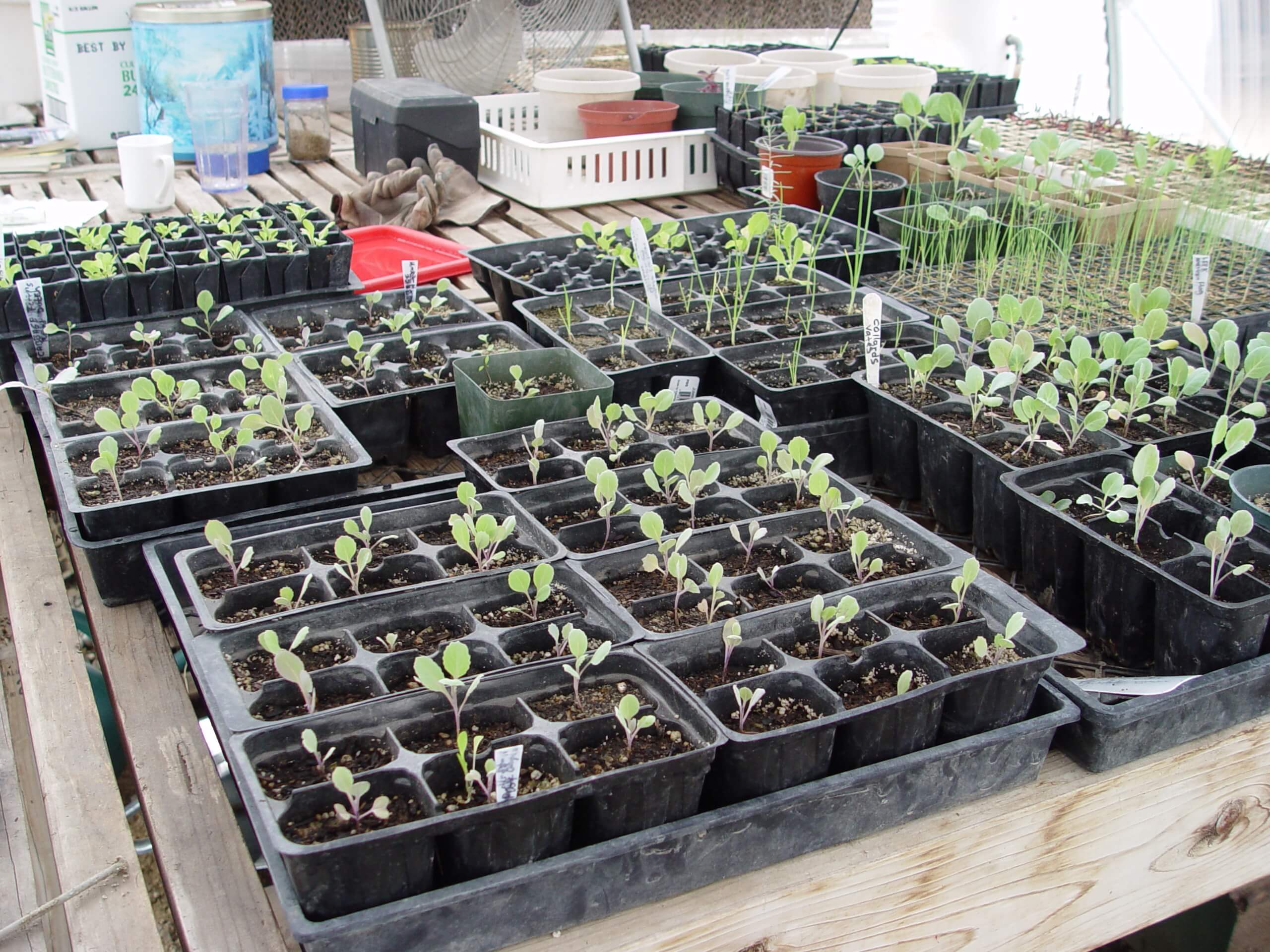 The quiet of the January new year is the ideal time to start vegetable garden planning.  This is the month of contemplation when you begin to conjure up next year's crop in all its glorious diversity.  Whether it's just an Earth box or a huge family plot, all vegetable gardens start the same way.  Success requires early organization, the ability to assemble exactly what you need, and the ability to time it all to perfection.  In fact, it's much like planning a holiday meal with a half dozen different dishes that all need to be ready at the same time.  You need to make lists, shop for all the ingredients, and strategize your space in the oven and stove before bringing everything to the table.

Following these five strategic simple steps for vegetable garden planning will make your preparation a little simpler and more efficient:
Pot up younger tomato seedlings into larger containers, so they'll be further along by planting time.

Get your catalogs.  There's nothing like perusing the color pages of free seed catalogs by the fire as snow flies.  To do that you need to request catalogs ASAP since it takes time for them to arrive in the mail.  Another option to start shopping today is by searching for the very same catalogs online.  There are many seed catalogs available, but I have three that I use most. These are:
Allow plenty of time to study these top three full-color catalogs. All feature a mind-boggling assortment of heirlooms as well as rare and modern varieties.
Order your seeds.  In the past, we had to write out seed-catalog purchases on an order form, attach a check, and send the order by mail.  For large seed orders this process took weeks by snail mail.  Even if you shop a paper catalog, placing an order online is so much easier!  Just click "add to cart" and complete the order with another click that reaches the seed house in seconds.  That means your order will speed its way to you in no time.
Gather containers.  Growing vegetables ahead involves two steps.  The first step is the sowing of seed in small flats or tiny six packs where they germinate.  (Click here for more seed-starting steps.) These will outgrow their pots quickly, and you'll want bigger plants to set out into the garden, so plan to pot each seedling up to a larger container as it outgrows its previous pot or pack cell. Giving your seedlings enough space to grow will allow them to be healthy and robust by the time planting day arrives.  Three-inch peat pots are ideal for this second stage because they allow a bigger root system to form. And by planting the whole pot and its contents, there's minimal root disturbance for quick adjustment to the garden.

Give your seedlings the best organic start with our outstanding seedling mix.

Lay in soils.  For the germination stage, make sure you have plenty of organic Black Gold Seedling Mix on hand.  This top-quality, OMRI-Listed medium ensures seeds sown germinate and thrive. (Read BG Seedling Mix Testimonials to see what other say!)  When it's time to pot seedlings up into peat containers, use all-organic Black Gold Natural & Organic Potting Soil Plus Fertilizer.  Its slow-release fertilizer allows you to keep your plants in the same pot for far longer without adding supplemental plant food. Its boost of organic fertilizer offers good nutrition that will stimulate a large root system and stronger stems.  When using peat pots, the fertilizer continues to help the seedlings adapt to new conditions by keeping those nutrients close and available.

Designate a space.   Choose a south-facing window to start your seedlings because this exposure receives the most sunlight throughout the day.  Windows with too little light cause seedlings grow long and spindly, never reaching optimal strength.  If you lack a suitably sunny space, invest in a simple neon light fixture and insert full-spectrum bulbs to get your garden started anywhere in the house. Before planting outdoors, be sure to harden your plants off and that the threat of outdoor frost has passed.