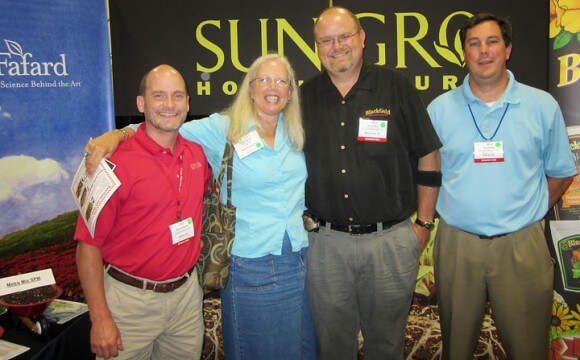 August was the perfect time to visit the Metro Convention Center in Hickory, North Carolina, an internationally famous furniture convention site nestled in the foothills of the Blue Ridge Mountains. On this trip, however, the emphasis was on living plants, garden tools, and potting medium at the 2012 Summer Green Road Show.
The Summer Green Road Show is an annual education and trade show for the Green Industry sponsored by the North Carolina Nursery & Landscape Association. NCNLA predicted record attendance since this year's event was also held in conjunction with the North Carolina Urban Forestry Conference.
Between working in the Black Gold booth and the educational sessions, Scott Pace, Sun Gro Horticulture's District Manager of Southeastern Retail Products, moderated a panel discussion about growing operations in garden centers.
Scott shared his overall impression, "What I took away from this year's show is that there seems to be more positive energy in the industry right now going into Fall. The retail side is looking ahead to a good Spring."
There was an excellent reception on the trade show floor to the partnering of the Black Gold line of organic potting soils with a familiar Southeastern retail potting medium name, Fafard.
Black Gold was well-represented at the Summer Green Road Show as Community Expert Garden Writer Pam Beck also presented two retail track lectures. Her audience included nursery growers, retail sales personnel, landscape designers and architects, university staff, and cooperative extension agents.
"A strong camaraderie exists among the Green Industry in the Southeast." Pam added, "These folks know each other on a first-name basis. They share information, and care deeply about success within the entire industry. So, I was thrilled with the renewed enthusiasm I heard from the attendees."
Thanks to everyone who stopped by the Sun Gro booth and attended one of the educational sessions