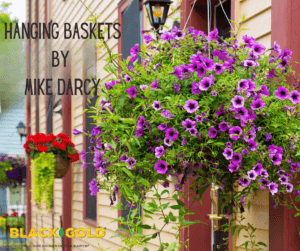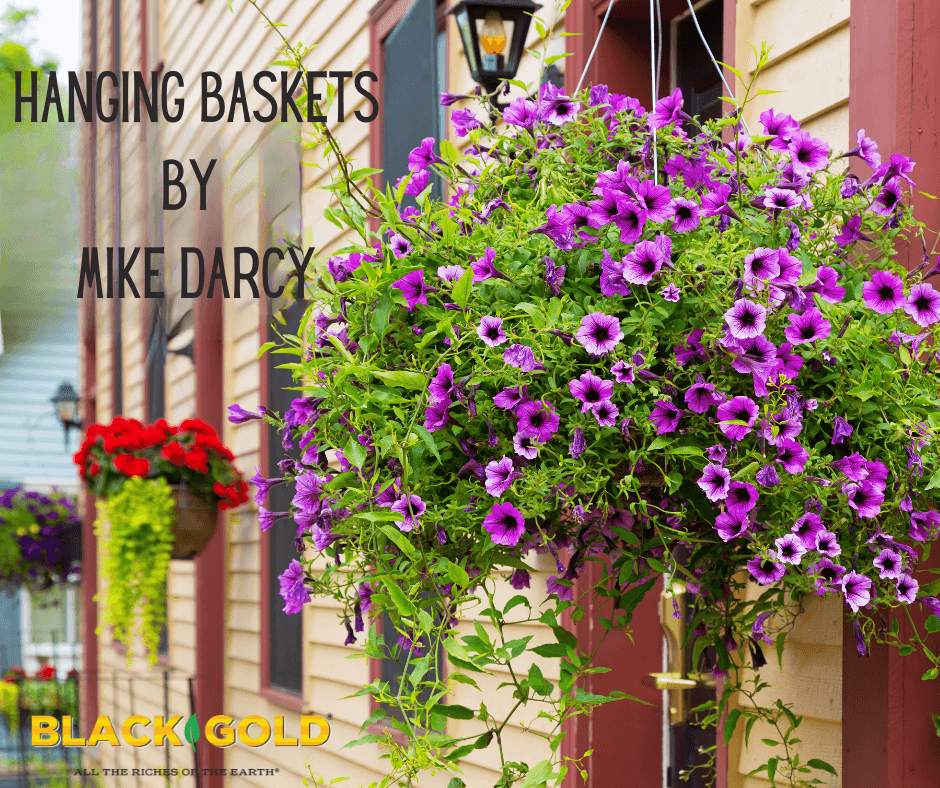 Hanging baskets and the month of May seem to go together. On a recent visit to several different garden centers, the selection of colorful hanging baskets was vast. It was not that many years ago that fuchsia baskets were the most common, but that is not the case today. Yes, there are certainly fuchsia baskets but there are so many more options available. Many of the baskets today, do not have just one type of plant, but multiple different plants in any one basket.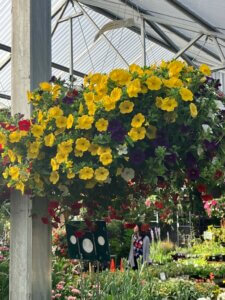 Calibrachoa Photo by Mike Darcy
If I had to pick one plant that I saw consistently in multiple baskets, it would be calibrachoa. Whether planted singly or with other plants, this petunia relative is ideal for trailing in baskets or pots and blooms all summer. Plants in garden centers are blooming now and with the wide range of colors available, it is easy to pick specific flower colors. Other plants that are widely used include, petunias, verbena, begonias, fuchsias, bacopa, geraniums, and lobelia.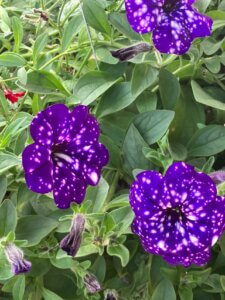 Petunia 'Night Sky' Photo by Mike Darcy
Before making a purchase, consider where the basket will be in the garden. There are baskets made for sun, for shade, and for a sun/shade mix. There are two choices in purchasing hanging baskets, buying one that is already made, or making one yourself. Keep in mind that the already made baskets have probably been in somewhat of a controlled environment and might need a little extra care until they get established. For example, a basket made for a sunny location, might not have been in a full sun location and so it may need some protection on hot sunny days until it becomes adjusted to its new  environment.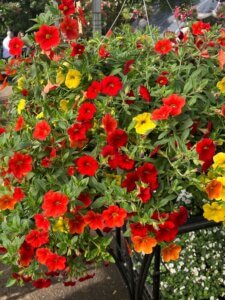 Calibrachoa Photo by Mike Darcy
Making your own basket can be a fun project and you get to pick exactly the plants that you want. Making a basket is also a good way to get kids involved. Once you have selected the container, use Black Gold® Moisture Supreme Container Mix as your potting mix. This mix has excellent water retention qualities and on hot summer days, hanging baskets can dry out quickly. Select your plants and place them closer together than they would normally be in a flower bed. This will give you a blooming basket sooner than if the plants are spread apart.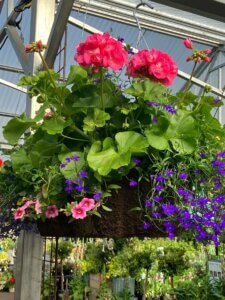 Geranium, Calibrachoa, and Lobelia Photo by Mike Darcy
An herb basket can be ideal if a kitchen door is close by. Try planting basil in the center and plant thyme along the sides. This can be both beautiful and functional.
Watering and fertilizing are both key to keeping baskets looking good all summer. Being exposed to the elements, especially the sun and wind, baskets can become dry quickly. They will often need to be watered once a day. The city where I live has had a hanging basket program for many years and a maintenance is contracted to water them once a day, even if it rains. As the season progresses, the plants will get thick with leaves and the leaves can prevent the rain from reaching the soil. Because the plant is being watered so often, nutrients are often leeched out and need to be replenished. Fertilize weekly with a water-soluble plant fertilizer.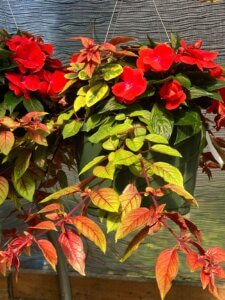 Fuchsia autumnale with red impatiens Photo by Mike Darcy
The choices for a basket are limitless. Try something new and enjoy your creation all summer!
About Mike Darcy
---