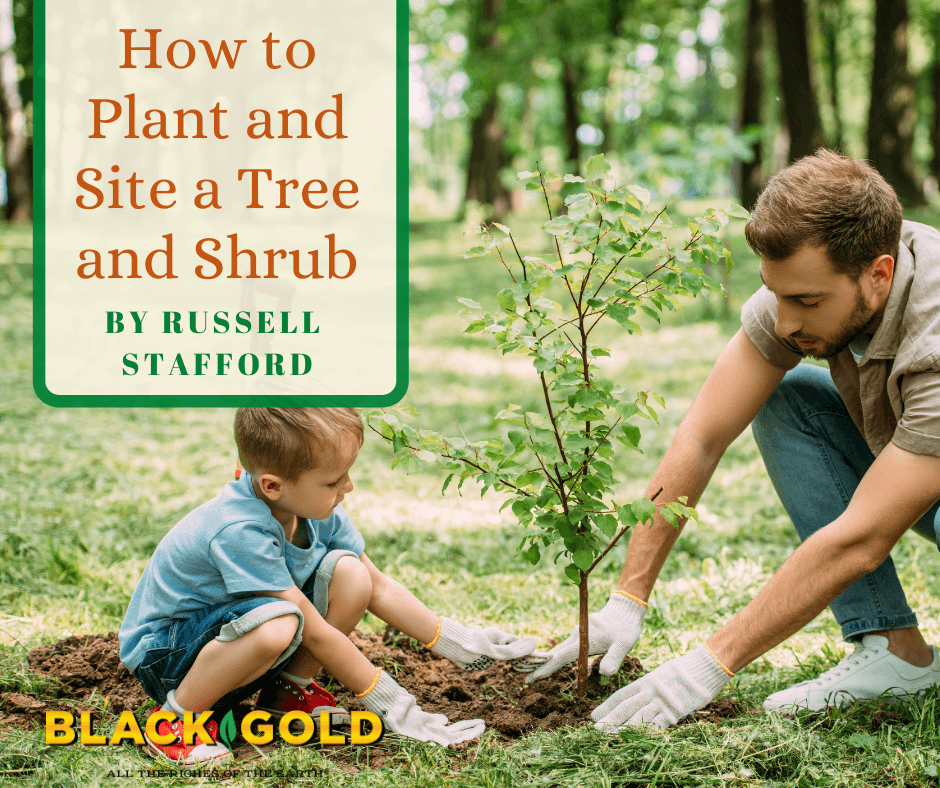 The key to successful gardening is to go (and grow) with what you've got. If your garden has acid soil and lots of shade, go with acid- and shade-loving plants. If sunny, dry, alkaline conditions dominate, then plan and plant accordingly. This also holds true for the garden's aesthetic. For example, more "naturalistic" settings (such as a woodland edge) call for more informal, nature-evoking plantings. Beautiful and bountiful things happen when a garden is in harmony with its surroundings.
Understand Your Garden's Site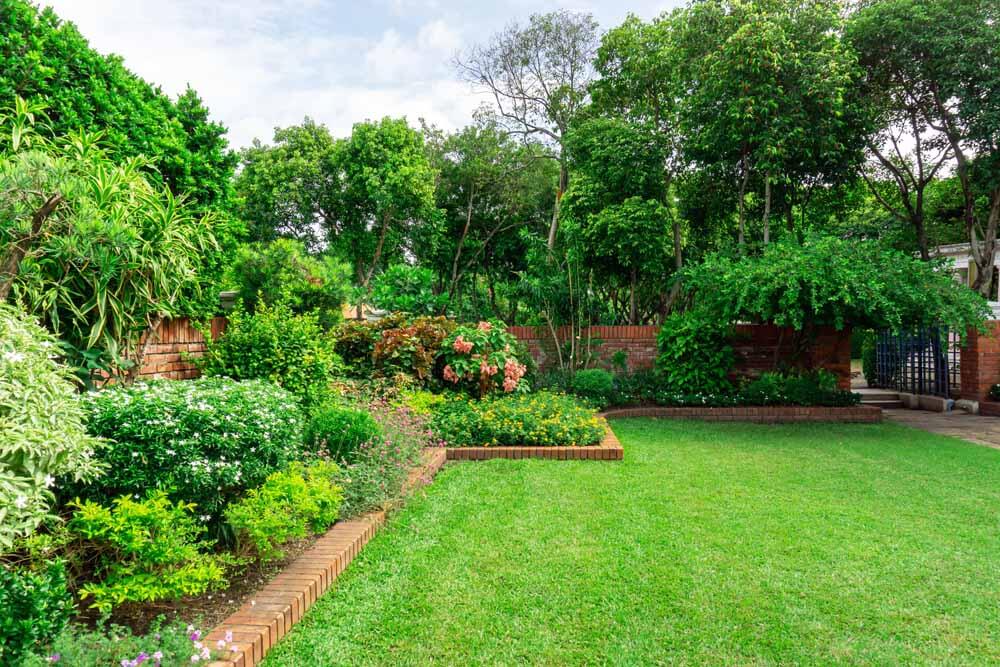 It's especially important to keep this in mind when choosing – and planting – the trees and shrubs that will form the framework of your garden.  Choose the right plants and get them off to a good start, and good things are almost sure to follow.
It all comes back to knowing the site's conditions. What are the pH, nutrient-holding capacity, and other characteristics of your soil? If in doubt, you can get a definitive answer by sending soil samples to your state's horticultural extension service (click here for a nationwide list of extension services). What is the site's exposure to sun, wind, and water (e.g., rain and runoff)? How and when do you use your yard? Now, during the dormant season, it is a great time to assess these factors. Then, based on your site's particulars and your preferences, compile lists of trees and shrubs that are a good fit.
Planting Trees and Shrubs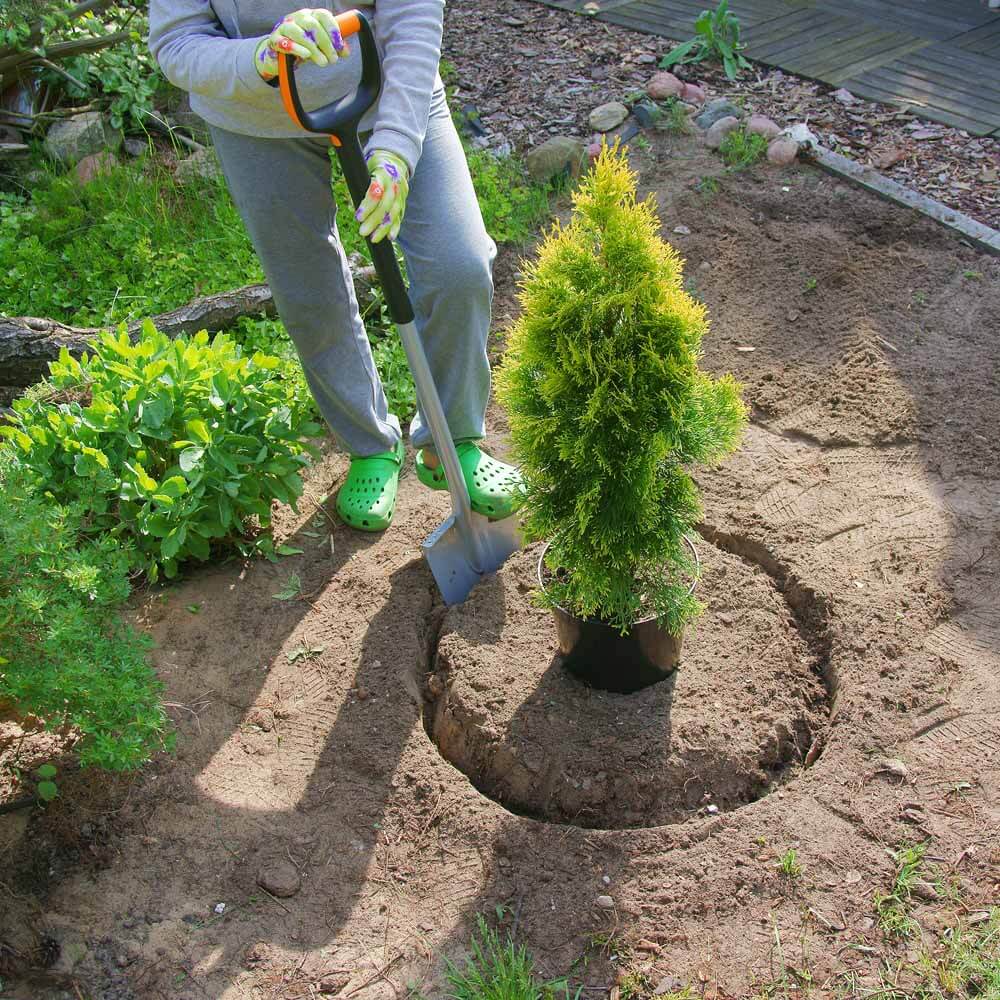 When you get around to planting, the same precepts remain. Trying to force an ill-chosen plant into an incompatible site is a losing prospect. If the tree or shrub is a good fit, all it needs is a good root system and a suitably broad planting hole, backfilled (to the proper depth) with unamended or lightly amended soil for best establishment. Of course, planting at the proper season and providing regular post-planting care (especially watering) are also essential.
Sizing Up the Planting Hole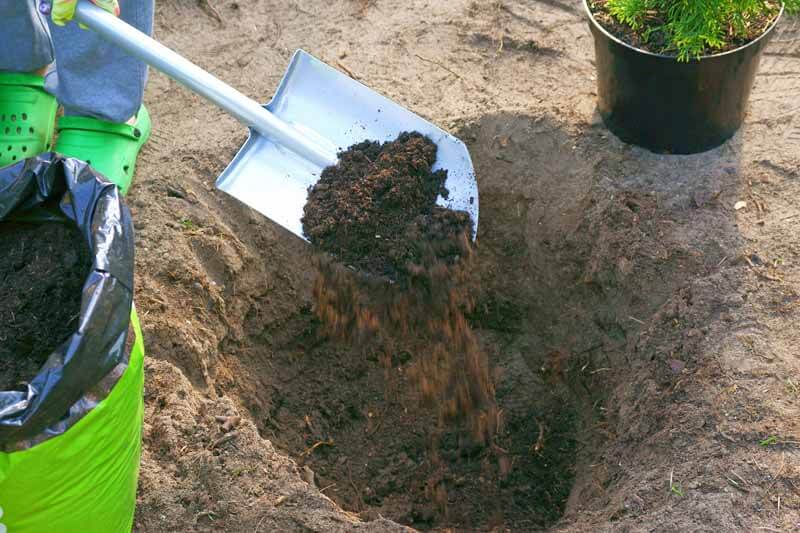 Planting width requires a "suitably broad" planting hole is at least three times as wide as the plant's root ball, although twice as wide will do in a pinch. The texture of the excavated and refilled soil differs significantly from that of the surrounding undisturbed soil; consequently, it also differs significantly in other properties such as moistness and aeration. Adding a light application of soil amendments, such as OMRI Listed Black Gold Canadian Sphagnum Peat Moss or Black Gold Garden Compost Blend, will give the soil additional organic matter for increased water-holding ability to help the establishing plant. This is of greatest importance in poor or sandy soils. If your soil is of good to average quality, this step is not needed. A wide planting hole gives the roots a relatively homogeneous environment in which to extend and establish. By the time they've reached the edge of the former planting hole, they'll be more up to the job of worming their way into the undisturbed soil. Additionally, the refilled soil will settle over time to a texture closer to that of the surrounding soil, thereby easing the roots' transition.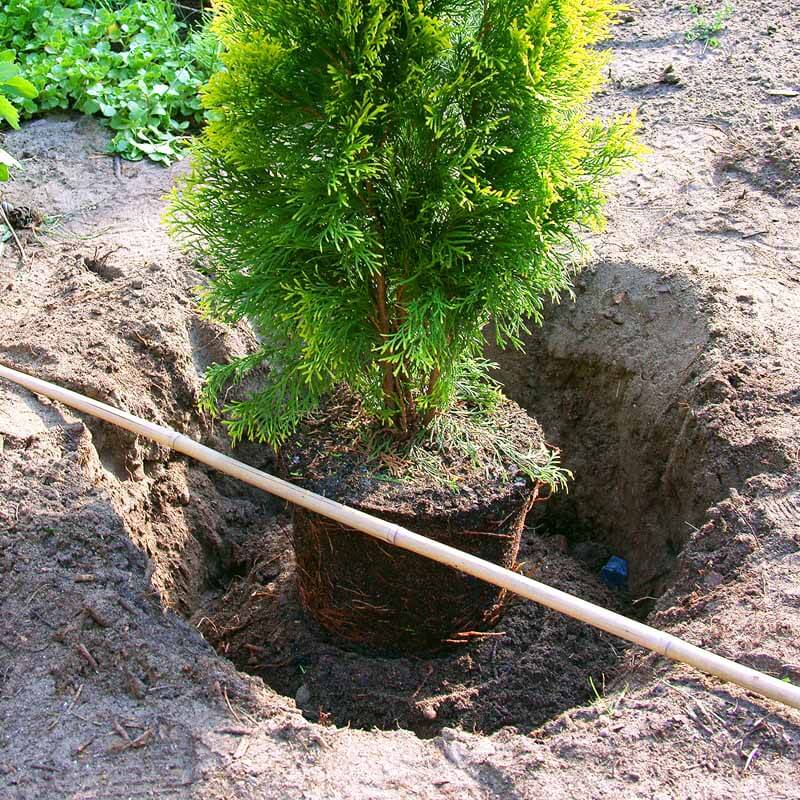 Planting depth – unlike width – can be overdone. In fact, the planting hole should be no deeper than the root ball. Most of a tree's or shrub's feeder roots are within a few inches of the surface. A deeper hole serves only to loosen the texture of the soil below the root ball, increasing the likelihood that it will settle and pull the roots down with it. Plants generally do not thrive in air-starved sinkholes.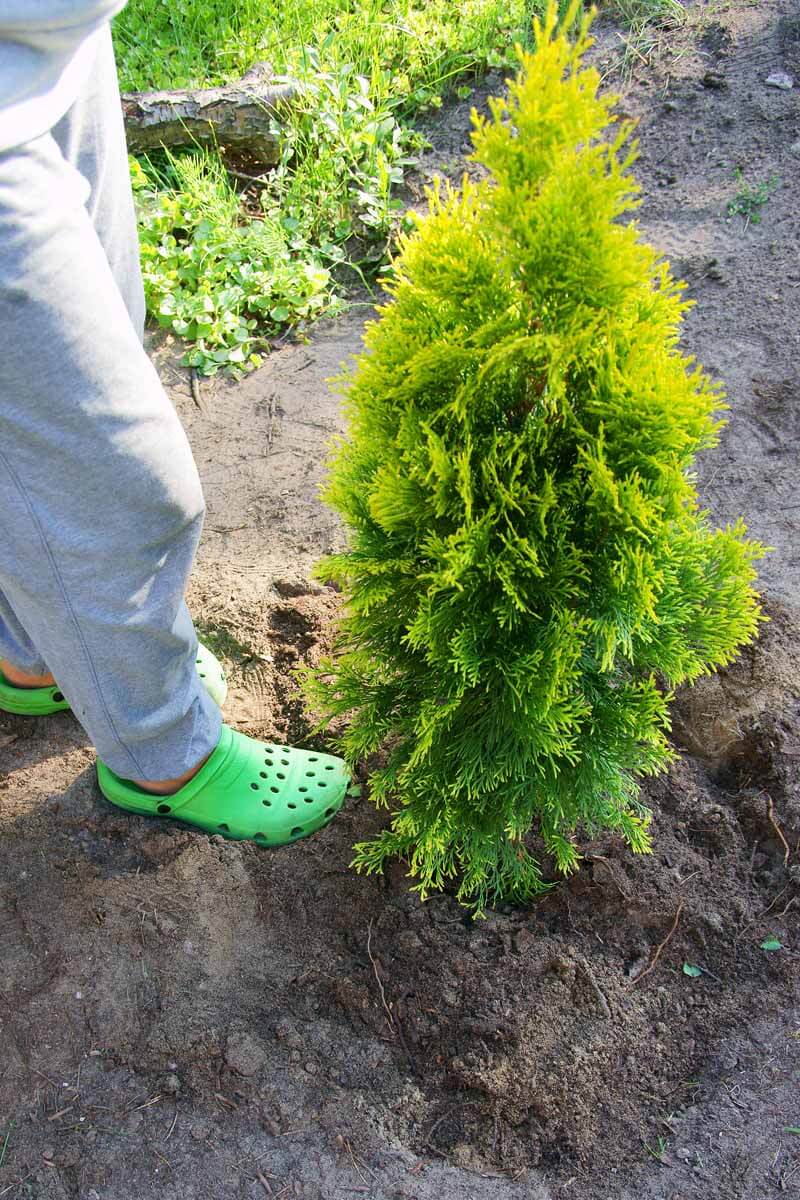 Shallower planting may be required in heavy clay soil. Planting holes in such soils are subject to the bathtub effect, with water percolating through the relatively coarse refill soil and pooling at the bottom of the hole. Here, dig an extra-wide hole that's significantly shallower than the root ball, sloping the base of the hole toward its edges. Mix the excess backfill with Black Gold® Garden Soil, and mound this over the exposed root ball after planting.
Sizing Up the Tree or Shrub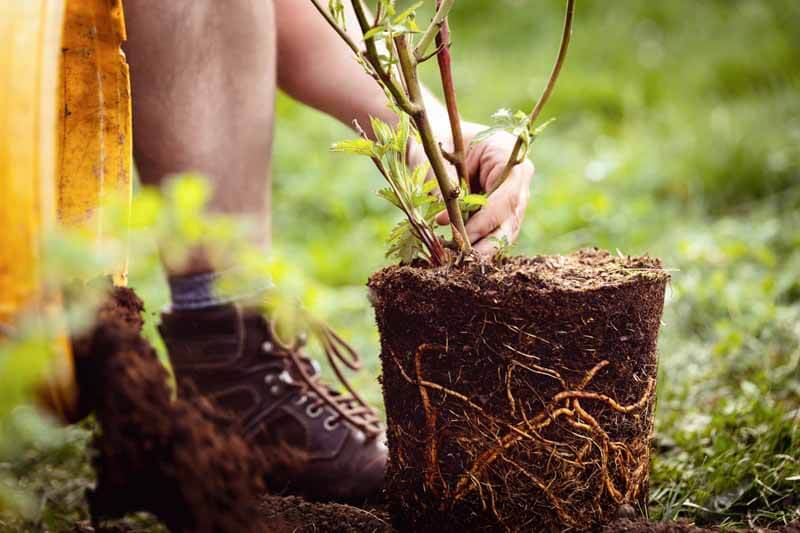 Potted trees and shrubs with vigorous, relatively undisturbed roots make the best planting material. Avoid pot-bound plants whose roots have long ago filled or grown beyond their containers. Before buying a containerized plant, try to knock it out of the container to check the root system. If the root ball remains stubbornly wedged in its container even when you apply force to remove it, it's a risky prospect. Ideally, the roots should not circle the soil ball, and abundant white feeder roots should be evident at its edge. You can plant container-grown trees and shrubs just about any time the ground is workable, but be sure to keep the root ball from drying out after planting. Most potting soils are peat-moss-based, making them coarser and more drought-sensitive than the surrounding soil. They also resist re-moistening once completely dry. Newly planted container-grown plants may need watering several times a week during summer droughts.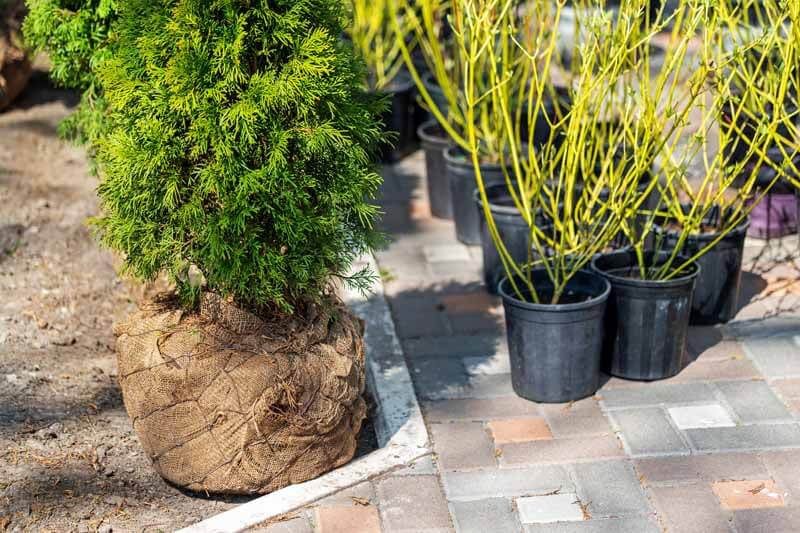 Bare-root and balled-and-burlapped (B&B) trees and shrubs lose much of their root systems when harvested at the nursery. They thus require more kid-glove treatment. Plant them either in early spring or in late summer/early fall to give their roots ample time to regrow before summer heat or winter cold arrives. Be sure that their roots do not dry out before planting. Unlike container-grown plants, B&B plants are often grown in heavy clay, which cracks and resists water when dry.
Be careful to plant bare-root and B&B shrubs and trees at the proper depth. For bare-root plants, partially refill the planting hole with a volcano-shaped cone of soil, spreading the roots atop the cone before backfilling. The plant's trunk/root junction (also known as the "root flare") should be just at or slightly above the soil surface. Stems of B&B trees and shrubs are often partly buried in their root ball; if so, remove some of the soil to expose the root flare. Also, be sure to minimize disturbance to B&B root balls as you plant, and remember to unswaddle the burlap (or wire caging) from the top and sides of the root ball before refilling the hole. Either cut and discard the unwanted wrap or pull it back and bury it at the bottom of the hole.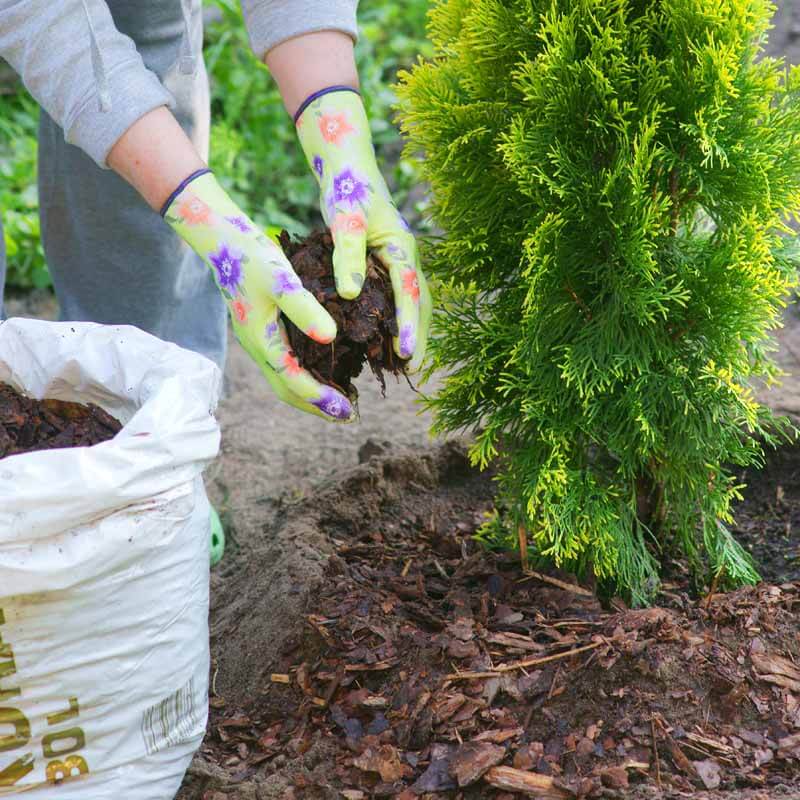 Add a good mulch layer to buffer newly planted trees and shrubs from drought, heat, and cold, and apply an inch of Black Gold® Natural & Organic Garden Compost Blend and a couple of inches of bark mulch to the planting area. They'll appreciate the extra pampering, and you'll appreciate the results!