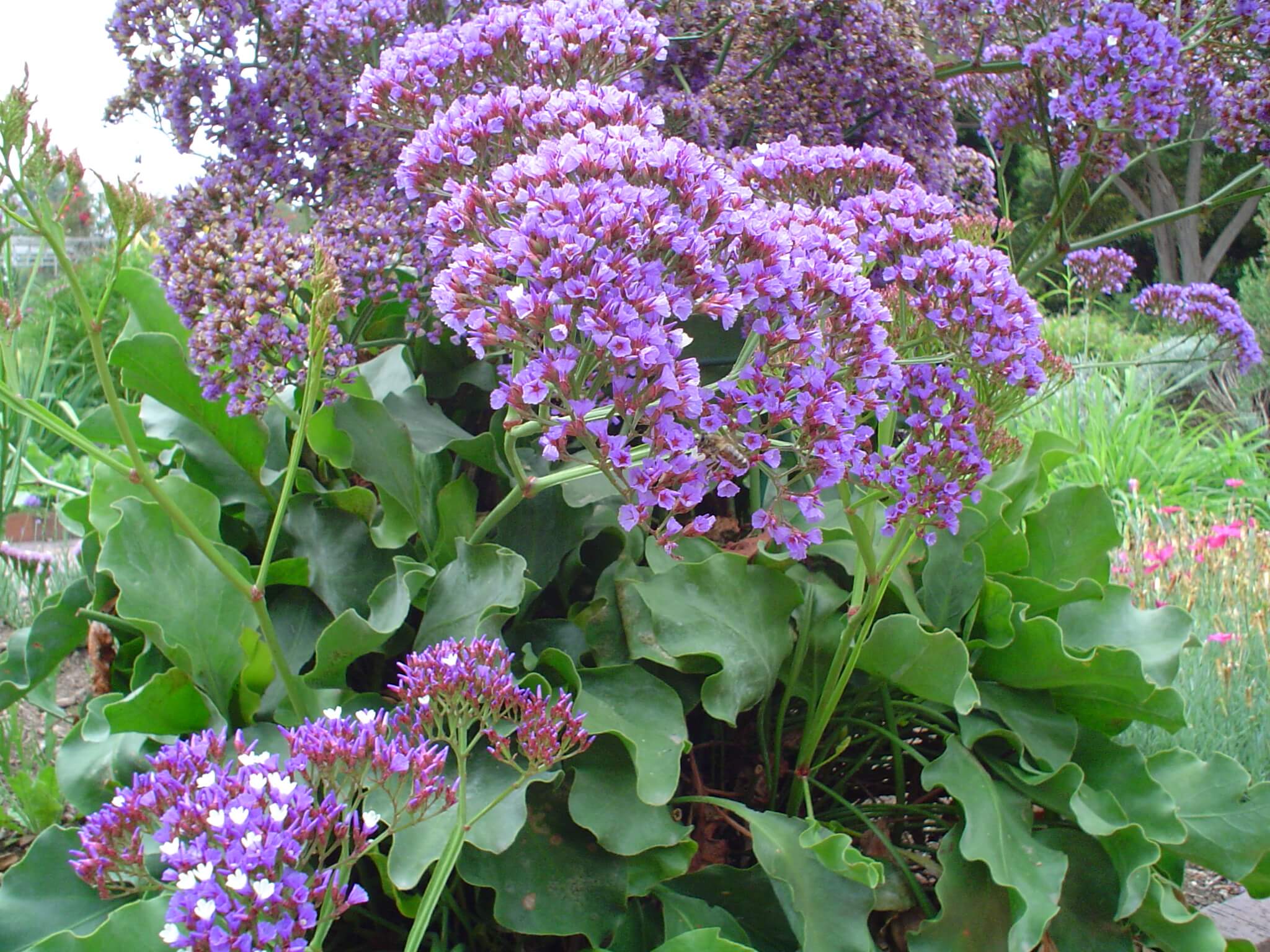 "Where did you get those flowers?" my mother asked suspiciously when I presented her with a bouquet of papery dry blossoms. They were as deep blue as Egyptian lapis stone. The stems still held their heads high after the long walk home that hot summer day.
The moment she learned they had come from the neighbor's garden Mom was on the phone. I heard mea culpas flooding the kitchen. Then she hung up to announce we would be taking them back because they were "everlastings", and the neighbor wanted to dry them for her arrangements.

The term, everlastings, is an old one used to define a special group of plants that produce flowers that are naturally papery and quick to dry after cutting. Most importantly, they hold their color when dried. Strawflowers and yarrow are other well known examples of everlastings.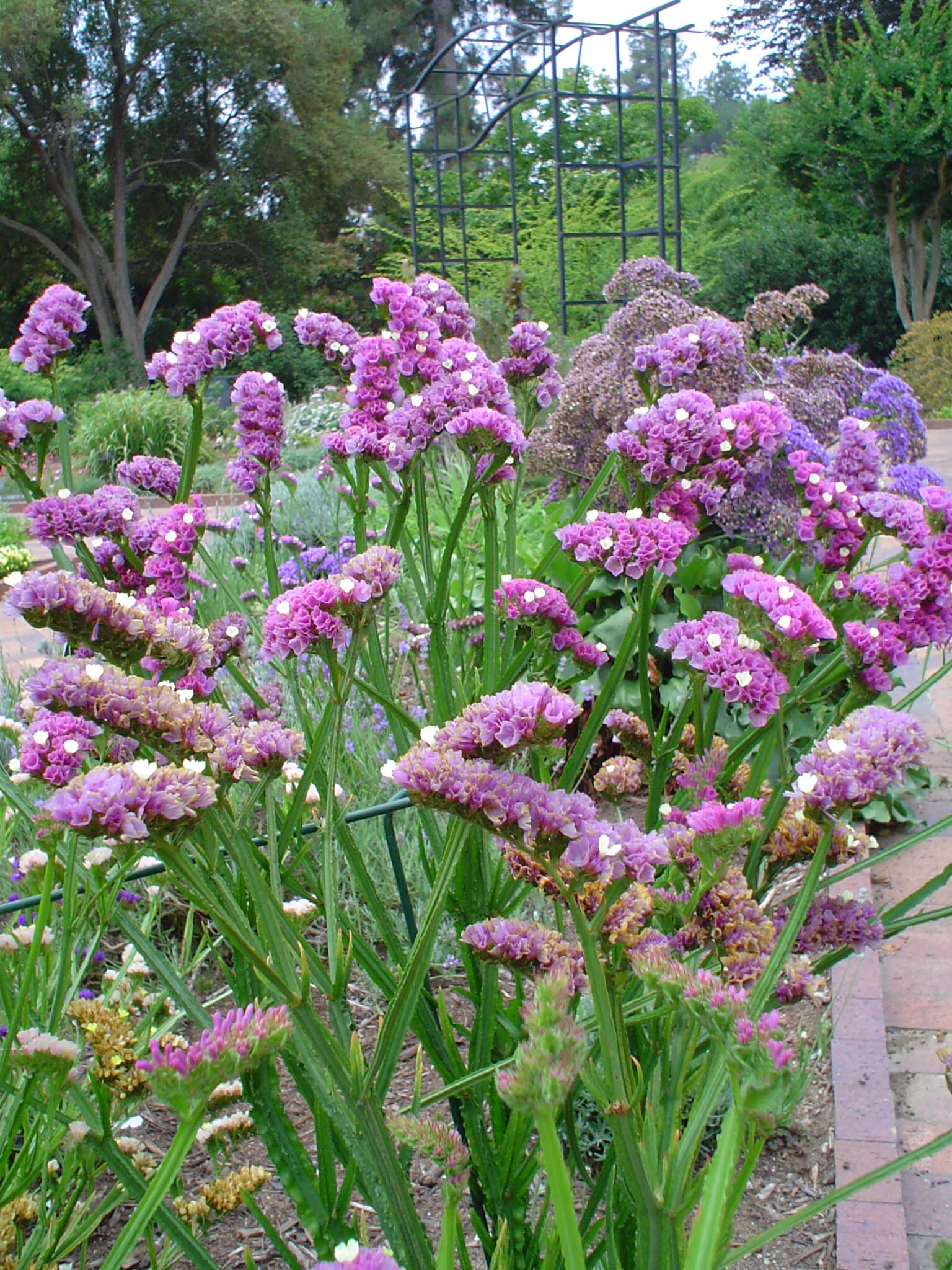 The stolen flowers of my youth were perennial Limonium perezii, a native of the Canary Islands. It's also known as sea lavender because they grow in coastal conditions with a remarkable tolerance for salt air and alkaline soils. They are a staple of Southern California gardens. To grow them outside frost free areas, plant in pots filled with Black Gold All Purpose Potting Soil so you can move them under shelter or into your greenhouse/sun porch for the winter.
Annual statice is similar but a different species, Limonium sinuatum. This is a far more adaptable choice for a summer garden because it's grown from seed each year, just like vegetable plants. While their flower heads aren't as large as the perennial species, they are just as long lasting. Better yet, they come in different colors for a home grown source of dried statice for winter crafts.
Statice of one sort or another can be found in every flower arranger's garden. The annuals can be grown from seed in your summer garden between your vegetable plants. For a bigger harvest, grow a whole row of them alternating with low growing lettuce or root crops.
Most seed companies offer annual statice in the original blue as well as yellow, pink and white cultivars. A single packet of mixed color seeds is all it takes to get started. They can be cut over the summer months, but if well fed with an all purpose fertilizer, you may get a second flower harvest in the fall.
Both annual and perennial statice are harvested the same way. Cut the flowers just before they open for maximum coloration. If you wait too long the flowers change to seed forming mode, and that causes the petals to fade and fall prematurely.
Always cut your plants with long stems in the cool of the morning. This will prevent them from dehydrating too quickly, which may result in wilt before you get then bundled up. Bring them indoors right away and remove any bugs, signs of disease or unwanted parts. Some folks like to spray them down with water to remove dust, then lay them out individually on paper or a towel to dry for an hour before you bind the stems. Use a rubber band keep pressure on the stems because twine loosens as the stems narrow from drying. Hang in a dark, dry, well aerated place where temperatures remain consistent.
Statice brings your summer garden indoors where the flowers never fade. They are a great crop to grow if you love flower arrangements or dried bouquets indoors. When all the flowers are gone outside, yours will remain, for everlasting color while the show flies.