I think that most of us have walked into a grocery store or the houseplant section of a garden center and seen colorful displays of colorful blooming orchid plants. With their unique and beautiful flowers, it can be difficult not to buy one. Once purchased, it is easy to get hooked on these them because they are easy-care and their flowers can last for weeks, sometimes even months. But, getting them to bloom year after year can take a little more know-how. And, if you are not willing to try on your own, offer your plants to orchid-growing friends.
The Story of Nancy, the 'Orchid Lady'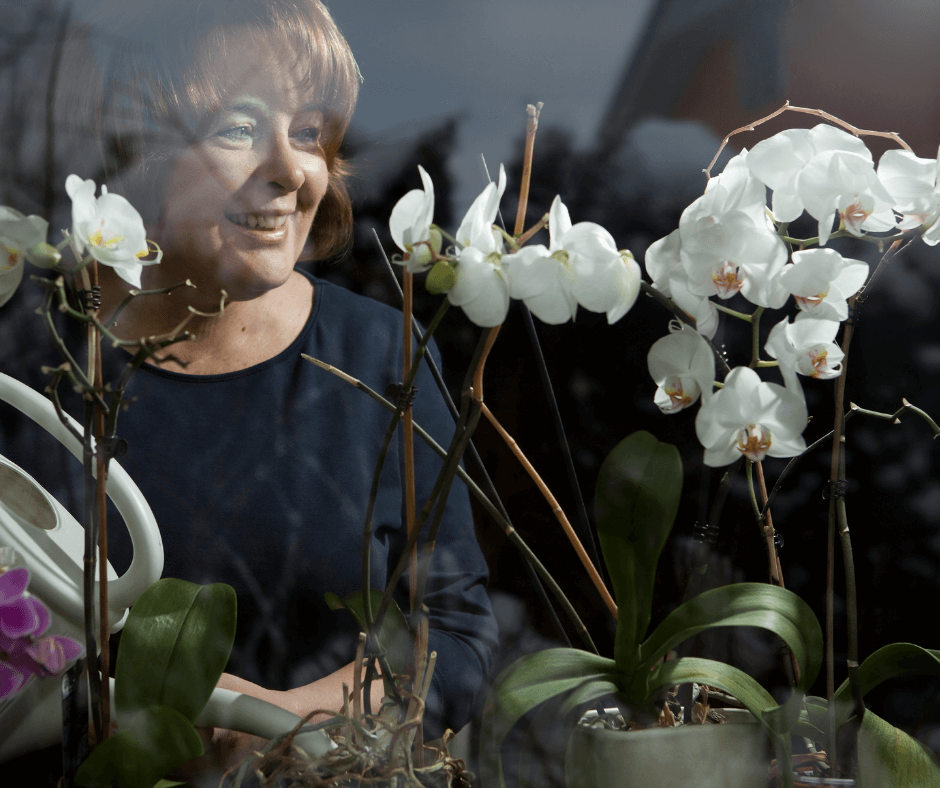 Some indoor gardeners are 'buy and toss' types when it comes to orchids. My wife was one of these gardeners. She would buy an orchid plant for our entryway, nurture its blooms, and then throw it out when the flower stems stopped. Each year, I was amazed at the length of time the plant stayed in bloom. When one flower faded, another would soon appear and bloom for many weeks. After a plant had performed so well, it seems a shame to just throw it away because the flowers were gone.
Luckily for us, one day our friend Nancy Klein was visiting, and she noticed one of our flowerless orchid plants headed for the compost pile. I mentioned to Nancy how sad I felt throwing them out, and she offered to take it to see if she could get it to re-bloom. "Yes!" I replied, "of course, you can take it, and let me know if you have success."
Well, Nancy had success with that plant and many more over the years. She has become our orchid recycle person, and her home is rarely without at least one orchid blooming. We are not the only household that she rescues orchids from, and she has gained a reputation as the 'orchid lady.'
Nancy's Five Growing Tips for Phalaenopsis and Oncidium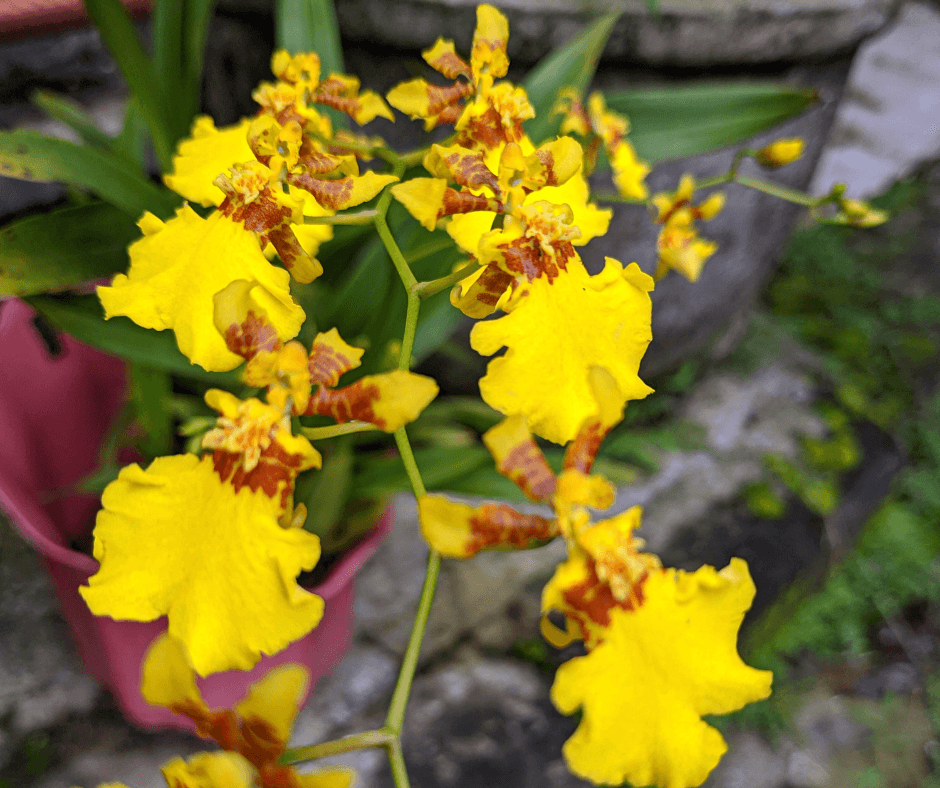 The two most commonly sold orchids are moth orchids (Phalaenopsis hybrids) and dancing lady orchids (Oncidium hybrids). Of the two, Phalaenopsis is the easiest to grow and rebloom.  I recently talked with Nancy about her orchid success, and here are some of her tips for getting orchids to thrive and rebloom. She has had much better success with getting Phaelenopsis to rebloom as compared to Oncidium, but she still has some success with Oncidium. It can just take a little more work.
1. Provide Bright, Indirect Light: Nancy does have a sunroom in her house, which has proven to be ideal for growing orchids. She said that she notices that people often put a blooming orchid in a dark corner and orchids need plenty of light to survive and bloom.
2. Trim Off Old Blooms: When someone brings her a Phalaenopsis that is through blooming, Nancy trims off the flower stem to the lowest node or bud below where the last flower was. A new flower stem will appear from this node and a new blooming stem will often appear in about three months.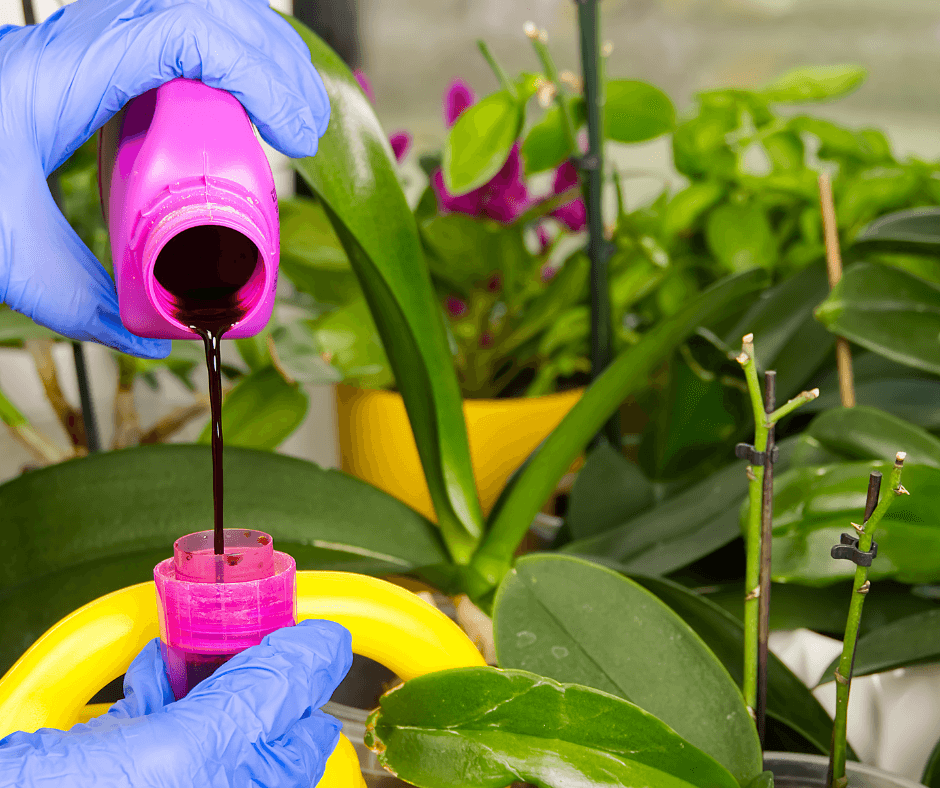 3. Plant Orchids in the Right Mix: Nancy uses medium-sized orchid bark as a growing medium, which is best suited for growing moth and dancing lady orchids. (If you grow ground, or terrestrial, orchids, plant them in finer Black Gold Orchid Mix). She repots her orchids every 3-4 years with new orchid bark. She keeps her potted plants in a tray with pea gravel and a small amount of water over the pea gravel to give the plants added humidity.
4. Water Properly. Nancy is lucky. She has low-mineral tap water for irrigating orchids, but most homeowners have hard, mineral-rich tap water which can damage and even kill sensitive orchids. If you have hard water, then watering orchids with distilled water is a better option. Water plants about once a week. She cautions that many people water too often, so once-weekly water is sufficient if you can maintain the humidity around your orchids. Each time she waters, she adds diluted orchid fertilizer.
4. Read About New Orchids and Their Care: Getting the Oncidium to bloom on a regular basis has been a challenge and they have not been nearly as reliable as the annual-blooming Phaelenopsis. This is partly due to the Oncidium genus being very diverse in nature as its habitat can be found from the tropics to areas of high elevation with growing conditions being obviously quite different. Nancy recommends checking the label for specific information. (Click here for The American Orchid Society's helpful page on Oncidium care, and click here for their definitive page on Phalaenopsis care.)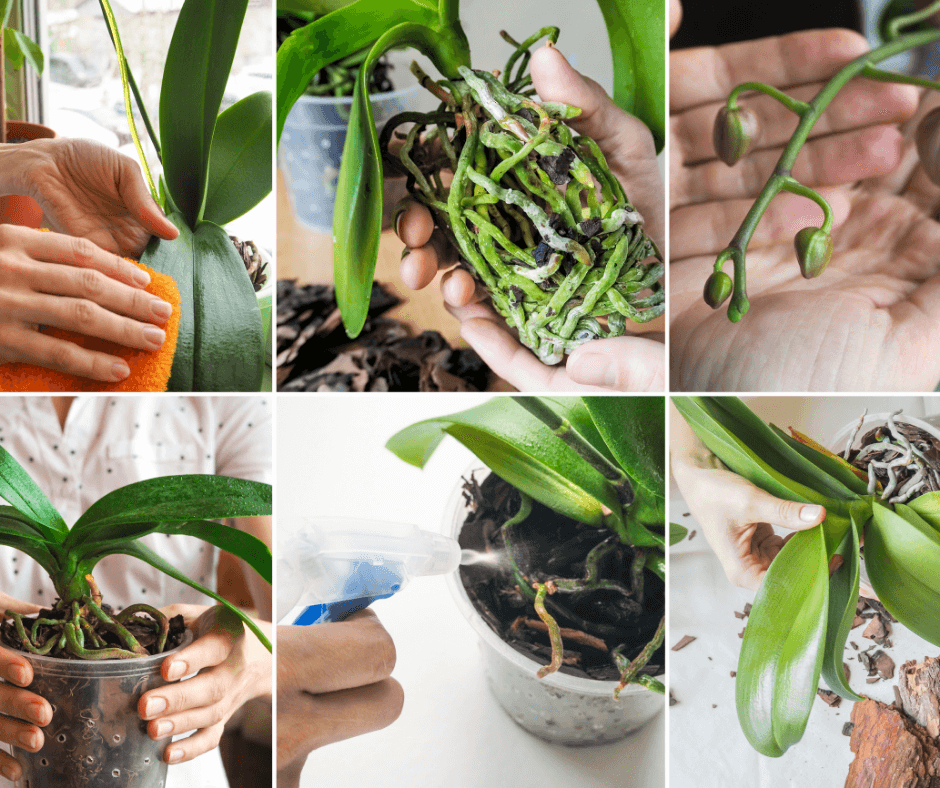 5. Give Orchid Care a Try: After your orchid plant has finished blooming, instead of throwing it away, try holding it over and see if you can get a rebloom. For starters, I would suggest the Phalaenopsis. It can be a bit of a challenge, but the reward is great when you have new blooms coming from your plant and knowing that you were successful.