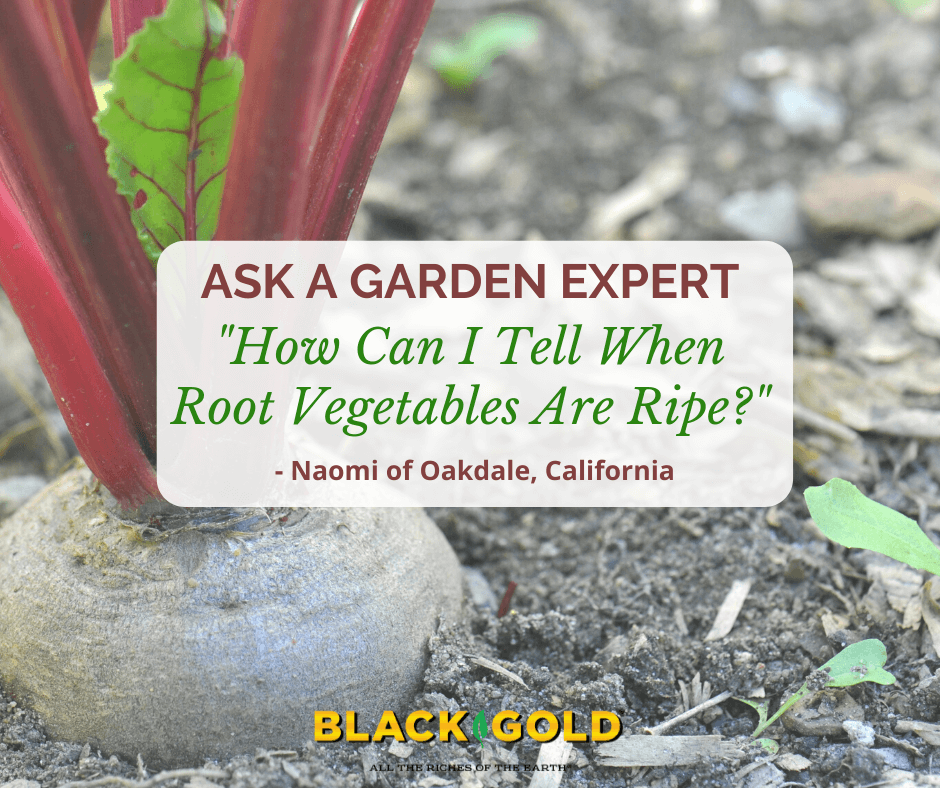 "How can I tell when an underground veggie (onion, potato, etc) is ready to harvest.   I have tried growing onions and I get large green growth above ground and there is basically a marble-sized onion bulb underneath — or smaller!" Question from Naomi of Oakdale, California
Answer: It's an excellent question. In most cases, it is pretty easy to tell because most root crops bulb up at the top. You can expect this to happen with beets, onions (see image below), radishes, turnips, and rutabagas. It also happens to carrots and parsnips, though sometimes their bulbous tops are less prominent.
Potatoes, sweet potatoes, and garlic are different matters. These tuberous (or bulbous in the case of garlic) crops remain underground, so you need to gauge how the plants up top are growing to determine harvest time. Here are guidelines for harvesting each.
Potatoes: "New Potatoes can be harvested as soon as the plants begin to bloom. Wait for larger potatoes. These can be harvested after the plants have fully died away. You can harvest all of your potatoes at this time for storage, or just harvest them as needed. Be sure to get them all out of the ground shortly after the first frost of the season. Otherwise, they will develop an unpleasant sweet flavor." (Click here to read the full Ask a Garden Expert.)
Sweet Potatoes: "Sweet potatoes are harvested 90-120 days after transplanting or immediately after a frost has blackened the tops of the plants." (Click here to read the full article.)
Garlic: "Dig up the garlic bulbs in summer when the leaves have declined significantly and start to turn brown." (Click here to read the full Ask a Garden Expert.)
I hope that these tips helps.
Happy gardening,
Jessie Keith
Black Gold Horticulturist