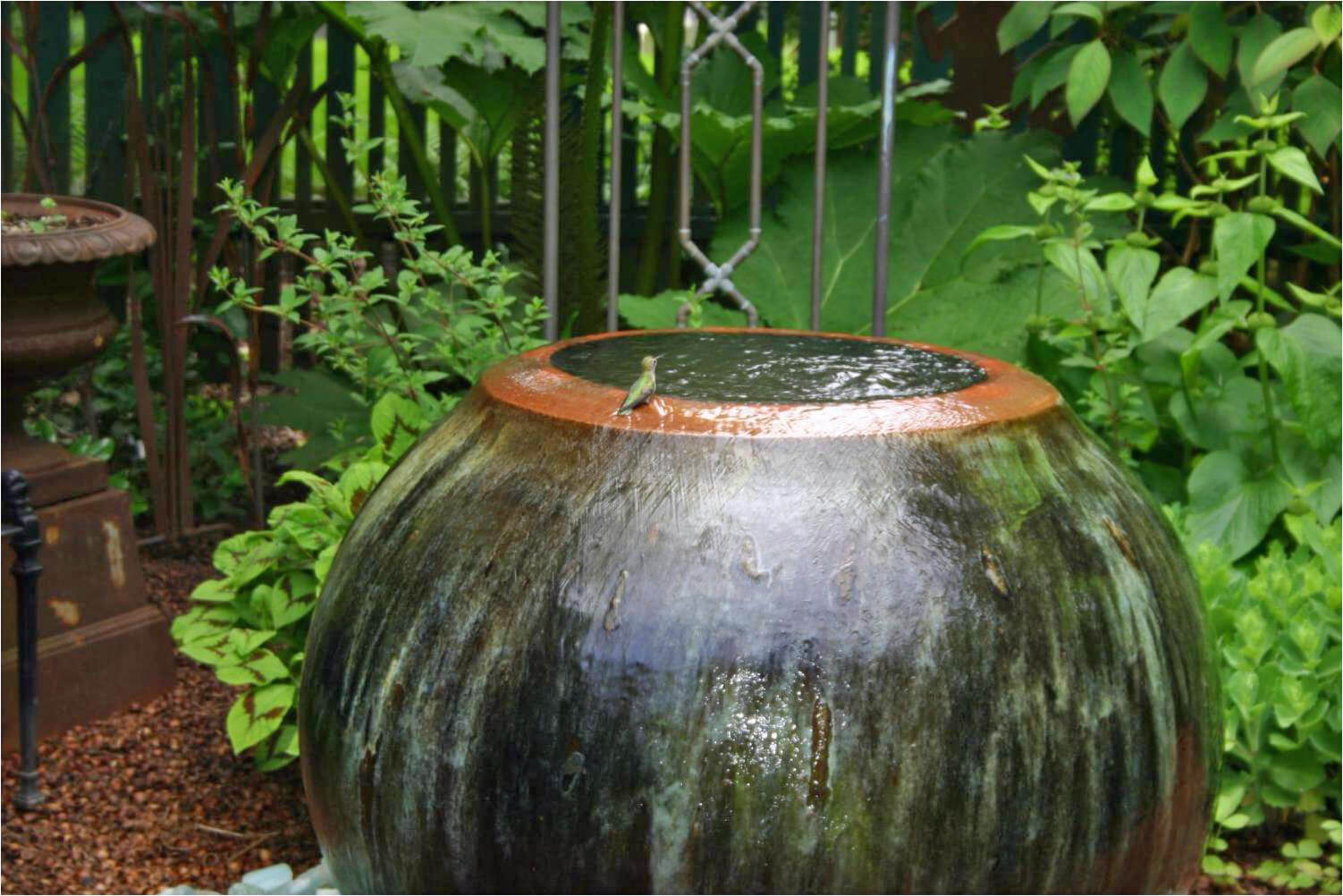 In the Pacific Northwest, weather continues to be warm to hot with little or no rain. We have had a few sprinkles, but not enough to give plants the moisture they need. Even with adequate moisture, some plants look stressed on hot days as they cannot absorb as much water through their roots as they are losing through their leaves. I have found that a temporary 'fix' is to spray the foliage with water as this seems to help reduce leaf wilt.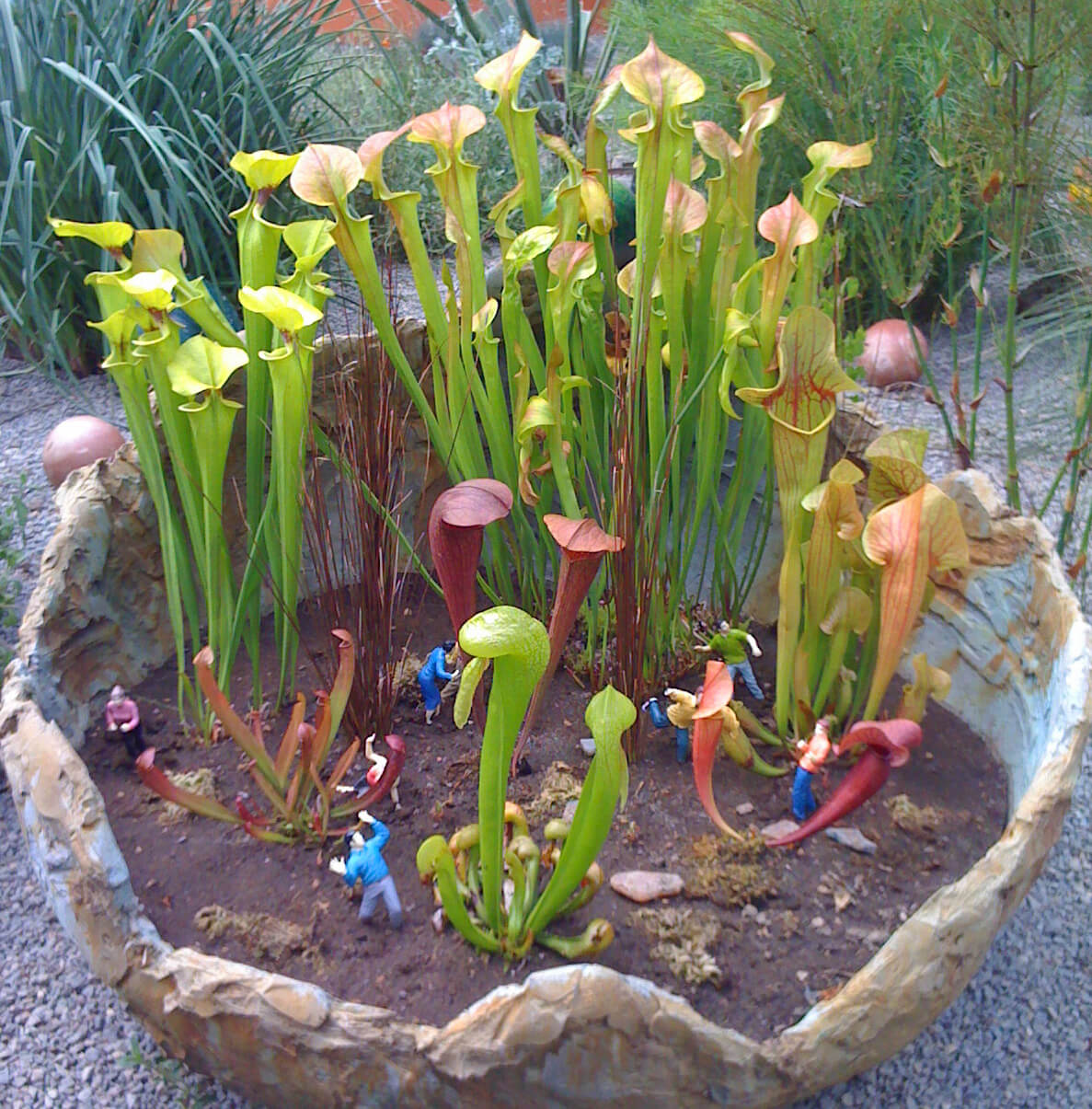 Still, with proper irrigation our plantings plug along, and the cooling water features we have added to our garden provide respite from the heat. Visitors often reflect on the peacefulness and restful sounds and sights provided by our water features. I feel the same, as they provide me with a sense of relaxation as well.
Water features in a garden do not have to be elaborate; sometimes just a simple water bowel can create a sense of serenity. We have a very large glazed pot that we have converted into a water feature at the end of our lawn. Of all our garden features, it is probably the most commented on and photographed. It has a water reservoir underneath, so the pump is hidden. Water gently spills over the top and flows down the sides of the pot back into the reservoir. It makes a very gentle sound, and for added drama, an enormous Chilean Prickly Rhubarb (Gunnera tinctoria), with its huge tropical looking leaves, is planted behind it to create a scene of wonderment. A bench is situated nearby to encourage garden visitors to sit and enjoy the moment.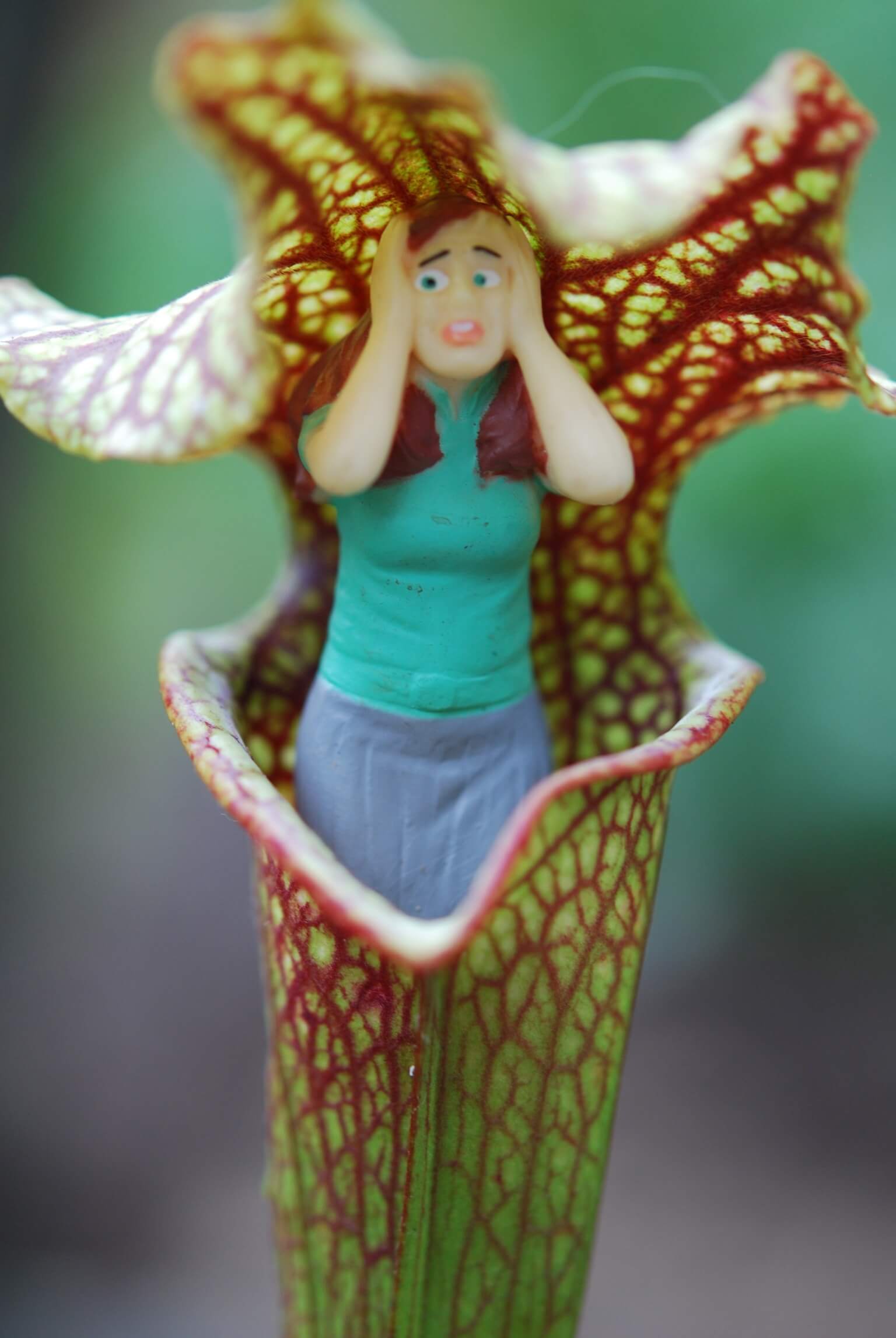 As an added bonus, it is not unusual to see a hummingbird land on the rim of the pot, and let the water flow over its legs. When this happens, visitors are delighted. We also have a rain chain water feature in our garden and hummingbirds often land on one of the links for a drink.
At the entrance to our garden, we have a water feature created in a large bowl that is meant to be a bird bath, and so the inside is glazed. It has a square iron piece filled with rocks, with water running down into the bowl. The trickling water does not splash but adds pleasant sounds of tranquility. With bird feeders nearby, it not only serves as a bath but as a favorite drinking spot for the birds.
For the past couple of years, I have been growing carnivorous plants at the base of the water feature entering our garden. It includes favorites like the Venus Fly Trap (Dionaea muscipula), which is commonly sold for as an indoor plant, often with poor results. I have had the best success with the American Pitcher Plants (Sarracenia spp.) which are found in the wild in parts of southern Oregon along the coast. These bog plants need lots of moisture, so they are well placed near the water feature. Amendment with Black Gold Waterhold Cocoblend Potting Soil has also proved ideal for these plants. This potting soil contains coir, which holds water very well–just what pitcher plants need.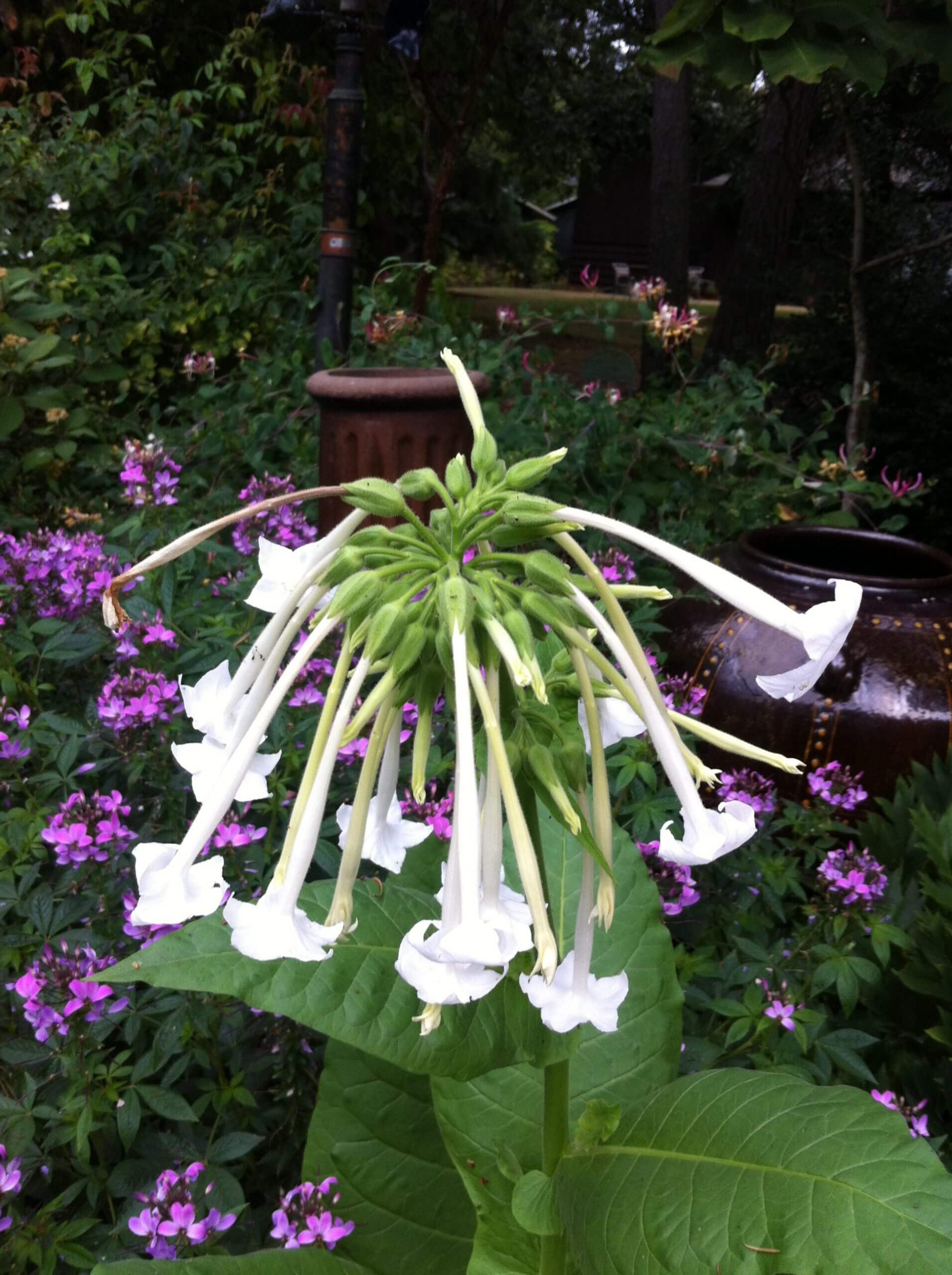 I have a friend who created a special bog bowl planting with Sarracenia and decorated with comic book action figures. This fanciful container creates many smiles in his garden. He even sent me a photo of a pitcher 'eating' one of the characters. Gardener's do have a great sense of humor!
This time of year summer evenings are a delightful time in garden, so don't forget to plant white flowers for their bright floral glow. One of my favorites is the tall, elegant Woodland Tobacco (Nicotiana sylvestris). It has large leaves and stems that can reach 5-6 feet tall. The flower stalks are topped with a cluster of drooping, moth-pollinated, tubular white flowers that are very fragrant in the evening. I always let some of the flowers go to seed, and then I have new plants the following spring. Woodland Tobacco is very easy to grow but does not look so good in a 4 inch nursery pot, so many gardeners don't plant this gem. But don't be deterred by it. Once established, it makes quite a statement in the garden.
Take time to enjoy the latter days of summer. Relax to the sound of a new garden water feature or simply bask in the lingering light of the evening garden. It is all delightful.