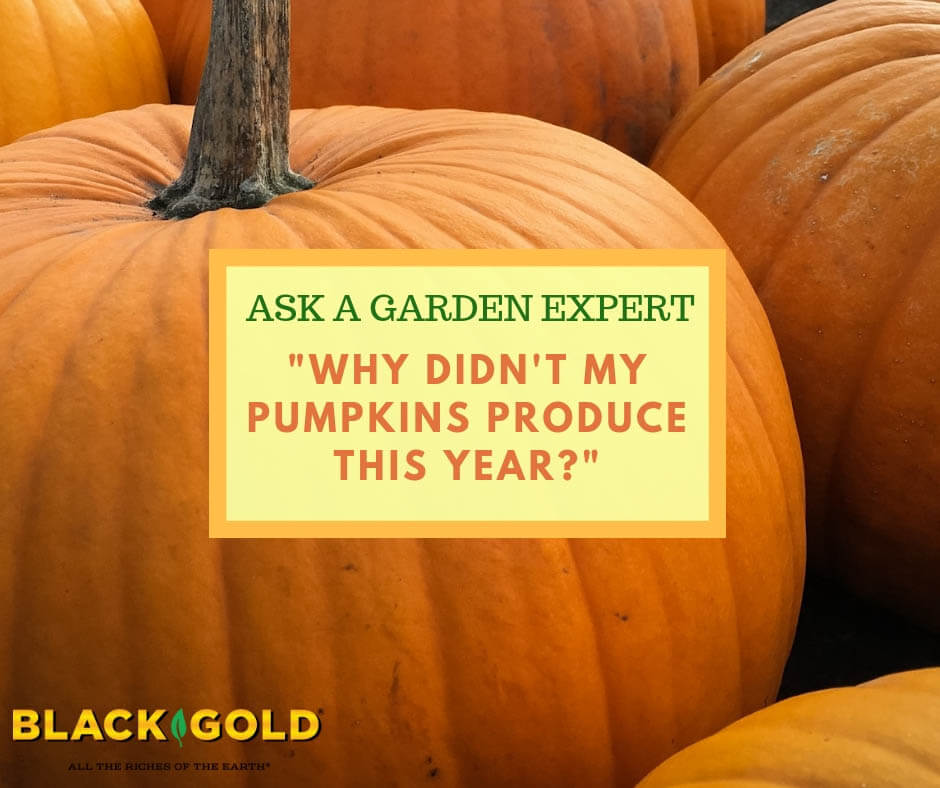 "How do I get my Pumpkins to get past just flowering?" Question from Marilyn of Roseburg, Oregon
Answer: I am sorry to hear that your pumpkins are not producing! There are lots of things that could keep your pumpkins from setting fruit. Let's start with what pumpkin vines need to grow and produce fruit.
What Pumpkins Need to Fruit
Full sun (8 hours per day or more)
Fertile, well-drained soil
Regular water
Fertilization with an all-purpose vegetable fertilizer
Space–Vines require plenty of space to grow and branch.
Time–Check the days to harvest for your pumpkin variety. If it is 100 days or more, then it is a late producer and just needs more time.
What Keeps Pumpkins from Fruiting
Lack of female flowers (see below)
Lack of pollinators–Bees pollinate pumpkin flowers, which is essential for them to fruit.
Excessive heat–

Very hot days (above 95 degrees F) and warm nights (above 75 degrees F) can stress vines to the point where they do not fruit.

Too little light–Vines lack the energy to produce fruit.
Too little time–If late-producing vines are planted too late in the season, they will not have enough time to fruit.
Pests and disease–There are many pests and diseases that can reduce fruit output in pumpkins. If your vines look healthy, then don't worry about this possibility.
Pumpkin Flowers and Fruiting
All squash, pumpkins included, have two flower types–male and female. Male blooms appear first on the vines as simple yellow flowers with stamens covered in yellow pollen. Female flowers develop towards the vine tips and have little fruits at the base of the yellow flowers as well as a single, central pistil in each bloom. If your vine has both flower types, then pollination failure could be the problem. Without pollination, developing fruits just shrivel. The solution is hand-pollination. Simply use a small brush to move pollen from a newly-opened male flower to a newly-opened female flower. It's fast, easy, and will yield pumpkins.
It is quite possible that your vines are healthy and on the verge of producing. Time may be the only factor limiting their fruiting. Many late pumpkins will not start bearing until September. Keep me posted. I would love to hear the end of your pumpkin story.
Happy gardening
Jessie Keith
Black Gold Horticulturist
Click here to view my top 10 list of best-tasting pumpkins and winter squash!