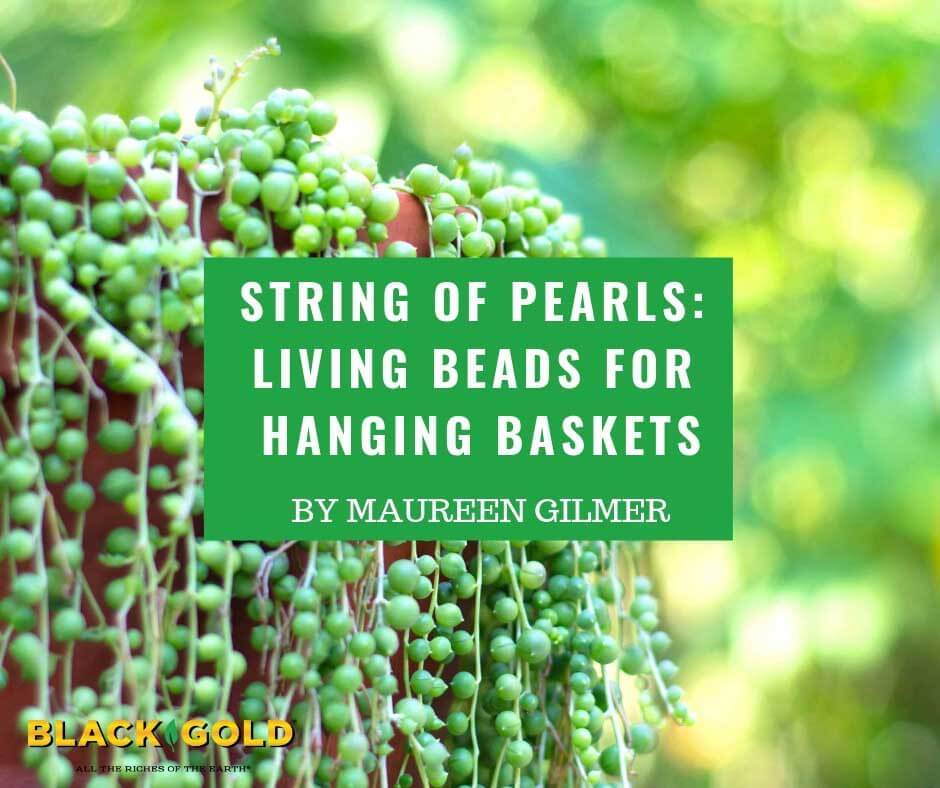 They are living jewelry no woman can resist, the most coveted house plant, string of pearls. This tender succulent is feminine looking, delicate yet tough, low maintenance and incredibly rewarding. There are two species that can transform traditional or modern spaces, indoors or out. Hang them like living necklaces to bring awe to your home.
Origins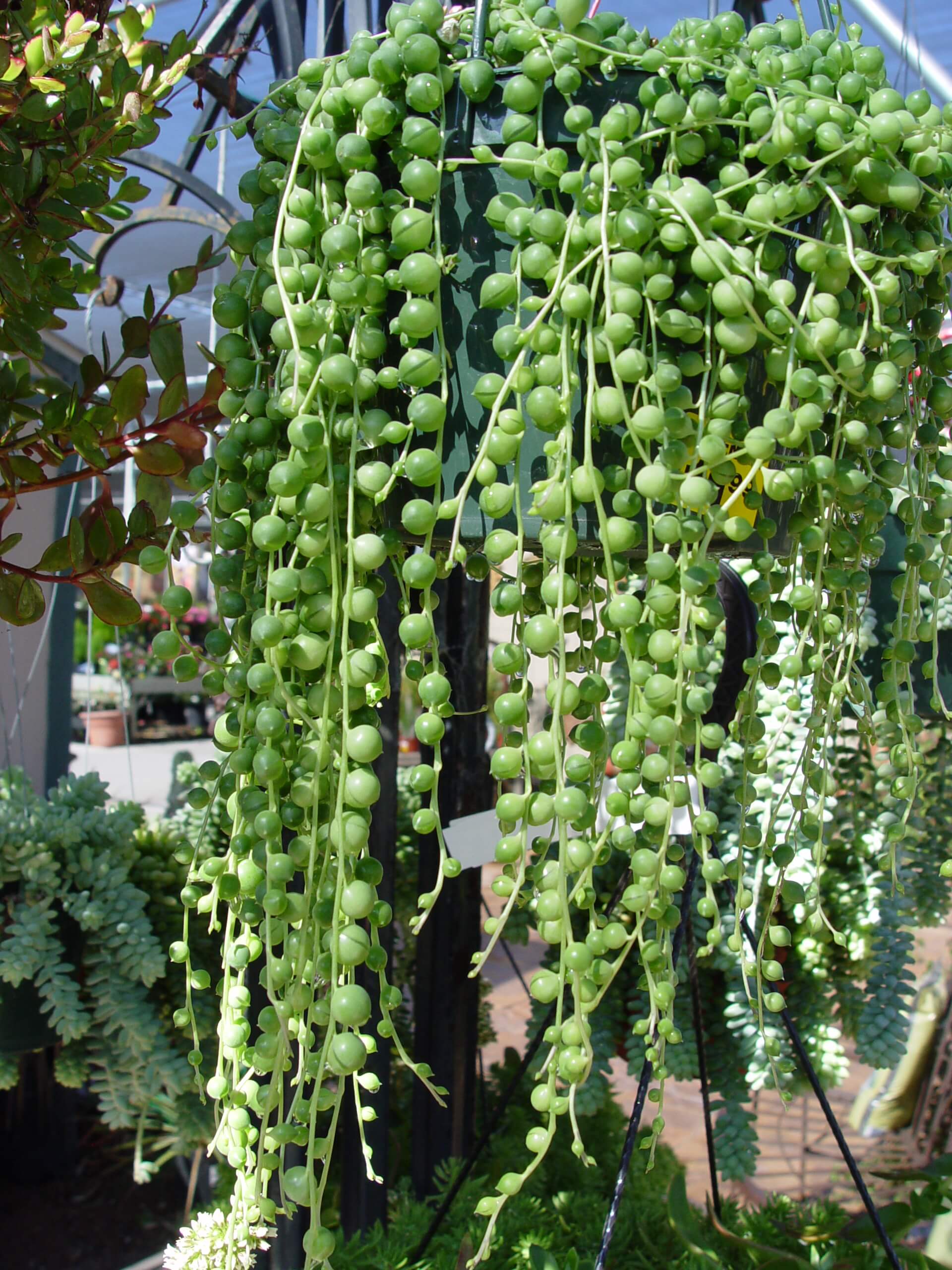 The true string of pearls is a South African native from the maritime Cape of Good Hope, so it loves the humid coast. Dubbed Senecio rowleyanus, its leaves are like tiny grey-green peas on the finest dangling stems. Its cousin from drier inland is Senecio radicans, fondly called "string of bananas" due to its sickle-shaped leaves. These do better in hot inland climates. Both make great house plants.
In the wild, both senecios grow as ground covers that root as they spread, so they rarely look like the hanging beauties we buy from the garden center. Yet, when planted to dangle in hanging baskets or raised pots and placed in a bright room, specimens almost look like living sculptures.
In gardens where winters are mild, these senecios can be grown outside, usually in raised pots or baskets that ensure perfect drainage. Indoors they are equally desirous of porous soils and hanging pots that are shallow and wide. Wide pots allow the ground-hugging plants to generate a lot of surface roots to hold soil tightly against the weight of their hanging strands.
Potting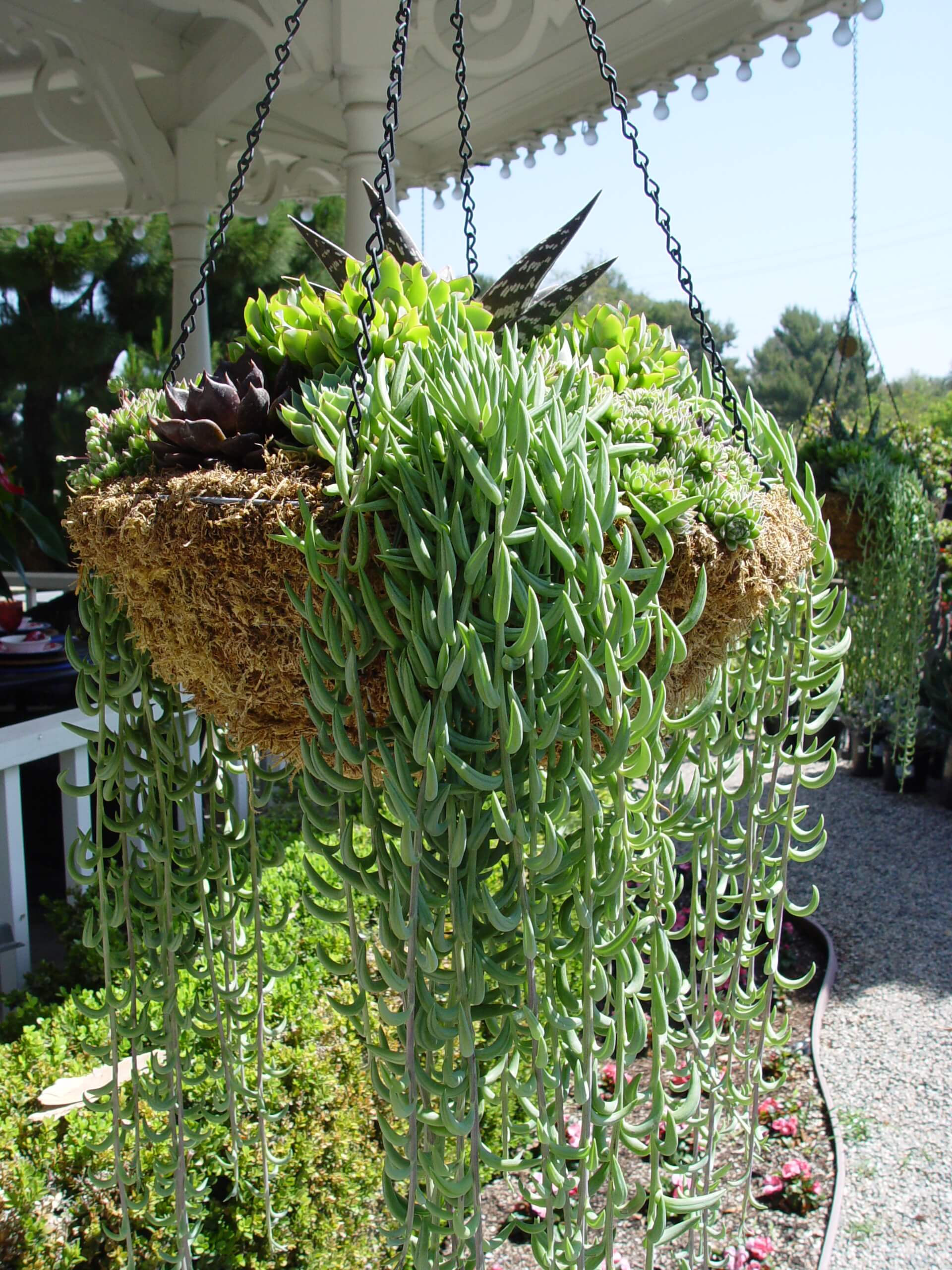 A key to success is rapid drainage in your container. The best hanging pots have many holes in the bottom to ensure plants remain dry at the root zone. When creating your hanging string-of-pearls sculpture, start with the right pot—perhaps a mid-century throwback with a macramé hanger. Once you've found it, buy your pearls or bananas and get 'er done.
You'll need super well-drained potting soil to keep your plants from becoming too wet. When transplanting to your beautiful hanging pot, Black Gold Cactus Mix offers the ideal porosity. This fast-draining potting soil will make it much harder to over water your string of pearls.
When you get ready to transplant these senecios, study the root ball that comes out of the nursery pot. Gently remove any potting soil that does not have roots on the lower half of the mass. This will allow you to better fit the root ball into your shallow pot.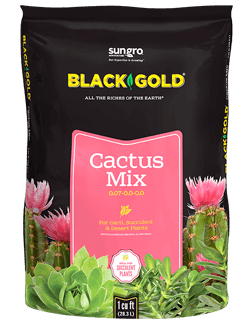 Set the plant, then lightly backfill with Black Gold Cactus Mix that has not been pre-moistened. If it sifts out of the drain holes, line the bottom with salvaged window screen before planting. Finally, tap the pot to help the plant settle into the potting soil, and wait to water. Allow a day or two for any damaged succulent tissues to callus over before you introduce moisture. This is essential to avoiding potential rot at the soil line.
Watering
When you do water, plug the drain of your kitchen sink, add 2 inches of water, and put the whole pot in the sink.  Let it wick up water until you can see wet soil on top.  This means it's time to drain the sink. Leave the pot to drain for a few hours before returning it to its hanger. This watering method keeps moisture away from rot-prone stems that are the Achilles heel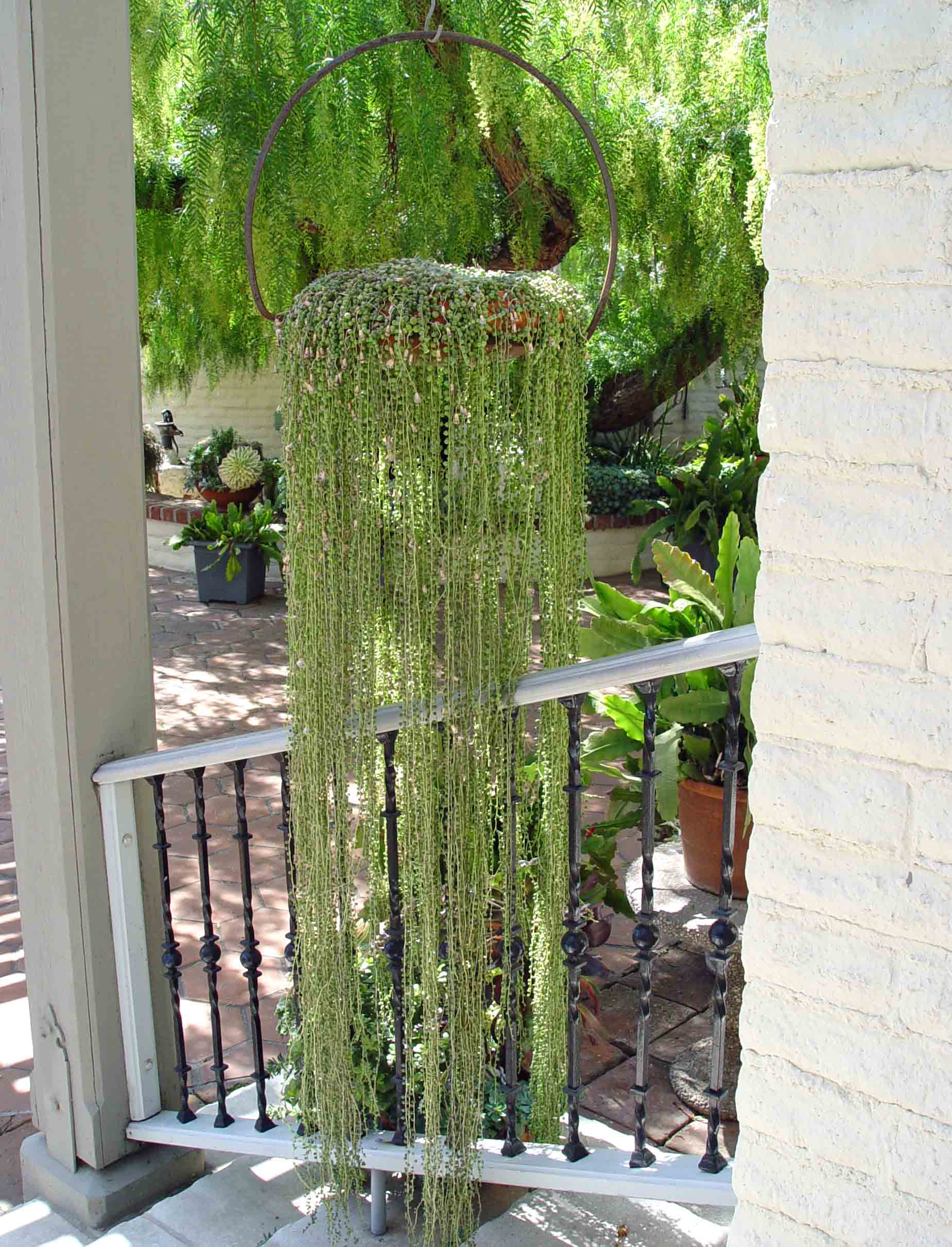 of these delicate succulents. As strands grow longer, be sure to lay them along the counter on the sink's edge to keep them from getting wet.
A final key to success with all dangling succulents, particularly fine-stemmed ones like these, is avoiding the wind. Continual swaying wears down the stems along the pot edge, causing injury that limits moisture transfer to the stem tips where new growth occurs.
These senecios are easy to root, so if you find one that works well for you, propagate it.  Just take a runner and bend it up to the soil mass on top where it will root on contact quickly. Then sever it from the mother plant to start a whole new living sculpture of favorite pearls or bananas galore, without risk.