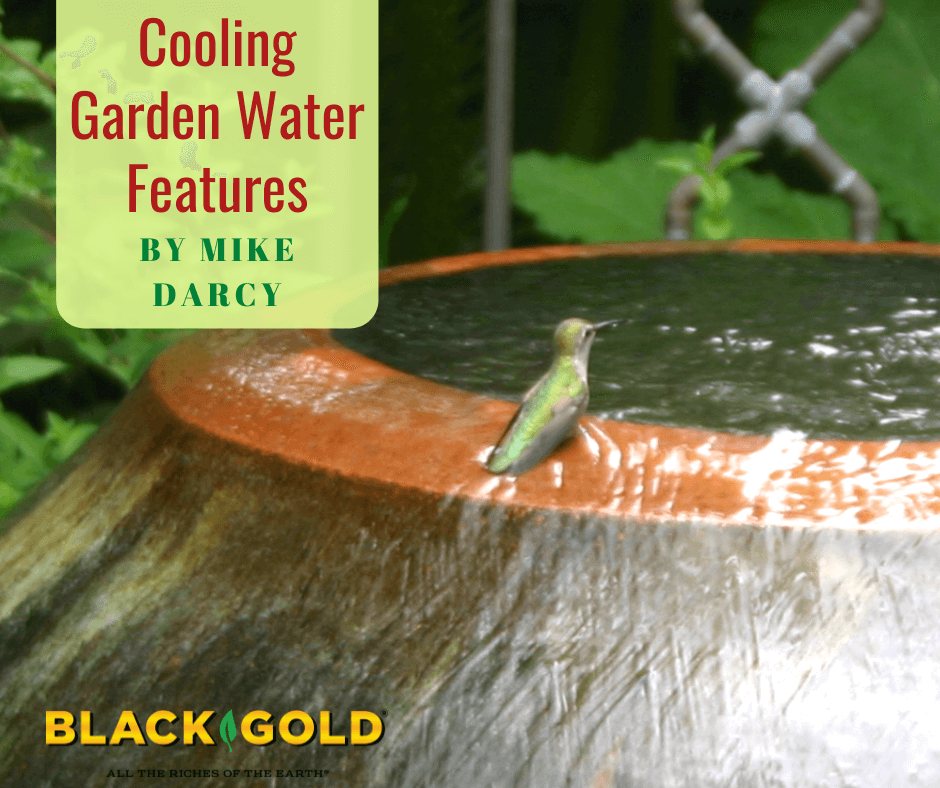 The sight and sound of water in a garden can lift it to a new level. When I am in a garden and hear or see water, it can, almost instantly, create a calming, serene atmosphere. Whether it is a simple birdbath, a splashing fountain, a flowing stream, or a pool, water gives a garden something more.

Garden Water Features for Birds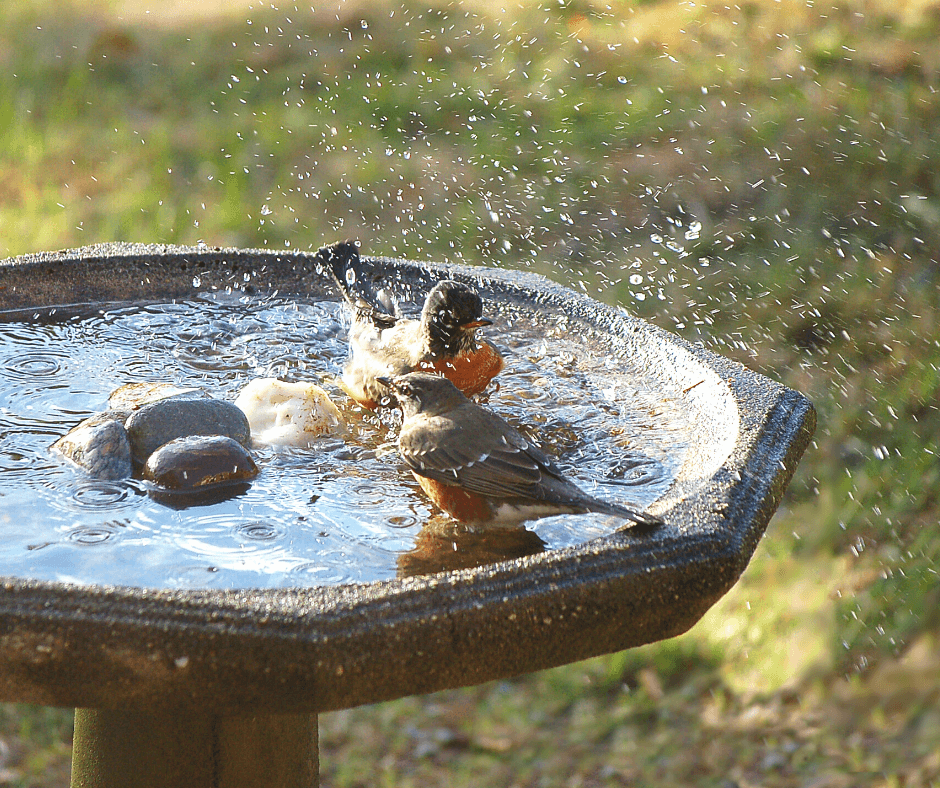 Of course, fountains and birdbaths in gardens provide many wildlife benefits in addition to the pleasure that they give us. Especially this summer in the Pacific Northwest, and many other western areas as well, these water features may provide the only fresh sources of water for birds and other wildlife.
In my own garden, I have several birdbaths, and they are in constant use throughout the day. I am often amazed at not only the number of birds we get daily but the different kinds of birds. (Note: I am always diligent in emptying the birdbaths out every morning and refilling them with fresh water so as not to spread any disease. It also prevents a breeding area for any mosquito larvae.) If birds have become accustomed to a birdbath in your garden and are dependent on it for water, please be aware of the need to keep it filled, especially during hot, dry times. In many urban settings, sources for water may be very limited, so all gardeners in cities should have water for birds and other wildlife.
Garden Fountains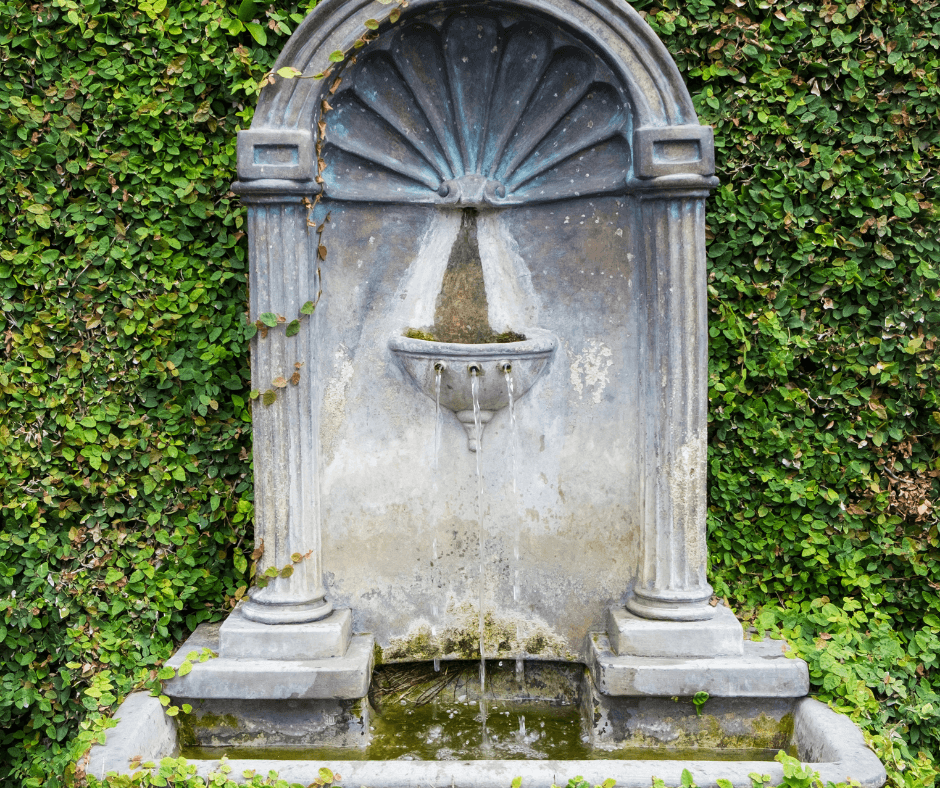 In addition to birdbaths, many gardeners add water features with running water. The water movement can be brisk or slow, depending on the wishes of the gardener. I recommend some water movement as a preventative to stop mosquitos from laying eggs because mosquitoes do not lay eggs in running water.
In my garden, I have a very large glazed pot that originally was meant to be a planter, but it has been converted to a fountain. It has become a focal point in the garden, and birds love it. Hummingbirds often land on the rim, and let the gentle flow of water run over their feet. It is also not unusual to see our black lab, Cody, use it as a source for drinking, so this fountain has become multi-use when the original purpose was as a piece of garden art.
Garden Streams and Waterfalls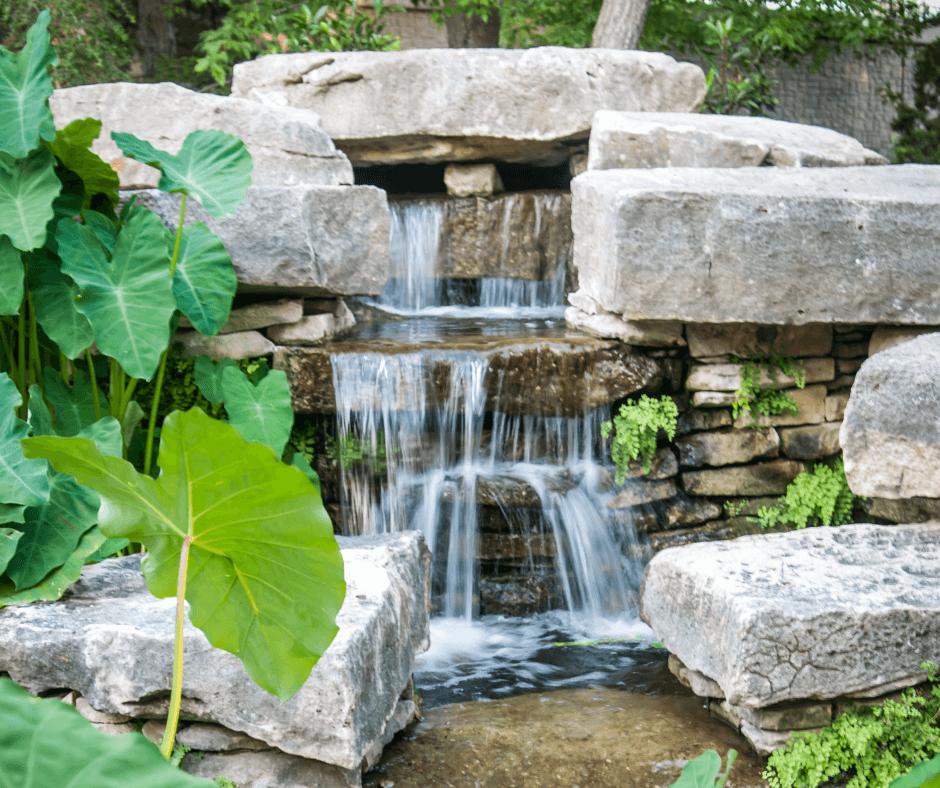 We have neighbors that have built a short, shallow running stream in their garden. It is delightful to sit by, watch the water as it flows, and hear its sound. It creates a very peaceful and tranquil setting. Many water features are considered garden art and an integral part of the garden. This is one of them. Then, there are others that can function as art and for utility.
Waterfalls in gardens can create a different effect, often with sound and sight taking one mentally to a different place. Adding koi, or other colorful fish, can enhance the experience. Even small fountains now offer choices as to the desired flow. With many pumps, the flow of water can be regulated to a gentle flow or one that is more rushing.
When visiting other gardens, it is always a treat if they have birdbaths, fountains, or other water features. Gardeners can be innovative with their plants as well as their water features. It is a good idea to visit other gardens with water features for ideas and options for your own garden. Talk with the garden owners, because they can give advice and perhaps prevent any pitfalls that you may not have considered. Once you know what water feature you want, check with a professional to review other important factors other than just plugging in the pump.