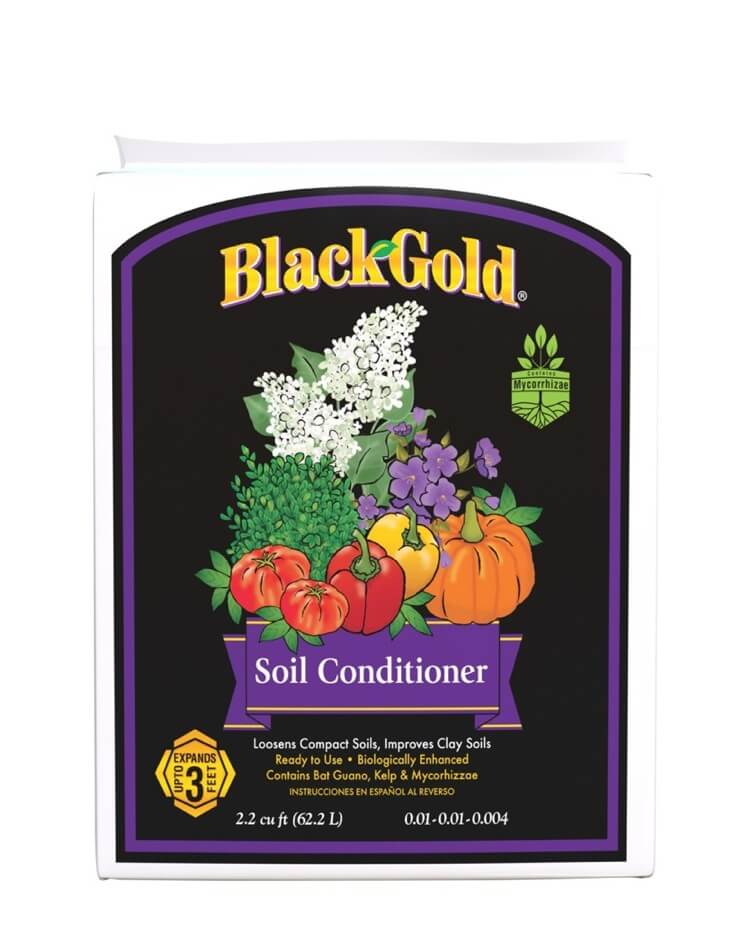 When it comes to buying a garden amendment, product quality is the name of the game. And the key to product quality is the choice of raw materials used to make the garden amendment. Take the popular Black Gold® Soil Conditioner; it is manufactured using only the highest quality raw ingredients. The product may include a combination of these raw materials: aged/composted bark, Canadian sphagnum peat moss, compost, bat guano, earthworm castings and a proprietary blend of mycorrhizae.
And don't forget, Black Gold® Soil Conditioner is formulated and monitored for product quality by a team of top research horticulturists. Even better, it is manufactured at four different regionally distributed plants that allow us to capitalize on the use of quality, local raw materials.  When you use this product, you will be able to see the difference between Black Gold® and competitor soil conditioning amendments. Black Gold lives up to its name!
And don't make the mistake of choosing a slightly cheaper competitor brand. Black Gold® Soil Conditioner is a better value and ultimately more affordable. Why? Because we use only aged or composted bark in this product, which quickly becomes a valuable source of organic matter for your garden soil. Some media suppliers use raw bark and/or wood products that bind the soil's nitrogen, disabling plants from accessing this important nutrient. Others may also use poor-quality scrap wood as a base for their media and amendments. The only wood products we use are natural, aged or composted bark and forest products, so you can be confident using our quality, high-performing Black Gold® Soil Conditioner in your vegetable garden, flower beds and anywhere else your garden soil needs a lift.
Black Gold® Soil Conditioner offers big garden benefits. Conditioned garden soils have:
Increased organic matter
Better retention of water and nutrients
Better aeration
Increased microbial activity
The addition of beneficial mycorrhizae
Rich, natural fertilizers such as earthworm castings and bat guano
Even better, bags are packaged in eco-friendly compressed bags that allows you to get 3 cubic feet of product out of one space-saving package. If the product quality and benefits are not enough to convince you to use Black Gold® Soil Conditioner, then maybe you should consider the variety of applications the product can be used in. This produce is perfect for:
Amending all garden beds
Installing or maintaining lawns
Amending soils for new transplants–from trees to perennials (Add Black Gold® Starter and Transplant Fertilizer for even better transplant success!)
Mulching gardens and landscapes to retain moisture and reduce weeds
Simply put, Black Gold® Soil Conditioner is a great product, and we are confident that you will have great gardening success when you use it. In fact, we are so confident in our products we have a Satisfaction Pledge: "If for any reason you, a personal family or household consumer, are not satisfied with the results of using this product, simply send us proof of purchase to the address listed on this bag within six months of purchase and we will promptly refund your purchase price." Additional details are listed on the package. If you have any questions or gardening stories about Black Soil Conditioner please add a question or comment!