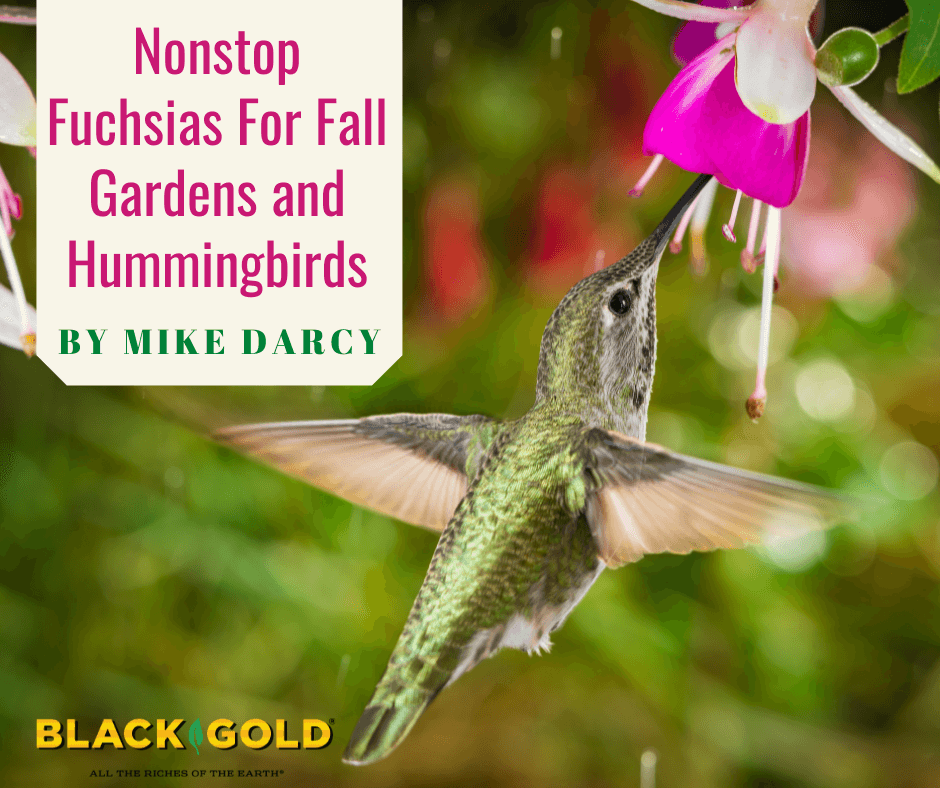 With summer winding down here in the Pacific Northwest, as I walk through my garden it is the fuchsias I notice. They have bloomed nonstop all summer, and on this September day, their blooms continue. Not only have they not stopped blooming, but they will flower through to October and beyond until we have had frost. It is just what the migrating hummingbirds need at this time of year!
Growing Fuchsias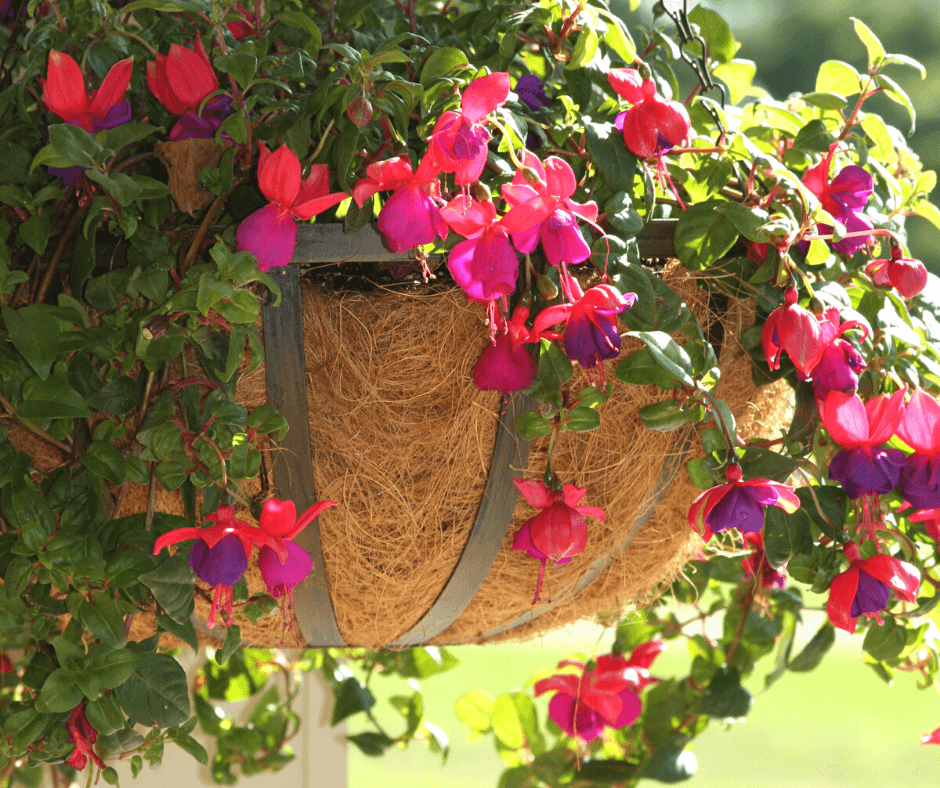 If growing fuchsias is new to you, I recommend talking with other gardeners that grow them in your area. Longtime growers should be able to suggest the best performers for your zone and climate. Generally, fuchsias need porous, water-retentive soil that is rich in organic matter. Black Gold Natural & Organic Ultra Coir is an ideal mix to use when planting them in hanging baskets or containers. I suggest choosing large containers. Keep plants evenly moist during the summer months. Fuchsias bloom on new growth and a regular fertilizer program will increase bloom. Any all-purpose fertilizer formulated for flowering plants will work well. Be sure to follow the manufacturer's instructions.
I suggest a few winter-hardy varieties in this piece. To increase winter hardiness, choose large planters, and plant your fuchsias 2 to 3 inches deeper than average. You can't do this with most potted plants, but fuchsias will tolerate it. If you live further north, consider bringing your fuchsias indoors to enjoy as winter house plants. We always recommend cleaning up house plants when moving them from the outdoors in fall to warm indoor locations. Cleaning them stops potential pests from making their way inside. (Click here to learn how to clean house plants.)
My Favorite Fuchsias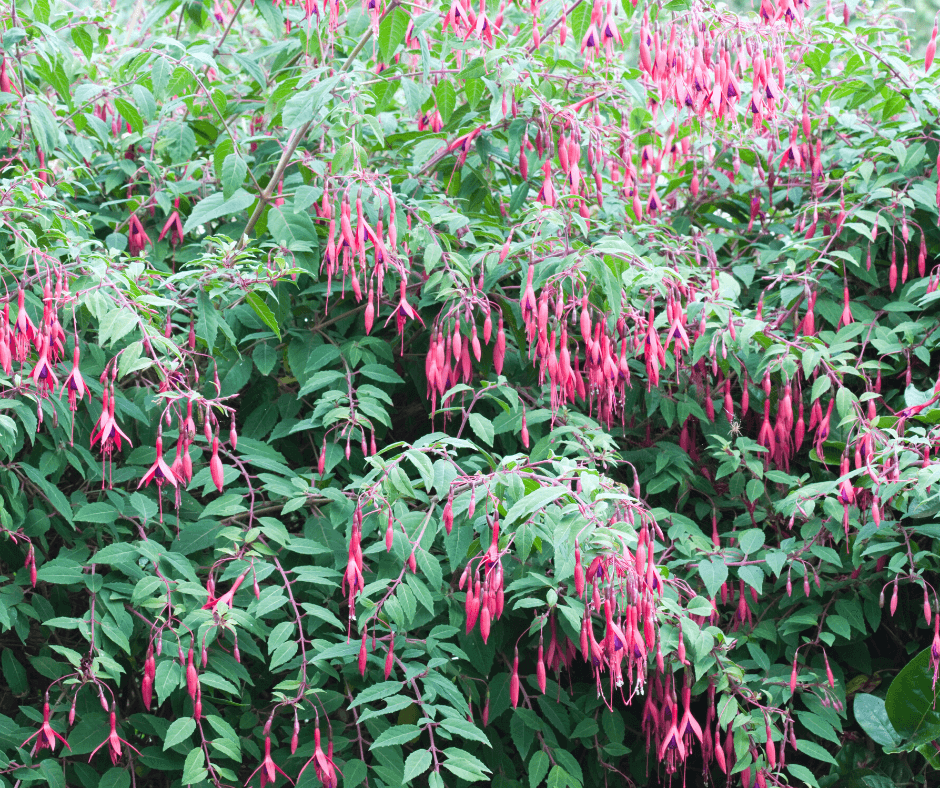 The selection of fuchsias that are now available is immense and can be somewhat overwhelming to a novice gardener, especially in the early spring season when new shipments of plants are arriving at garden centers. The floral color selection is large and varied. Usually, the flowers are bicolor with sepals (top "petals" that flare back) and inner true petals in contrasting shades. Some flowers are all the same color, but all are bright and colorful to attract their primary pollinators, hummingbirds.
The winter hardiness varies among varieties, and while hardy or hummingbird fuchsia (Fuchsia magellanica, Zones 6-9) does not have the largest flowers, the Andean Mountain native shrub is certainly the most cold-tolerant. I have had a hummingbird fuchsia in my garden for years, and this year it reached a height of over 7 feet. It has literally been covered with flowers all summer, and like all fuchsias, it is a hummingbird magnet. When we have had heavy frosts, it has died back almost to the ground, but the roots always survive and bounce back in spring.
Within this variety, there are also some wonderful foliage colors from which to choose. 'Aurea' has golden-yellow leaves and has been very hardy in my garden with no winter protection. 'Tricolor' has leaves that are a mix of green, pink, and white, so even without flowers, it provides color in the garden. For extra pretty flowers, choose 'Grand Cape Horn', which has purple and magenta blooms, or 'Alba' whose palest-pink to white flowers really glow. For even brighter white blooms, grow 'Hawkshead', a Dan Hinkley Introduction.
Most fuchsias sold in garden centers are Fuchsia hybrids labeled simply as fuchsias. While many of these are touted as being tolerant of full sun, I have found that my plants do much better with some protection from the hot afternoon summer sun. In my garden, I have fuchsias both in the ground as well as in pots on our deck. I do move the pots up against our house in the winter for some added warmth in winter, and I put a layer of mulch on the soil to insulate their roots further from the cold weather.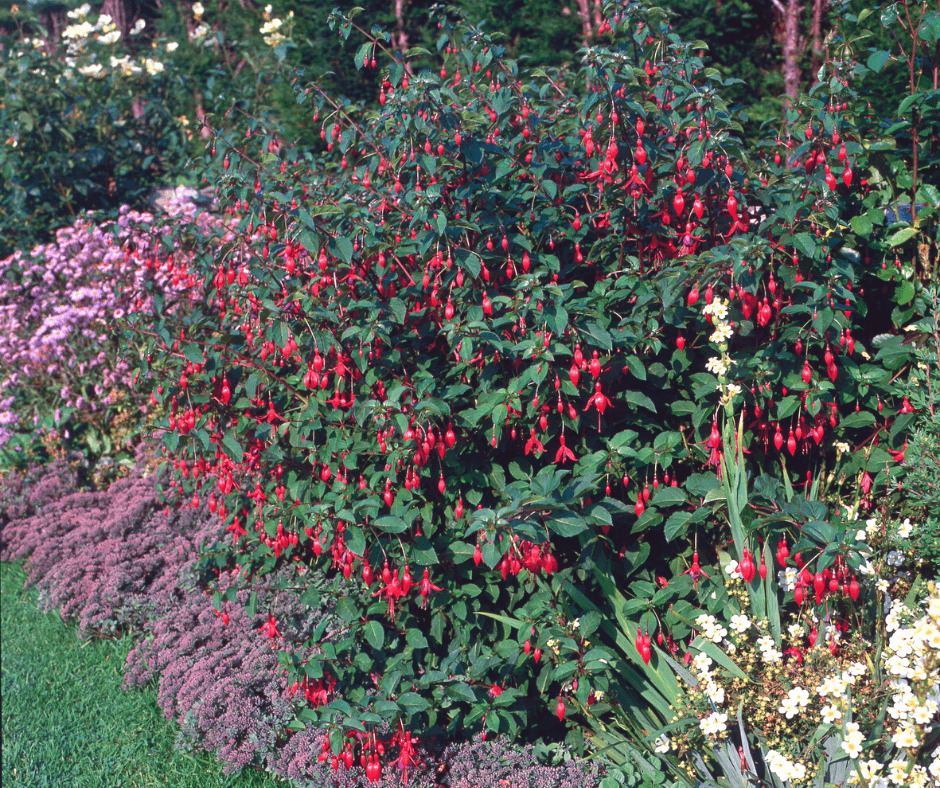 Visitors to our garden will often ask if I have a favorite fuchsia, and my response is that my favorite changes on a yearly basis. At this moment, I would have to say that my favorites are two particularly outstanding varieties I recently planted, 'DebRon's Smokey Blue' and 'Tom West'. 'Tom West' (Zones 7-9) has small magenta and purple blooms, pretty variegated foliage, and a trailing habit with stems that spill over the edge of the pot. The equally hardy 'DebRon's Smokey Blue' (Zones 7-9) has large flowers with deep rose-colored sepals and fluffy deep purple corollas. If planted in the garden as a shrubby specimen, it reaches 2.5 feet.
This is a good time to visit other gardens and observe what fuchsias have thrived through our very hot summer. This past summer season has certainly been a good test for heat tolerance. Adding fuchsias to your landscape will give your garden color for a long period of time, and it will keep the hummingbirds happy.