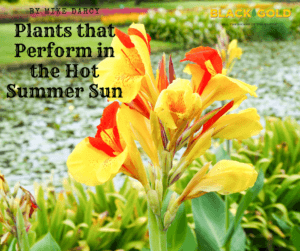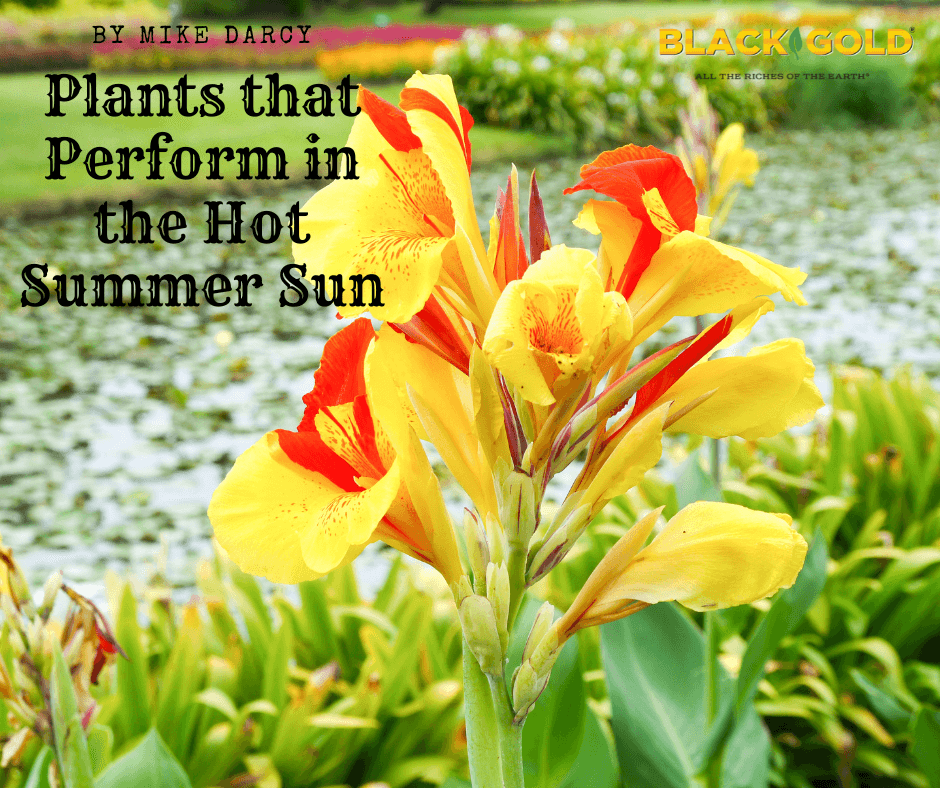 We have had some very hot weather here in the Pacific Northwest and in some cases previous high temperature records have been broken. Not only have we had very hot and sunny days, but there has been no recent rain and the ground is very dry. It is not unusual for us not to have rain in the summer months, but with no rain and high heat, plants can suffer. The diversity of plants always continues to amaze me with some being able to thrive in the hot sun, while others wilt, and the leaves burn.
Most gardeners have their favorite plants for sunny locations and much of the information on these plants is probably trial and error. I have certainly had my share of plants that I thought would perform well in a sunny location, only to find out that I was mistaken and they either died or the leaves became scorched. A helpful hint, that I have mentioned in previous articles, is adding Black Gold® Natural & Organic Just Coir over the soil surface. Coir has high water-holding capacity which is a helpful addition to summer plants growing in containers.
The following is a listing of plants that seem to thrive in the sun and provide summer color with flowers and/or foliage,
One of my favorites is Bougainvillea 'Raspberry Ice'. While Bougainvillea is mostly known as a tall and fast-growing vine, 'Raspberry Ice' is a low mounded spreading form which makes it ideal for pots and hanging baskets. With variegated foliage, this plant is attractive even when not in flower with the typical purple flowers, actually bracts. Bougainvillea is a tropical plant and will not survive our winters and I treat it as a summer annual.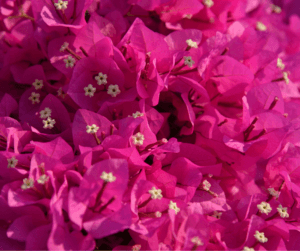 What's not to like about Zinnias. An old-fashioned flower that continues to be popular in gardens of today. The color range is vast with colors of red, yellow, cream, white, pink, purple and shades of all of these. The plants have a wide range of height, some are low growing, others tall, and many in-between. They bloom all summer, and the flowers are excellent for cutting.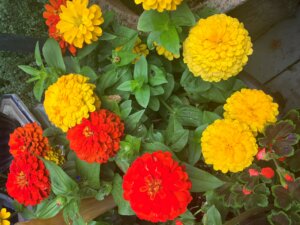 There are two new Coreopsis in my garden this year and both have been blooming since I bought them in early June. This easy to grow member of the sunflower family has flowers and foliage that are quite diverse. Coreopsis 'Lightning Bug' has fern-like foliage and small flowers that cover the plant. Coreopsis 'SuperStar' has larger flowers and foliage. With their vibrant flowers, a grouping of either provides a bright spot of color in the garden.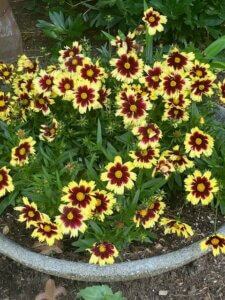 With hundreds of small flowers on a single plant, Cuphea is known not only for the prolific flowers it provides all summer, but the flowers are also known as a hummingbird magnet. Sometimes call the cigar plant because the flowers are orange-red with a white tip and a dark rink at the end. For a plant that gives continuous color, it's hard to beat Cuphea!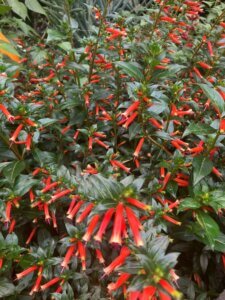 The large bold leaves of a Canna can give a garden a tropical look. With the leaves varying from solid green to different variegations, they can provide color when the plant is not in bloom. Two that I particularly like are ''Bengal Tiger' and 'Cleopatra', both of which have outstanding foliage. 'Bengal Tiger' has yellow-striped variegated leaves with a narrow maroon margin and bright orange flowers. 'Cleopatra' has leaves that may be partially a dark chocolate color and green or all green or almost all dark chocolate. The flowers are equally variable and can be red, yellow, and often of combination of both colors. It is a very eye-catching plant in the garden.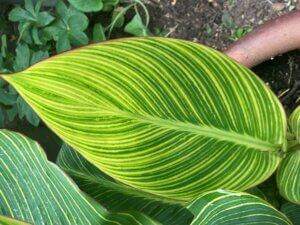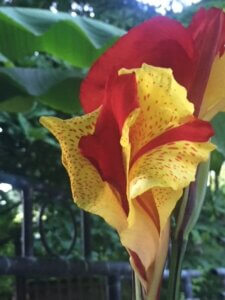 These are just some sun loving plants that perform well in Pacific Northwest gardens. I find it interesting to try some new plants every year to test their summer sun worthiness. Many of these plants are available at garden centers and can still be planted. The plants will probably be larger than they would have been in the spring and can provide some instant color in the garden. Try one that is new to you!
Happy Gardening!
About Mike Darcy
---