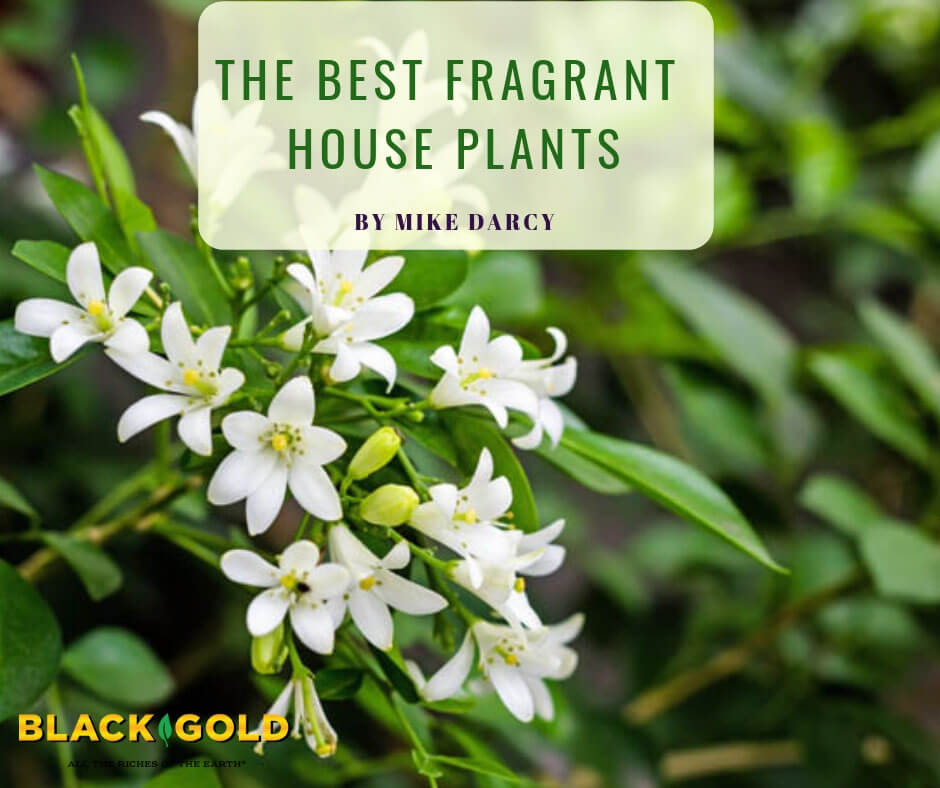 In the Pacific Northwest, where our winter days are often rainy and overcast, (some would say dark and gloomy), it is a bonus to have an indoor environment where plants grow and thrive. If the plants also have fragrant blooms, it's even nicer.
The limiting factor for most of these floriferous house plants is the lack of adequate light, so if a spot in a sun room or near a bay window is available that would be ideal. I also refer to these plants as being double-duty, because they can be outdoors in the summer and then brought indoors for the winter. Most of the bloomers on this list have white or ivory flowers that are naturally moth pollinated and exude their most powerful fragrance at night.
Gardenia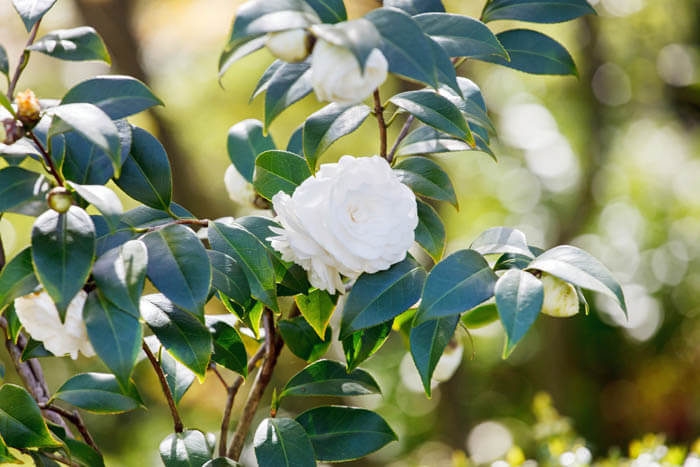 There is a wide assortment of gardenias (Gardenia spp.) to chose from, with some being quite winter hardy here in the western part of the Pacific Northwest. I have had Gardenia 'Frostproof' (Gardenia jasminoides Frostproof') for several years, and it blooms outside for most of the summer. While the flowers are small, they have the typical gardenia fragrance. I leave my plant outdoors, but it could also be a winter blooming house plant. Gardenia 'Mystery' (Gardenia jasminoides 'Mystery') is a double-flowered variety used by florists, and if given an indoor location with lots of light, it will make a very nice house plant.
Dwarf Citrus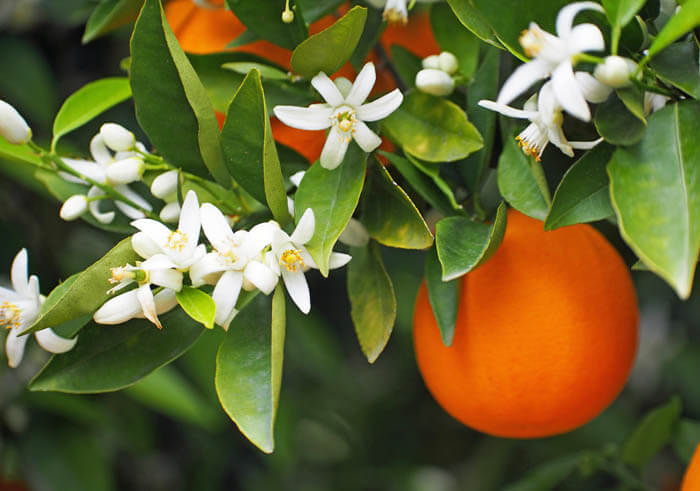 Dwarf citrus (Citrus spp.) are excellent choices for double-duty plants. Meyer lemon is probably the most widely planted, and if placed in a container of adequate size, it can live for many years. Citrus like heat and can be outside in full sun during the summer and then brought indoors for the winter. Meyer lemon will bloom with fragrant white flowers throughout the year and will also bear lemons at a fairly young age. If the plant has been outdoors all summer, spray it thoroughly with water before bringing it inside to wash off any insects that might be present. Be sure to bring the plant indoors before a frost. (Click here to learn more about growing indoor citrus.)
Pink Jasmine
Another house plant is pink jasmine (Jasminum polyanthum). The vine produces masses of fragrant, star-like flowers that are reddish-pink on the outside, white on the inside, and intensely fragrant. This is a fairly reliable bloomer that flowers through most of the late winter and early spring. It is a fast grower and needs a small trellis for its twining stems to climb. Trim it regularly to keep it check.
Orange Jasmine
Orange jasmine (Murraya paniculata) is a compact plant with waxy white flowers that have an orange-blossom fragrance. Young plants start blooming early on. This is an easy-to-grow house plant that blooms reliably.
Madagascar Jasmine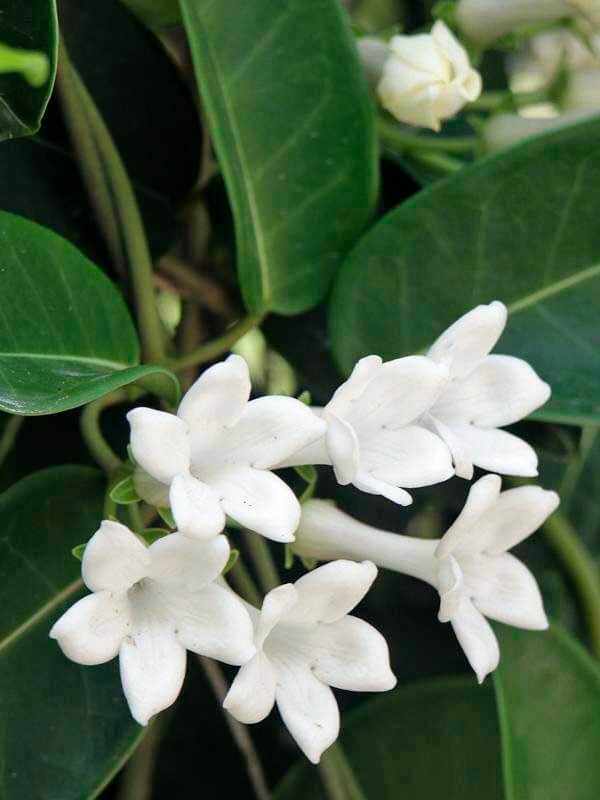 Often used in wedding bouquets because of its intensely fragrant white flowers, Madagascar jasmine (Stephanotis floribunda) is best grown as a house plant in cold climates. The vigorous evergreen vine needs something to twine up and likes humidity, so mist it on a regular basis. If given enough light, it will bloom indoors during the winter. The fragrance of the flowers will easily fill a room.
Pinwheelflower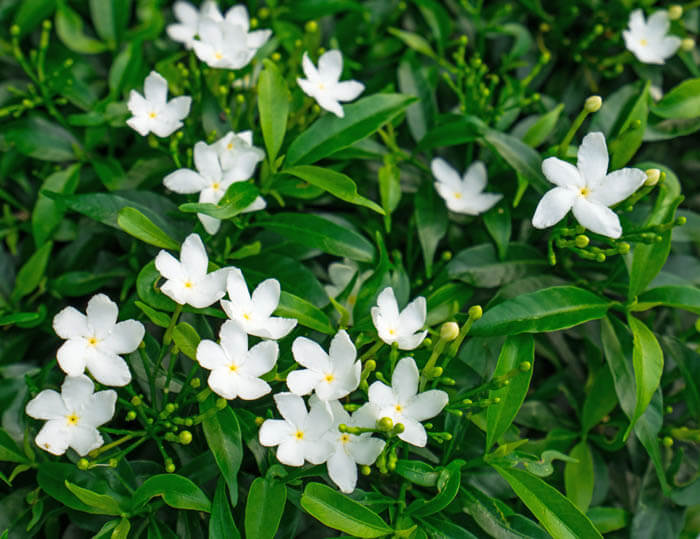 Like many of the other house plants listed, pinwheelflower (Tabernaemontana divaricata) has fragrant white flowers and evergreen foliage. The tender shrub is native to Southeast Asia but grows very well indoors in pots. It blooms the most in spring but may produce additional flowers throughout the year. The waxy white, blooms are most fragrant at night.
Over watering and poor drainage are common reasons for these house plants to diminish. Planting them in a premium potting mix that drains well will help ensure growing success. My mix of choice is premium Black Gold All Purpose Potting Mix. It has ingredients to help with drainage in addition to added fertilizer that lasts for up to six months. Start a regular fertilization regime several months after potting.
In addition to giving them plenty of light, keep your plants away from dry heat sources, such as heating vents or a fireplace, as this will stress the plants and their foliage. Once your fragrant house plants start to bloom, you will be glad you planted them. Their flowers and scent brighten dreary winter days, making the indoors just a little more enjoyable.