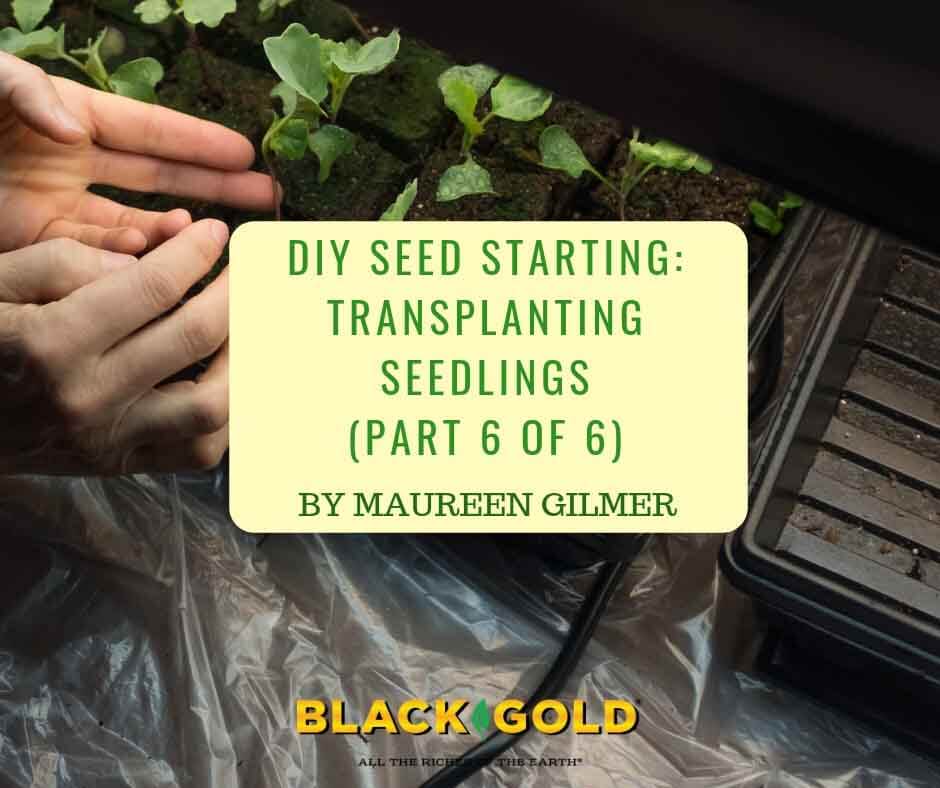 Most seedlings will need to be transplanted as they grow. Larger containers and a more robust mix with added fertilizer will enable seedlings to become large, vigorous plants. (Note that good seed starting mix contains no added fertilizer because it keeps some seeds from germinating.). As long as the light is plentiful, repotting will help your seedlings develop stronger roots and shoots.
Seedling Pot Size
A 3- or 4-inch plastic pot or larger cell packs are ideal for the transition. If you want to reuse containers for a greener approach, use recycled tin cans, yogurt cups, or similar-sized containers; punch two to three holes in the bottom of each for drainage. Use a hammer and thick nail for tin, and a paring knife or screw driver to poke holes into plastic (wear protective hand coverings when punching holes). For bottom support recycle flats from the garden center or line your pots up in a baking pan or any low, watertight container.
Seedling Potting Mix and Fertilizer
The potting mix you choose depends on your preference and garden type. If you like planting mix with added fertilizer, choose Black Gold® Moisture Supreme Container Mix or Black Gold All Purpose Potting Mix. Both feed products for up to 6 months. If your plants are going into an organic garden, use OMRI Listed Black Gold Natural & Organic Potting Soil. It is fertile, well-aerated, and holds water well. Because it does not contain a fertilizer boost, apply any quality, water-soluble organic fertilizer.
Fill each pot or container with soil to one-quarter to half-inch below the rim, so there's enough room for water without overflow.
Transplanting Seedlings
Transplanting your seedlings should be done with a gentle hand. Use an ice cream stick or blunt butter knife to ease seedlings out of the media without tearing roots or disturbing the next seedling in line. Lift it from its roots. Always support the roots with the palm of your hand and lift a seedling by its leaves rather than stems, which are easy to bend or crush. Remove one seedling at a time. Use your finger or a dibble stick to open a hole in the potting soil large enough to accommodate the entire root system comfortably.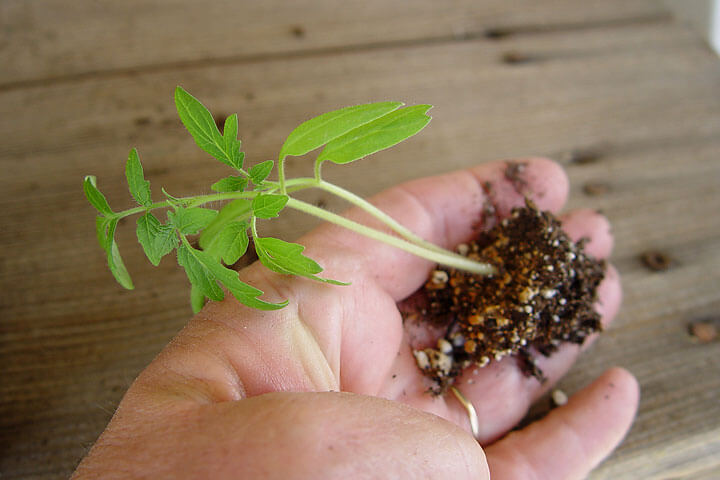 When transplanting tomatoes, they can be planted much deeper into the soil so new roots will form on the underground part of the stem. This is a rarity. With most other seedlings, transplant them at the same depth. Hold the seedling by the leaf and gently place the roots in the hole then cover with additional mix and lightly press it down. Next, water your seedlings gently. Allow them a week to revive from transplanting.
Hardening off Seedlings
On mild days take the whole flat of seedlings out onto the porch or covered outdoor area with partial sun to help them become adapted to outdoor wind and light. This transitional period is called "hardening off," which is essential to toughen tender indoor plants to the harsher growing conditions of the outside. Over a week or two, slowly move them into higher light, if they are full-sun plants. If nights become warm, leave thems outdoors overnight to better adapt. Just keep them out of reach of curious pets and hungry wildlife.
With the nutrient-rich soil, growth will speed up so your seedlings will benefit from lots more direct sunlight. Just be careful over the first few days to ensure they adapt well to the exposure without wilt or burning.
READ MORE ARTICLES FROM THIS SERIES…